Written by Bob Willis
Monday, 20 June 2011 08:38
Lead-Free Solder Process Development

Edited by Gregory Henshall, Jasbir Bath & Carol A. Handwerker, March 2011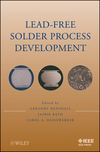 When I started reading this book, I was a little disappointed with the continual references to other technical papers and resources, but at the end of the final chapter, I found much useful and relevant material.  

The book provides an update on lead-free and the current problems facing the industry, with practical solutions. I particularly enjoyed the information on paste technology, with helpful hints on the newer generation of materials.

The first chapter provides a good overview of the current status of legislation, what the issues are, and the future changes that will impact each company. Other chapters cover reflow and wave soldering, rework, area array components, tin whiskers, in-circuit test, and reliability for commercial and high-reliability electronics. The scope of the book provides something for everyone entering lead-free, or those that have been dealing with the technology over the last few years.
The rework chapter focuses on practical issues of extra heat input to product and potential reliability issues. Copper leaching from substrates is covered in some detail. Test engineering issues, often overlooked in other texts, are given practical coverage by two HP engineers.

Content was reviewed by engineers from Flextronics, Jabil, Alcatel, Intel and Lockheed Martin.
Bob Willis will run training workshops at SMTA International, and has 2011 online training webinars on more than 20 design, assembly and soldering process topics at www.bobwillisonline.com/training.asp. He also will return to IPC Apex Expo 2012 in San Diego with more workshops.
Last Updated on Monday, 20 June 2011 08:43
Columns
Could 3-D printers undo decades of frame-up circuit board assembly?
Read more...
J-STD-004B: A New Twist on an Old Standard?
Before rejecting a flux, be sure you understand the standard.
Read more...
Features
A Systems-Level Approach to Product Development
Is there a way to more tightly integrate materials and process development so as to accelerate the pace of innovation?
Read more...
Reducing Stencil Wipe Frequency
A new study of nanocoatings allows users to visualize solder paste flow under the stencil.
Read more...
Products
Metcal Updates Scorpion Rework System
Scorpion rework system now includes an automatic placement package capable of 50mm of motorized travel in the Z-axis and 360° in ϴ. Automatic placement package offers fine motor control in the...