Written by Bob Willis
Monday, 20 June 2011 08:38
Lead-Free Solder Process Development

Edited by Gregory Henshall, Jasbir Bath & Carol A. Handwerker, March 2011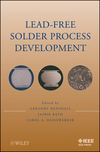 When I started reading this book, I was a little disappointed with the continual references to other technical papers and resources, but at the end of the final chapter, I found much useful and relevant material.  

The book provides an update on lead-free and the current problems facing the industry, with practical solutions. I particularly enjoyed the information on paste technology, with helpful hints on the newer generation of materials.

The first chapter provides a good overview of the current status of legislation, what the issues are, and the future changes that will impact each company. Other chapters cover reflow and wave soldering, rework, area array components, tin whiskers, in-circuit test, and reliability for commercial and high-reliability electronics. The scope of the book provides something for everyone entering lead-free, or those that have been dealing with the technology over the last few years.
The rework chapter focuses on practical issues of extra heat input to product and potential reliability issues. Copper leaching from substrates is covered in some detail. Test engineering issues, often overlooked in other texts, are given practical coverage by two HP engineers.

Content was reviewed by engineers from Flextronics, Jabil, Alcatel, Intel and Lockheed Martin.
Bob Willis will run training workshops at SMTA International, and has 2011 online training webinars on more than 20 design, assembly and soldering process topics at www.bobwillisonline.com/training.asp. He also will return to IPC Apex Expo 2012 in San Diego with more workshops.
Last Updated on Monday, 20 June 2011 08:43
Columns
Eastern-US: China's New Competitor?
Parity emerges among EMS Factories from Asia, Mexico and the US.
For the first time in years we see parity in the Eastern US among EMS factories from Asia, Mexico and the US. This EMS market condition will permit American OEMs (the EMS industry refers to OEMs as customers) to have more EMS pathways to choose from. Now more than ever, such EMS assignments will require deeper investigation relating to the OEMs' evaluation of manufacturing strategies.
Read more...
For those who count on the electronics industry for big feats, it's been a remarkable couple of years.
Read more...
Features
Advances in Concentration Monitoring and Closed-Loop Control
Contaminated bath water skews refractive index results. New technology can accurately measure aqueous cleaning agent concentration.
Read more...
Circuits Disassembly: Materials Characterization and Failure Analysis
A systematic approach to nonconventional methods of encapsulant removal.
Read more...