Written by Chris Hunt
Friday, 03 May 2013 01:41
Corrosion and dendrites formed across the surface of a plastic connector body between two terminations (Figure 1). This was caused by excessive flux sprayed on the top surface of the board. The flux could have also penetrated up through the connector by capillary action between the pin and connector body.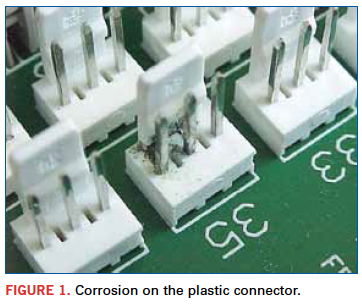 No-clean materials must be exposed to the correct preheat to permit full evaporation of the carrier solvent and deactivation of the flux. If a conformal coating had been used in this application, the same problem could have occurred on other sections of the board. Coating cannot overcome poor production setup or control when potentially corrosive materials are still on the board. Figure 2 shows copper dendrites between two connector terminations. The copper has formed over the solder mask due to the high concentration of moisture on this area of the circuit. This demonstrates that solder mask does not always help!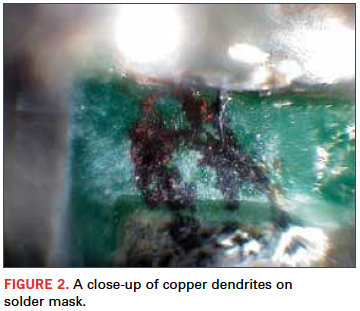 These are typical defects shown in the National Physical Laboratory's interactive assembly and soldering defects database. The database (http://defectsdatabase.npl.co.uk), available to all this publication's readers, allows engineers to search and view countless defects and solutions, or to submit defects online. To complement the defect of the month, NPL features the "Defect Video of the Month," presented online by Bob Willis. This describes over 20 different failure modes, many with video examples of the defect occurring in real time.
Chris Hunt is with the National Physical Laboratory Industry and Innovation division (npl.co.uk); This e-mail address is being protected from spambots. You need JavaScript enabled to view it . His column appears monthly.
Last Updated on Friday, 03 May 2013 13:14
Columns
There's been a flurry of EMS acquisition activity of late, with Natel's acquisition of EPIC Technologies and Benchmark's pickup of Suntron and CTS among the larger deals.
Read more...
What Does New CEO for Microsoft Mean for Hardware?
In the end, Microsoft couldn't pull the trigger. In Seattle, outside just wasn't "in."
The world's largest software developer today named Satya Nadella, head of the the company's Server and Tools unit, as its new chief executive. The 46-year-old Nadella becomes just the third person to lead Microsoft, one of the most successful and wealthiest companies ever.
Read more...
Features
A Systems-Level Approach to Product Development
Is there a way to more tightly integrate materials and process development so as to accelerate the pace of innovation?
Read more...
Reducing Stencil Wipe Frequency
A new study of nanocoatings allows users to visualize solder paste flow under the stencil.
Read more...
Products
Getech Releases GLRS Laser Singulater
GLRS laser singulation system is configurable with a near IR laser (1032nm) for use with metal-core substrates or a green laser (532 nm) for use with ultra-thin and flexible substrates. Inert gas...