Written by Jie Bai
Friday, 03 May 2013 01:49

New underfills show promise for resolving warpage concerns.
Thin is definitely in, but what our modern flip chip devices really need is to be flat. As flip chip die have become increasingly thinner in recent years, the ability to control package warpage – i.e., maintain a relative degree of "flatness" – has become more challenging. And, it's not just the die getting thinner; substrates also have much lower profiles than ever, and balancing these conditions can be tough, especially without the right materials.
Substrate and die have varying coefficient of thermal expansion (CTE) characteristics. When subjected to thermal processing (i.e., secondary reflow), the different CTE rates cause stresses that can lead to package warpage. The package can warp in either the upward ("smiling") or downward ("crying) direction, either of which can result in interconnect issues and poor reliability. Controlling package warpage is not a new consideration; packaging specialists have been dealing with it for years. But, with substrates and die becoming thinner and more delicate, managing package warpage is a tough – but critical – task.
Die flatness is just part of the scenario, of course. High package reliability is tantamount to a good outcome, so the two conditions must be met simultaneously. Understanding this requirement, our company undertook a study to evaluate current materials and develop new ones that would address the needs of next-generation flip-chip devices. The objective was to effectively reduce stress, control warpage and raise reliability, even as die thicknesses diminish.
Process adaptability is also an important consideration for flip-chip underfills. Ideally, they should be compatible with a wide variety of flux systems and die passivations, have minimum resin bleed out and be compatible with both traditional needle dispensing and non-contact dispensing deposition methods. The material should also offer simplicity in processing with characteristics such as good flow with no voids on a range of die sizes – even those as large as 15 x 15mm.
Evaluation of existing materials revealed underfills that provided some – but not all – of the necessary capabilities for emerging flip-chip designs. However, the development work did result in the formulation of an underfill system that addresses the requirements of newer, thinner flip-chip devices. The material has undergone extensive testing in a laboratory environment and has gone through evaluation at several customer sites. When tested in-house at an advanced applications laboratory, warpage was less than 80µm on a 20 x 20mm flip chip die with a thickness of 730µm. Evaluations in-process at customer sites revealed good performance on even thinner die, with good device reliability and minimal warpage-induced stress, even on die as thin as 155µm.
Die and substrates are only going to get thinner, lending to the even more critical role of underfill materials to offer protection and robust performance through stress-controlling warpage reduction in combination with high reliability.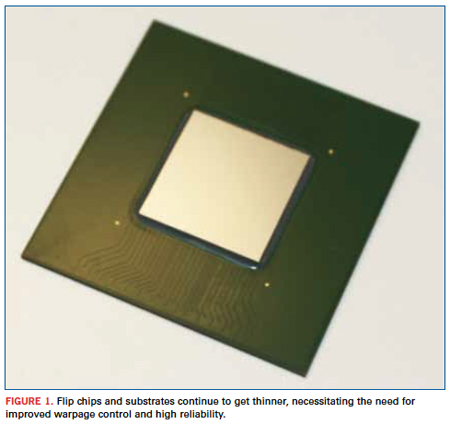 Acknowledgements
The author would like to thank Henkel P.D. manager Stanley Hu and technical service supervisor Wilson Ma for their valuable inputs.
Jie Bai is a chemist at Henkel Electronics Group (henkel.com); This e-mail address is being protected from spambots. You need JavaScript enabled to view it .
Last Updated on Friday, 03 May 2013 13:10
Columns
The Flash Programming Flow
On-board flash memory device testing and programming.
Read more...
Does Reliability Have a Place In EMS?
Experts say physics of failure is overtaking MTBF as the go-to model.
Read more...
Features
MassChallenge, a not-for-profit accelerator program, aims to "create a bigger pie" by helping innovators get to market.
Read more...
Who says a Tier IV EMS can't have the foresight, and follow-through, of the big players?
Read more...
Products
PBT Rolls Out Moduleclean Inline Batch Cleaner
Moduleclean inline batch cleaning system is for cleaning assembled PCBs, stencils, and other electronics products. Cleans surface mount technology applications such as defluxing of low-residue and...