Written by Dr. Davide Di Maio
Tuesday, 10 August 2010 00:58

Excess flux can disturb PoP placement.


This month we feature one recent process control issue submitted to the database.

Figure 1 shows the bottom of a package-on-package (PoP) device, a small BGA, prior to placement on the top of the bottom package. The liquid flux should only be on the surface of the balls. In this case, however, the part has been drowned, with flux covering all the balls and the package surface. Excess flux can result in component float during reflow, and depending on the solvent in the flux, the part could even jump off the board during reflow. Excess flux should be avoided; it shows poor control, may cause problems during cleaning and will affect underfill application (if conducted).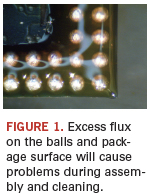 Flux or dip paste is used to assemble PoP components during a typical SMT process. As a guide, the package balls would be dipped to a depth of 50% of the height of the balls. In this example, the flux tray clearly was not flat; the amount of the flux was uneven on the tray, or the doctor or control blade height was incorrectly set.

These are typical defects shown in the National Physical Laboratory's interactive assembly and soldering defects database. The database (http://defectsdatabase.npl.co.uk), available to all this publication's readers, allows engineers to search and view countless defects and solutions, or to submit defects online. 
Dr. Davide Di Maio is with the National Physical Laboratory Industry and Innovation division (npl.co.uk); This e-mail address is being protected from spambots. You need JavaScript enabled to view it . His column appears monthly.
Last Updated on Tuesday, 10 August 2010 14:14
Columns
The Flash Programming Flow
On-board flash memory device testing and programming.
Read more...
Does Reliability Have a Place In EMS?
Experts say physics of failure is overtaking MTBF as the go-to model.
Read more...
Features
MassChallenge, a not-for-profit accelerator program, aims to "create a bigger pie" by helping innovators get to market.
Read more...
Who says a Tier IV EMS can't have the foresight, and follow-through, of the big players?
Read more...
Products
Dial Releases Buran B100 Screen Printer
Buran B100 screen printer has a print format of 75 x 75mm to 508 x 508mm. Repeatability said to be -/±15μm @ 6 Sigma. Cycle time is 12 sec. (without print). Handles PCB of thicknesses ranging from...