Written by Dr. Davide Di Maio
Tuesday, 07 September 2010 11:36

Finer powders may be more prone to solder balling.
This month we feature one recent problem of solder balls or fines.

Dip solder paste now commonly used in package-on-package (PoP) assembly has a lower metal content, more often designed for nitrogen reflow than air, and also has smaller solder particle size. The powder may be Type 5-6, as opposed to a stencil printing grade of Type 3-4, and hence more prone to solder balling during reflow. It is fairly uncommon for standard SMT solder paste to slump and solder ball like the example, unless it has been poorly stored.

It's important for engineers to learn how to conduct solder balling and solder slump measurements of paste from different vendors. IPC and SMART Group specifications describe tests of this type using automated test equipment available from a range of suppliers. In simple terms, a sample of paste is printed on a non-solderable surface – in this case, a ceramic tile – and reflowed. The result observed should be a lack of spread during preheat, one single ball on the surface of the plate after reflow.

These are typical defects shown in the National Physical Laboratory's interactive assembly and soldering defects database. The database (http://defectsdatabase.npl.co.uk), available to all this publication's readers, allows engineers to search and view countless defects and solutions, or to submit defects online.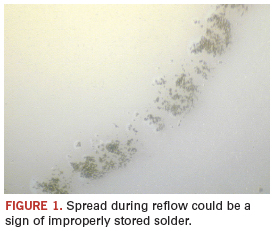 Dr. Davide Di Maio is with the National Physical Laboratory Industry and Innovation division (npl.co.uk); This e-mail address is being protected from spambots. You need JavaScript enabled to view it . His column appears monthly.
Last Updated on Thursday, 07 October 2010 12:32
Columns
0.4mm CSPs and the Automotive Electronics Dilemma
How squeegee technology is driving new high-speed printing solutions.
Read more...
Features
Understanding 3D AOI, What It Is, and What It Isn't
Do the limits of 2D cameras cast a shadow on their future?
Read more...
Yardsticks for Gauging AOI Effectiveness
A 95% first-pass yield is the litmus test. Here's how to get there.
Read more...
Products
ACE Dragon Releases T60W-1200-6 Dry Cabinet
T60W-1200-6 baking 60℃ auto dry cabinet is stable at 60℃ and <1%RH. Is designed for moisture-sensitive SMD packages to comply with J-STD-033B. Has a temp. and humidity range of 60±2℃;...