Written by Dr. Davide Di Maio
Tuesday, 07 September 2010 11:36

Finer powders may be more prone to solder balling.
This month we feature one recent problem of solder balls or fines.

Dip solder paste now commonly used in package-on-package (PoP) assembly has a lower metal content, more often designed for nitrogen reflow than air, and also has smaller solder particle size. The powder may be Type 5-6, as opposed to a stencil printing grade of Type 3-4, and hence more prone to solder balling during reflow. It is fairly uncommon for standard SMT solder paste to slump and solder ball like the example, unless it has been poorly stored.

It's important for engineers to learn how to conduct solder balling and solder slump measurements of paste from different vendors. IPC and SMART Group specifications describe tests of this type using automated test equipment available from a range of suppliers. In simple terms, a sample of paste is printed on a non-solderable surface – in this case, a ceramic tile – and reflowed. The result observed should be a lack of spread during preheat, one single ball on the surface of the plate after reflow.

These are typical defects shown in the National Physical Laboratory's interactive assembly and soldering defects database. The database (http://defectsdatabase.npl.co.uk), available to all this publication's readers, allows engineers to search and view countless defects and solutions, or to submit defects online.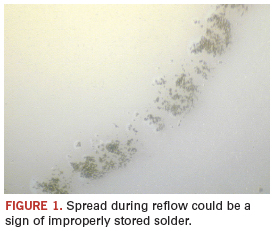 Dr. Davide Di Maio is with the National Physical Laboratory Industry and Innovation division (npl.co.uk); This e-mail address is being protected from spambots. You need JavaScript enabled to view it . His column appears monthly.
Last Updated on Thursday, 07 October 2010 12:32
Columns
Could 3-D printers undo decades of frame-up circuit board assembly?
Read more...
J-STD-004B: A New Twist on an Old Standard?
Before rejecting a flux, be sure you understand the standard.
Read more...
Features
A Systems-Level Approach to Product Development
Is there a way to more tightly integrate materials and process development so as to accelerate the pace of innovation?
Read more...
Reducing Stencil Wipe Frequency
A new study of nanocoatings allows users to visualize solder paste flow under the stencil.
Read more...
Products
Hitachi Updates Sigma G5S Modular Mounter
Sigma G5S modular mounter has a multi-function head that now features lead-clinching and tamping functionalities. Uses side-mounted lighting and machine vision to identify and locate through-hole...