Written by Dr. Davide Di Maio
Tuesday, 07 September 2010 11:36

Finer powders may be more prone to solder balling.
This month we feature one recent problem of solder balls or fines.

Dip solder paste now commonly used in package-on-package (PoP) assembly has a lower metal content, more often designed for nitrogen reflow than air, and also has smaller solder particle size. The powder may be Type 5-6, as opposed to a stencil printing grade of Type 3-4, and hence more prone to solder balling during reflow. It is fairly uncommon for standard SMT solder paste to slump and solder ball like the example, unless it has been poorly stored.

It's important for engineers to learn how to conduct solder balling and solder slump measurements of paste from different vendors. IPC and SMART Group specifications describe tests of this type using automated test equipment available from a range of suppliers. In simple terms, a sample of paste is printed on a non-solderable surface – in this case, a ceramic tile – and reflowed. The result observed should be a lack of spread during preheat, one single ball on the surface of the plate after reflow.

These are typical defects shown in the National Physical Laboratory's interactive assembly and soldering defects database. The database (http://defectsdatabase.npl.co.uk), available to all this publication's readers, allows engineers to search and view countless defects and solutions, or to submit defects online.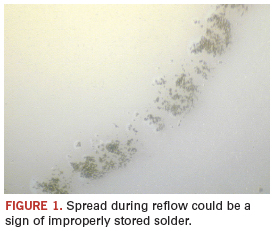 Dr. Davide Di Maio is with the National Physical Laboratory Industry and Innovation division (npl.co.uk); This e-mail address is being protected from spambots. You need JavaScript enabled to view it . His column appears monthly.
Last Updated on Thursday, 07 October 2010 12:32
Columns
European RoHS Enforcement Explained
A series of workshops next month on compliance with RoHS and other directives will help US companies looking to break into the European market.

Read more...
Believing Foxconn Means Suspending Belief
The Foxconn makeover is in full swing, with the latest this piece from the New York Times that supposes that the world's largest ODM is worried that Apple -- yes, Apple -- might be bringing it down:
Read more...
Features
Managing Your ESD Program
SMT Reflow Oven-to-Oven Repeatability
How to adjust an oven so a single recipe will work across multiple ovens for an individual product.
Read more...
Products
Speedline Debuts MPM Momentum Compact Printer
MPM Momentum compact printer is 30% smaller overall than standard Momentum. Configurable for dual lane and back-to-back processing. Wet print accuracy reportedly 18µm @ 6ó, Cpk>2. Reportedly...