Written by Dr. Hayao Nakahara
Tuesday, 04 September 2012 02:43
Page 1 of 3
The 104 manufacturers on the 2011 NTI-100 made up more than 80% of the world's PCB output.
The NTI-100 list for 2011 was greatly influenced by exchange rates. Taiwanese fabricators continued to make gains, followed by Japanese manufacturers. Some names disappeared because they were purchased; their sales are included in the acquiring firm's results. Some disappeared because they did poorly. Several fabricators, particularly Japanese firms, made it because of exchange rates.
As usual, the author is not almighty and is certain that there are many errors. Some companies that should be on the list may be missing. He assumes full responsibility for any errors. He wishes to express his gratitude to those PCB makers that provided him valuable data.
Exchange rates. Currency values played a role in certain companies' performance. Table 1 lists the average exchange rates of major currencies against the US dollar.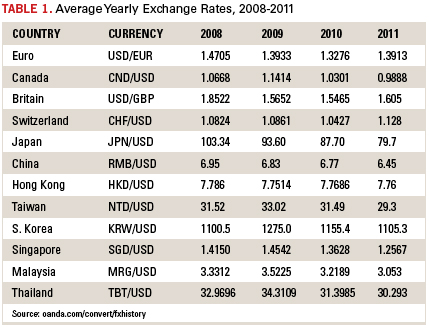 Assumptions. All acquisitions that took place during 2011 are assumed to have taken place on Jan 1, 2011. In the cases of flexible circuit manufacturers (FPC), the assembly value is included because it is extremely difficult to separate bare board sales from total revenues. Therefore, the rankings are relative, not absolute. Finally, a large portion of revenues of Taiwan, Japanese and US makers comes from overseas operations, and therefore involves double conversions. The author has no knowledge of what exchange rates Taiwanese makers, for example, used to convert output in RMB into NT dollars to report consolidated revenues.

Entries by country or region. There are 104 companies on the 2011 NTI-100 list. There are more Japanese makers than Taiwanese because of a 10% increase from 2010 to 2011 in value of the Japanese yen against the US dollar. Several Japanese makers would not have made it had the 2010 exchange rate remained constant.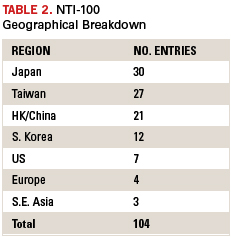 Table 3 lists the 2011 NTI-100. Although comments are included in the table, more extensive comments on certain fabricators are below.
Last Updated on Wednesday, 05 September 2012 18:40
Columns
There's been a flurry of EMS acquisition activity of late, with Natel's acquisition of EPIC Technologies and Benchmark's pickup of Suntron and CTS among the larger deals.
Read more...
What Does New CEO for Microsoft Mean for Hardware?
In the end, Microsoft couldn't pull the trigger. In Seattle, outside just wasn't "in."
The world's largest software developer today named Satya Nadella, head of the the company's Server and Tools unit, as its new chief executive. The 46-year-old Nadella becomes just the third person to lead Microsoft, one of the most successful and wealthiest companies ever.
Read more...
Features
A Systems-Level Approach to Product Development
Is there a way to more tightly integrate materials and process development so as to accelerate the pace of innovation?
Read more...
Reducing Stencil Wipe Frequency
A new study of nanocoatings allows users to visualize solder paste flow under the stencil.
Read more...
Products
Getech Releases GLRS Laser Singulater
GLRS laser singulation system is configurable with a near IR laser (1032nm) for use with metal-core substrates or a green laser (532 nm) for use with ultra-thin and flexible substrates. Inert gas...