Written by Per Jennel
Tuesday, 29 January 2013 18:51
How one EMS company improved production time by shedding the straight line flow.
Two years ago, Orbit One decided to redesign its SMD line in Ronneby, Sweden, with the goal to decrease machines' setup time or to increase uptime and shorten lead times.

The work started in 2010 when two "straight" production lines were reconfigured into a "U" shape, under the theory that this would minimize setup time and improve production flow.

To do so, we took two of our three lines and put them together. In other words, we took four placement machines and split assembly across the four modules, setting up the placement heads to assemble at the same time but just using half the number of feeders.

This way we shortened the lead time, and by using just one of the two feeder boards in the machines, we could perform a setup while simultaneously running the machines for the present job. That positively impacted uptime.

To optimize after this redesign, we adjusted the modules to balance the assembly time, which is of course important because the module with the longest assembly time determines the output from the machine. In theory it is simple, but it does require some effort from operators and programmers to make these movements between the modules. Depending on the design and number of components, some boards are harder to optimize. Also, other potential bottlenecks in the line, such as the screen printer or oven, must be considered.

Overall, the reconfigured line has been very successful. We produce with increased efficiency compared with the previous line configuration, and it's easier to change production plans closer to the start date compared with the previous layout. Moreover, overall setup time has been decreased approximately 50%.
Per Jennel is sales and marketing manager at Orbit One (orbitone.se); This e-mail address is being protected from spambots. You need JavaScript enabled to view it .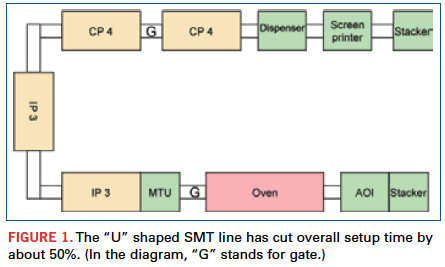 Last Updated on Wednesday, 30 January 2013 15:13
Columns
European RoHS Enforcement Explained
A series of workshops next month on compliance with RoHS and other directives will help US companies looking to break into the European market.

Read more...
Believing Foxconn Means Suspending Belief
The Foxconn makeover is in full swing, with the latest this piece from the New York Times that supposes that the world's largest ODM is worried that Apple -- yes, Apple -- might be bringing it down:
Read more...
Features
Managing Your ESD Program
SMT Reflow Oven-to-Oven Repeatability
How to adjust an oven so a single recipe will work across multiple ovens for an individual product.
Read more...
Products
Cognex Debuts CIC Digital Camera Series
Cognex Industrial Camera (CIC) series are GigE Vision digital industrial cameras designed for integration with VisionPro and CVL vision software. First four models are 29mm x 29mm, monochrome, area...