When solder doesn't want to flow, try increasing the dwell time.
Some of the components our customers ask us to solder can absorb a lot of heat. And I mean a lot of heat. One particular part that we solder has 16 solder joints, is made completely of metal (not sure what, but it seems like a tinned copper), and nearly every pin sits on an enormous ground plane. Not to mention the holes are by no means oversized to make this any easier.

Needless to say, it gave us some trouble.

We tried using a local spot preheat. This helped a little, but at the end of the day, that solder still did not want to flow up through that ground plane. So, we thought, why not just sit there with the nozzle. Turns out, that was the trick.

It's fairly simple really. Using our selective soldering machine software, we added an extra point at the four pins that absorbed the most heat. Then we added a couple seconds of dwell at each point (Figure 1).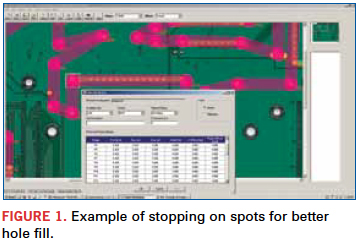 This worked like a charm. You can actually watch from the top of the machine as the solder climbs up the joint. It happens slowly, but once it makes it all the way through, you can see a beautiful solder joint remains.

Obviously, dwelling on specific points will add to the cycle time. But in an effort to make the best product possible, it's a small price to pay.
Chris Denney is chief technology officer at Worthington Assembly (worthingtonassembly.com); This e-mail address is being protected from spambots. You need JavaScript enabled to view it .
Columns
Eastern-US: China's New Competitor?
Parity emerges among EMS Factories from Asia, Mexico and the US.
For the first time in years we see parity in the Eastern US among EMS factories from Asia, Mexico and the US. This EMS market condition will permit American OEMs (the EMS industry refers to OEMs as customers) to have more EMS pathways to choose from. Now more than ever, such EMS assignments will require deeper investigation relating to the OEMs' evaluation of manufacturing strategies.
Read more...
For those who count on the electronics industry for big feats, it's been a remarkable couple of years.
Read more...
Features
Advances in Concentration Monitoring and Closed-Loop Control
Contaminated bath water skews refractive index results. New technology can accurately measure aqueous cleaning agent concentration.
Read more...
Circuits Disassembly: Materials Characterization and Failure Analysis
A systematic approach to nonconventional methods of encapsulant removal.
Read more...