Written by Mike Buetow and Chelsey Drysdale
Saturday, 31 January 2009 19:00
The gap between the Top 10 EMS companies and their smaller rivals is striking.
Determining the size of the largest EMS companies is more difficult than would first appear. Just looking at the major players' annual revenues is recipe for error. Many of these companies also perform original design work, and market self-designed and manufactured products under other companies' brands. Moreover, in many cases, they make products such as bare boards (Foxconn, Sanmina-SCI, Viasystems) or connectors or other components (Vogt Electronic, Foxconn again), yet don't break out those sales from EMS-specific revenues. In some instances, they are subsidiaries of OEM conglomerates, as is the case with Hitachi OMD and Connect Systems International, or a joint venture of far-flung holding companies, as is Integrated Microelectronics Inc. Some have stakes in other independently run EMS companies, raising questions over possible double-counting of EMS sales. Still others are privately held and not required to reveal their finances.

But why should that stop us from trying? This is Circuits Assembly's first attempt to break down the EMS industry's largest players (Table 1). Every attempt has been made to isolate EMS and related sales. Estimates, where made, are indicated. Estimates of privately held companies are based on company-supplied figures, Circuits Assembly interviews, third-party sources such as Hoovers, and other media sources. Most estimates of publicly held companies are based on company-provided guidance for the fourth quarter or, in the case of Taiwanese companies, the month of December, as noted.

Another caveat: While all figures are given in US dollars, currency translations constantly change and can obscure the numbers, in some cases dramatically. The currency conversions we used are shown in Table 2.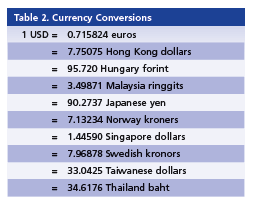 One company that has shown up on some other lists – DRS Technologies (recently purchased by Italy's Finmeccanica) – is not listed here. Why? Frankly, because we could not discern the value of its EMS offerings, or even if it truly manufactures on behalf of OEM customers. Another firm, Aeroflex, clearly assembles product for OEMs, but those programs are secondary to its test and measurement systems – and it's privately held.

By region, the US stood out as home to the biggest EMS companies. A total of 15 base their headquarters there (Table 3), including Flextronics, which is registered in Singapore but based in San Jose, and Fabrinet, which is incorporated in the Cayman Islands but maintains headquarters in San Francisco.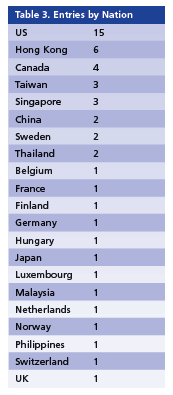 US-based companies aren't the only ones taking advantage of favorable tax laws and other conditions outside their home nations. No. 6 Elcoteq, for instance, was re-domiciled to Luxembourg from Lohja, Finland, as of Jan. 1, 2008, while operations of Macao-based Nam Tai, No. 17 on our list, are conducted by its subsidiary, Nam Tai Electronic & Electrical Products Ltd., which is incorporated in the Cayman Islands.

With just one entry, No. 11 SIIX, Japan, the world's third-largest producer of electronics goods behind China and the US, is underrepresented on the Circuits Assembly Top 50. The reasons are well known: Japan has been slow to adopt a contract model, and tends to prefer build product at its own conglomerates' far-flung operations, which are located everywhere from China to Malaysia to the US and Mexico. One such unit, Hitachi OMD, makes our list at No. 20, although it's a somewhat controversial entry, as it is unclear how much of the goods the division produces are for internal Hitachi consumption.

Europe is well represented as a continent, but no individual country stands out. Sweden weighs in with two entrants: No. 27 PartnerTech, a specialist in industrial and medical gear (and close collaborator with No. 21 3CEMS of China), and military and defense-centric No. 49 NOTE – while Germany, the world's fourth-largest electronics producer, has just one.

No doubt the list contains some miscues, for which we apologize in advance. While we may be off base in some areas, what's clear from this exercise is that companies smaller than $200 million need not apply. Please visit our Website for updated rankings.
Mike Buetow is editor-in-chief and Chelsey Drysdale is senior editor of Circuits Assembly; This e-mail address is being protected from spambots. You need JavaScript enabled to view it .
Last Updated on Monday, 28 December 2009 10:13
Columns
Eastern-US: China's New Competitor?
Parity emerges among EMS Factories from Asia, Mexico and the US.
For the first time in years we see parity in the Eastern US among EMS factories from Asia, Mexico and the US. This EMS market condition will permit American OEMs (the EMS industry refers to OEMs as customers) to have more EMS pathways to choose from. Now more than ever, such EMS assignments will require deeper investigation relating to the OEMs' evaluation of manufacturing strategies.
Read more...
For those who count on the electronics industry for big feats, it's been a remarkable couple of years.
Read more...
Features
Advances in Concentration Monitoring and Closed-Loop Control
Contaminated bath water skews refractive index results. New technology can accurately measure aqueous cleaning agent concentration.
Read more...
Circuits Disassembly: Materials Characterization and Failure Analysis
A systematic approach to nonconventional methods of encapsulant removal.
Read more...