Written by Dr. Davide Di Maio
Tuesday, 02 June 2009 20:06
Cleaning can actually exacerbate flux shorts; x-ray first!

This month we feature a recent issue submitted to the database: Is it a BGA solder short or not?
Optical inspection of BGA joints shows a connection between two balls after rework and repair. This is probably not a solder short; it's more likely a flux short. During inspection, light can be seen through the material between the two balls. This is probably caused by excessive flux or incorrect material used during rework.
The board was built in medium volume using a Pb-free process for a telecommunications product. Being a Pb-free process, the higher process temperature may have contributed to the discoloration/darkening of the flux.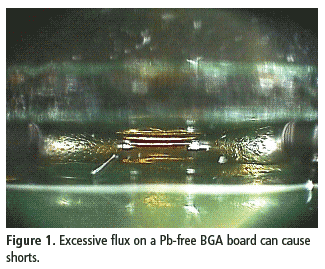 To confirm this is a flux short and nothing else, use x-ray inspection. With this volume of flux, cleaning may make inspection more difficult. If x-ray shows the solder joints to be satisfactory and electrical test is positive, leave the BGA in place. A review of the rework process should be conducted to confirm the procedures, rework training and materials used.
These are typical defects shown in the National Physical Laboratory's interactive assembly and soldering defects database. The database (http://defectsdatabase.npl.co.uk/), available to all Circuits Assembly readers, allows engineers to search and view countless defects and solutions, or to submit defects online.
Dr. Davide Di Maio is with the National Physical Laboratory Industry and Innovation division (npl.co.uk); http://defectsdatabase.npl.co.uk/.
---
Last Updated on Tuesday, 02 June 2009 20:08
Columns
European RoHS Enforcement Explained
A series of workshops next month on compliance with RoHS and other directives will help US companies looking to break into the European market.

Read more...
Believing Foxconn Means Suspending Belief
The Foxconn makeover is in full swing, with the latest this piece from the New York Times that supposes that the world's largest ODM is worried that Apple -- yes, Apple -- might be bringing it down:
Read more...
Features
Managing Your ESD Program
SMT Reflow Oven-to-Oven Repeatability
How to adjust an oven so a single recipe will work across multiple ovens for an individual product.
Read more...
Products
Kolb Releases PS300 2HY Stencil Cleaner
PS300 2HY hybrid batch stencil cleaner is suitable for stencils, PCBs, misprints and solder frames. Is an automatic single-chamber system; features 3-4 step PowerSpray cleaning. Is part of compact...