Written by Dr. Davide Di Maio
Tuesday, 02 June 2009 20:06
Cleaning can actually exacerbate flux shorts; x-ray first!

This month we feature a recent issue submitted to the database: Is it a BGA solder short or not?
Optical inspection of BGA joints shows a connection between two balls after rework and repair. This is probably not a solder short; it's more likely a flux short. During inspection, light can be seen through the material between the two balls. This is probably caused by excessive flux or incorrect material used during rework.
The board was built in medium volume using a Pb-free process for a telecommunications product. Being a Pb-free process, the higher process temperature may have contributed to the discoloration/darkening of the flux.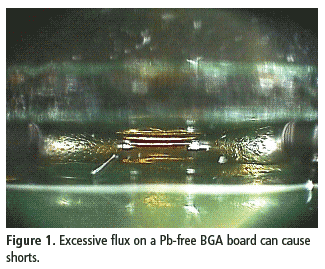 To confirm this is a flux short and nothing else, use x-ray inspection. With this volume of flux, cleaning may make inspection more difficult. If x-ray shows the solder joints to be satisfactory and electrical test is positive, leave the BGA in place. A review of the rework process should be conducted to confirm the procedures, rework training and materials used.
These are typical defects shown in the National Physical Laboratory's interactive assembly and soldering defects database. The database (http://defectsdatabase.npl.co.uk/), available to all Circuits Assembly readers, allows engineers to search and view countless defects and solutions, or to submit defects online.
Dr. Davide Di Maio is with the National Physical Laboratory Industry and Innovation division (npl.co.uk); http://defectsdatabase.npl.co.uk/.
Last Updated on Tuesday, 02 June 2009 20:08
Columns
Eastern-US: China's New Competitor?
Parity emerges among EMS Factories from Asia, Mexico and the US.
For the first time in years we see parity in the Eastern US among EMS factories from Asia, Mexico and the US. This EMS market condition will permit American OEMs (the EMS industry refers to OEMs as customers) to have more EMS pathways to choose from. Now more than ever, such EMS assignments will require deeper investigation relating to the OEMs' evaluation of manufacturing strategies.
Read more...
For those who count on the electronics industry for big feats, it's been a remarkable couple of years.
Read more...
Features
Advances in Concentration Monitoring and Closed-Loop Control
Contaminated bath water skews refractive index results. New technology can accurately measure aqueous cleaning agent concentration.
Read more...
Circuits Disassembly: Materials Characterization and Failure Analysis
A systematic approach to nonconventional methods of encapsulant removal.
Read more...