Written by E. Jan Vardaman
Saturday, 01 August 2009 00:00
For many package subcontractors, the road to recovery won't be smooth.

Semiconductor industry analysts argue that the worst is behind us. In the second quarter, wafer shipment growth is tracking at over 50% quarter-over-quarter at TSMC, UMC, SMIC and Chartered. ASE, Amkor and SPIL reported positive revenue growth during the period, and are optimistic about the third quarter. Yet, while each quarter may be better than the last, the road to recovery for the backend equipment OEMs and material suppliers may be a bit bumpy.
Advanced packages, comprised of ball grid arrays and chip-scale packages, are the source of much of the unit and revenue growth in the semiconductor packaging and assembly sector. While BGA and CSP shipments will improve quarter-over-quarter, unit volumes will not return to 2008 levels until 2011. Wafer-level packaging seems a bright spot, with many companies favoring use of WLPs instead of some conventional packages because of their smaller form factor and lower profile. With this year's capital expenditures for the top four IC package subcontract assembly and test operations expected to be less than half the dollar value in 2008, many backend assembly equipment makers may face hard times over the next 18 months (Tabe 1). The key question then is, Are these companies strong enough to survive such a protracted dry spell? Even if they are, can we expect any advances in assembly technology over the next two years? What level of orders will sustain R&D activities for the development of future equipment (and materials)?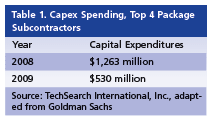 Feeling the pinch. What makes up backend assembly equipment infrastructure? A typical assembly line for a wire-bonded package consists of systems for dicing, cleaning, die attach, wire bond, epoxy mold and curing. If the package is a BGA or CSP, equipment for solder ball attach, reflow and cleaning are also needed. If the package is a leadframe, some lead forming and excise equipment will be part of the process. Inspection systems also are used at the final part of the assembly process. If the package has flip chip instead of wire bond, the die attach and wire bond will most likely be replaced by a pick-and-place system for mounting the flip-chip die on the substrate, underfill dispense, and cure system. Test sockets, burn-in ovens, test handlers, and testers are all part of the backend infrastructure, not to mention dicing blades, wire bond capillary tools, bonder heads, nozzles and a host of other components used in the assembly process. While some equipment suppliers are part of large organizations, many of the companies that make up this infrastructure are relatively small in size and revenue, and would feel a prolonged period of slow sales. What does this mean for our industry's future? As Business Week noted in June, tech companies have seen the deepest cuts in global capital spending, down 28% year-over-year. This much is certain: Even if these companies survive, few will be able to afford to devote resources to R&D for the next generation of packages. In some cases, these companies will merge with larger ones, and the equipment infrastructure will be maintained. For example, ESEC is now a part of BESI, and ESI has purchased the assets of XSiL. In some sad cases, operations will simply cease to exist. Agilent, for instance, announced the closures of its AOI and AXI business units. Is this of concern, or is this just another part of the semiconductor supply chain that will contract?
Fewer material choices? Materials such as substrates, leadframes, bonding wire, mold compounds, underfill materials, dielectrics, plating solutions, solder balls, thermal interface materials, and a variety of other products are also part of the infrastructure. The materials sector has already seen consolidation (Henkel's acquisition of National Starch's Ablestik and Emerson & Cuming business; Dow Chemical's acquisition of Rohm and Haas.) In Taiwan, substrate suppliers PPT and Unimicron will merge. Will this result in few choices of suppliers, and shortages? In Taiwan, Chipbond reports the LCD driver IC backend assembly business is experiencing a shortage of substrates (tape in the form of chip-on-flex). Will prices rise over time? Will material suppliers be healthier in the future and therefore able to invest resources in materials to meet future industry needs? These questions remain.
Future shock. Semicon West this year had fewer companies for the semiconductor backend assembly sector, and part of the reason certainly was the downturn. The question remains, after the recovery, will these companies return, or will empty halls echo with the sounds of ghosts from our industry's past?
E. Jan Vardaman is president of TechSearch International, (techsearchinc.com); jan@techsearch
inc.com. Her column appears bimonthly.
Columns
Eastern-US: China's New Competitor?
Parity emerges among EMS Factories from Asia, Mexico and the US.
For the first time in years we see parity in the Eastern US among EMS factories from Asia, Mexico and the US. This EMS market condition will permit American OEMs (the EMS industry refers to OEMs as customers) to have more EMS pathways to choose from. Now more than ever, such EMS assignments will require deeper investigation relating to the OEMs' evaluation of manufacturing strategies.
Read more...
For those who count on the electronics industry for big feats, it's been a remarkable couple of years.
Read more...
Features
Advances in Concentration Monitoring and Closed-Loop Control
Contaminated bath water skews refractive index results. New technology can accurately measure aqueous cleaning agent concentration.
Read more...
Circuits Disassembly: Materials Characterization and Failure Analysis
A systematic approach to nonconventional methods of encapsulant removal.
Read more...