Written by Paul Lotosky
Saturday, 01 August 2009 00:00
When the solder doesn't stick, first check the pad.

Dewetting is a condition that results when molten solder coats a surface and then recedes, leaving irregularly shaped mound(s) of solder separated by areas that are recovered with a thin film of solder and with the basis metal unexposed.
Non-wetting is a condition in which there is partial adherence of molten solder to a surface it has contacted, and the basis metal remains exposed.
While we usually list in this space the primary process setup areas to check, dewetting and non-wetting typically are board-related due to pad surface contamination.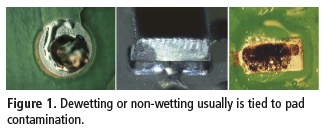 Other things to look for in the process include:
Solder temperature too low.     
Preheat too high or low.    
Excess or insufficient flux blow-off.
Solder wave height low.     
Flux not making contact.    
Flux contamination.    
Board pallet too hot.
Flux applied unevenly.    
Flux SP GR too low.    
Conveyor speed too fast or slow.
Board not seated properly.    
Flux SP GR too high.    
Solder contamination.    
Other things to look for with the assembly include:
Board or component contamination.    
Improper board handling.    
Other things to look for with the board design include:
Oxidation.    
Contamination.
Paul Lotosky is global director - customer technical support at Cookson Electronics (cooksonelectronics.com) This e-mail address is being protected from spambots. You need JavaScript enabled to view it .
---
Columns
European RoHS Enforcement Explained
A series of workshops next month on compliance with RoHS and other directives will help US companies looking to break into the European market.

Read more...
Believing Foxconn Means Suspending Belief
The Foxconn makeover is in full swing, with the latest this piece from the New York Times that supposes that the world's largest ODM is worried that Apple -- yes, Apple -- might be bringing it down:
Read more...
Features
Managing Your ESD Program
SMT Reflow Oven-to-Oven Repeatability
How to adjust an oven so a single recipe will work across multiple ovens for an individual product.
Read more...
Products
EMS Introduces 535-18M-57 UV Cure Adhesive
535-18M-57 UV cured epoxy adhesive is formulated for microelectronic assembly applications. Is an ultra-low stress, low shrinkage, ionically clean, low glass transition temperature UV cure adhesive....