Written by Mike Buetow
Saturday, 01 August 2009 00:00
SPI market leader Koh Young is shrugging off the recession and setting its sights on Europe.

On the subject of expansion, every business case study says the best time to do it is during a downturn. Take advantage of the market lull to grab market share, the researchers say.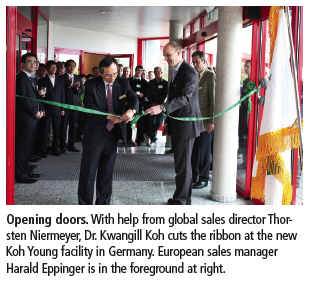 Few do. It's much safer to protect cash and other assets than to risk failure (and one's job). In other words, follow the herd.
Following the herd isn't what Koh Young Technology (kohyoung.com) is about. The vision machine maker in May opened the doors on its pristine new demo and training center in Alzenau, Germany, about 45 minutes from Frankfurt's international airport. (The event coincided with a less auspicious debut of its Ireland office, which will handle sales, support and administrative functions.)
The new offices are set to serve continental Europe, the UK and Ireland, where the company through May had sold 230 of its 940 installations worldwide.
In making the announcement, founder and chief executive Dr. Kwangill Koh said, "Today we celebrate a significant milestone in the growth of Koh Young as a global company. The European market a key growth area, and the establishment a strong presence here, in conjunction with the introduction of our revolutionary new 3-D AOI technology, will fuel that growth."
That "revolutionary new 3-D AOI technology," of course, refers to the Zenith machine, which debuted at Apex in April and has been making media waves ever since.
Why Europe, and why now?
The stage for Koh Young's migration to Europe was set by Pieter Stins, a veteran of Vitronics-Soltec and Nutek, who saw a Koh Young SPI machine at Productronica and, though on the cusp of retirement, decided to buy one and build a new distribution company around it. (That company, PPT, is now Koh Young's distributor in Germany, Austria, Switzerland and parts of Eastern Central Europe.) Meanwhile, in Asia, Koh Young was going gangbusters, and looking to extend its reach abroad.
Having gone public on Korea's KOSDAQ exchange in June of last year, and hit $35 million in sales in fiscal 2008, Dr. Koh embarked on a five-year plan with the goal to reach $150 million in annual sales, which would make it by far the largest OEM of electronics assembly inspection equipment (Table 1).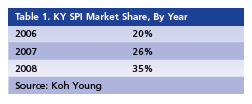 Seeking to make its mark on the West, Koh Young turned to two well-known industry veterans: Harald Eppinger and Thorsten Niermeyer. Niermeyer, who previously worked for Agilent and MVP, was named global sales director, based in Ireland, while Eppinger runs the Germany office as European sales manager. It also brought aboard André Myny as global marketing director, a role he previously handled at Vitronics-Soltec.
Its staff in place, the company was ready to make its move. After some discussion and due diligence, it settled on Alzenau, which offered ready access to the key German market, which still dominates electronics manufacturing in Western Europe, but was centrally located and accessible to both the traditional pockets in Italy and France, and the emerging markets of Eastern Europe.
The new center has in place the full range of the Koh Young platform, including the previously released 8030-2 and 8030-3 SPI machines, on which the company built its name and reputation; a KY-3020T, which is the semiautomatic tabletop version; and the aSPIre-2 SPI, the four-way light projection system that also debuted at Apex.
The new site also features an Ekra screen printer for hands-on process training with customers.
The highlight, however, is the new automated optical inspection system, now named Zenith, which is the first to feature 3-D inspection. The machine senses and measures the z-axis profilometry of whole assembled PCB surfaces, including components, solder joints, patterns, holes, and foreign material. The system, which features eight-way projection in order to compensate for the taller solder joints and paste, can run conventional 2-D AOI as well.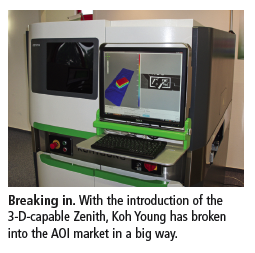 Zenith is designed for pre- or post-reflow, but as of the May open house had not yet been tested on mixed-technology boards. (Most AOI traditionally have struggled with plated through-holes.) Still, the distributors on hand at the May open house, including Danutek (danutek.com), LifeTek (lifetek.it), Amtech (amtech.cz) and several others, some of which brought boards to test on it, were visibly impressed.
"I do believe the Zenith is a unique approach to AOI and will guide industries and competitors to a new era of defect detection and measured process control," said Giovanni Scotece of Meda, Italy-based LifeTek.
With the opening of the European offices, the company hopes to build an AOI expert center, expand its service organization, and create an innovation center for new products, which could include solar, although the executives were a bit coy about it.
More expansion is ahead, Dr. Koh said. The company in December will move to a new headquarters in western Seoul, which will include an R&D center and manufacturing facility. The new site will be 77,000 sq. ft., or 89% larger than the company's current digs. It will house most of the firm's 120 staff, seven of whom have a Ph.D., and 32 of whom have a master's degree.
Koh Young has in its sights the inspection markets for PCB, wafer, substrate and even solar cell markets. It's an ambitious plan, but the company hasn't missed its targets yet.
Mike Buetow is editor in chief of Circuits Assembly; This e-mail address is being protected from spambots. You need JavaScript enabled to view it .
Columns
Eastern-US: China's New Competitor?
Parity emerges among EMS Factories from Asia, Mexico and the US.
For the first time in years we see parity in the Eastern US among EMS factories from Asia, Mexico and the US. This EMS market condition will permit American OEMs (the EMS industry refers to OEMs as customers) to have more EMS pathways to choose from. Now more than ever, such EMS assignments will require deeper investigation relating to the OEMs' evaluation of manufacturing strategies.
Read more...
For those who count on the electronics industry for big feats, it's been a remarkable couple of years.
Read more...
Features
Advances in Concentration Monitoring and Closed-Loop Control
Contaminated bath water skews refractive index results. New technology can accurately measure aqueous cleaning agent concentration.
Read more...
Circuits Disassembly: Materials Characterization and Failure Analysis
A systematic approach to nonconventional methods of encapsulant removal.
Read more...