Written by Randall Sherman, Dave Leone and Frank Klomp
Thursday, 01 October 2009 00:00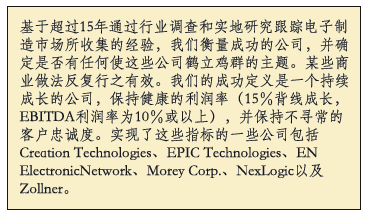 Though different in size and scope, these six companies have long track records of success.
In highly competitive industries like EMS, what business practices ensure ongoing success? Based on experience gleaned from tracking the EMS market for more than 15 years through industry surveys and field research, we set out to measure successful companies and determine if any themes stand out to differentiate those firms from average ones.

Certain business practices work time and again. We define a successful company as one that grows sequentially, maintains a healthy profit margin (15% topline growth with EBITDA margins of 10% or more), and maintains unusual customer loyalty.

Below are several successful companies that have achieved high levels of growth, profitability and customer satisfaction. The companies profiled have demonstrated superior performance on an ongoing basis, and reside in the small- to mid-tier market sectors. They include Creation Technologies, EPIC Technologies, EN ElectronicNetwork, Morey Corp., NexLogic and Zollner. These EMS companies stand out as leaders in our Best Practices Survey and have articulated important concepts critical to their success over the years.

Creation Technologies. Based in Vancouver, BC, Creation Technologies (creationtech.com) has one of the best performance records of any contract manufacturer; the company has been continuously profitable since 1991. Its 2008 revenues reached $385 million through 10 operations in North America and one in Changzhou, China. While other companies have struggled with multiple downturns, Creation has continued to expand its top- and bottom-line revenues each year through organic growth and acquisition. Creation has successfully acquired and merged seven EMS providers since 2003, giving it a broad manufacturing footprint to support and grow its customer base. When asked how the company has been so successful, president and CEO Arthur Tymos points to four elements:

"The first key to success is our customer-focused people and solutions, and the long-term, loyal relationships this results in. The second is our people and culture. Our culture is amazing and is a true differentiator. Approximately 540 of our 2,300 employees are owners in the company. Third is our focus on 'Lean Thinking In Action' through every facet of the company. And fourth, our financial stability. We believe we are an industry leader in each of these areas."

Creation's customers would agree. The company surveys its 190 customers on a regular basis, and is rated extremely high in each of the four key areas. Tymos says customers notice its unique culture; its lean processes (it has 14 black belts and 15 green belts in quality); its 18 years of continuous profitability, and the regional locations of its business units that permit "a lot of close personal touch with our customers," says Tymos.

The downside Tymos sees is the company's lack of visibility. "We are not as well-recognized in the market as we would like to be. We need to get better at creating awareness. Our growth has been fast, but we are a private company, and we don't share a lot of information, so our great success story hasn't gotten around yet. We do have a strong brand for those who know about us." Creation's service offerings best align with business products versus high-volume consumer products. Most assemblies are medium-volume, complex products, PCBA to systems to fulfillment, and after-market services.

Creation believes its service offerings to be top-notch and highly competitive. "Competitors that have caused us the most grief are those that come down-market and confuse the customer with their offering. It often takes a while for a customer to discover that it is a bad fit. We always encourage OEMs to look at true strategic alignment, rather than just price alone. Under-priced suppliers will, eventually, go out of business."

EPIC Technologies. Headquartered in Norwalk, OH, EPIC Technologies' (epictech.biz) growth almost rivals Creation's, with revenues of nearly $300 million in 2008, with three operations in the U.S. and two in Mexico. EPIC has been recognized for its Lean manufacturing operations and exceptional customer satisfaction. The company acquired certain assets of Siemens Energy and Automation and Philips Consumer Electronics in 2006, and is owned by the private equity firm CIVC Partners L.P.

Vice president of supply chain management Todd Baggett states EPIC's extremely high customer satisfaction ratings are the result of its exceptional flexibility and responsiveness. "We typically turn customer orders within a three-to-five day lead time, and have several customers where we demonstrate 99%-plus on-time delivery with 24 to 48 hour contractual order fulfillment lead times. We have implemented a unique manufacturing strategy to facilitate this level of agility." Additionally, Baggett believes EPIC's program management is second to none in the EMS industry, noting, "Our PMs have P/L responsibility from a cost management standpoint. They are responsible for on-time delivery, quality and scheduling, as well as the health and growth of the customer relationship, performance metrics and customer satisfaction, and are empowered to adapt their teams as necessary to meet and exceed customer expectations."

EPIC thinks supply-chain management is its biggest challenge to success in EMS, since the cost of purchased components accounts for nearly 80% of the cost of doing business. Given the company's short order turnaround expectations, materials management requires an even higher level of focus at EPIC. The company uses a kanban component purchasing methodology, with protected buffer quantities to support flexibility. This breaks sharply from the traditional MRP approach to materials management in EMS. As Baggett says, "In many ways, you don't need buyers or planners in the traditional sense, as we have automated tools to respond to kanban replenishment signals. Our buyers are, therefore, able to focus more on strategic supply-chain initiatives, such as customer-specific bonding or buffering strategies."

EPIC believes its extreme flexibility is a true differentiator, and recent customer service awards support that contention. The company uses a customer focus team (CFT) approach that becomes an extension of the customer organization. EPIC's motto is "any product, anywhere and anytime," with real-time order flexibility, made possible as a result of its non-dedicated line operations. Baggett states, "Most EMS companies are driven by an MRR model, whereby a customer forecast is loaded, and component parts pipelined and transformed to finished goods as quickly as possible for shipment to the customer, regardless of current customer needs. EPIC works with a "delayed transformation" model, whereby parts are pipelined, preferably on vendor consignment models, but EPIC delays product transformation until it sees consumption on the part of the customer from the established finished goods bins. This ensures EPIC builds only what customers need, and does not waste manufacturing resources on products customers do not need. Therefore, resources are available to support immediate customer requirements on very short lead times.

EN ElectronicNetwork. Another mid-tier EMS company, EN ElectronicNetwork AG (electronicnetwork.de) is based in Germany with sites around Europe. It has experienced strong growth during the past five years, with the exception of 2008, when its revenues were flat ($274 million). The company's focus on the industrial market segment drives revenue and profits, which accounts in part for its good profit and strong revenue growth. EN's leading customers include ABB, Bosch, Moeller and Siemens. Other market segments are medical electronics, renewable energy and railway transportation.

EN was established as a result of a spinoff from Philips, and is privately held, which makes it flexible concerning investments and focus on customers' needs. Customer satisfaction is taken seriously and checked quarterly by surveys. "We want to keep our customers happy because that's the only way to participate in each other's success," explains Ernst Gockel, chief sales officer. "Just recently, a long-term worldwide customer returned to EN from one of the big players in Asia. The customer was disappointed by the poor quality, lack of interest and long-term decisions. Turn these three reasons around, and you will know why they want to be with EN. We're proud of that." Due to the focus on quality, EN invests heavily in certifications. A recent one was IRIS (International Railway Industry Standard), a requirement to manufacture for the railway industry.

EN differentiates itself by excelling in so-called "Germany preciseness" in its operations throughout the whole product lifecycle. Leading products include drive technologies, such as measurement and control, frequency converters, motors, power supplies, production technology, robotics, automation technology (ticket, beverage, deposit, cash, cigarette and gaming machines), and military systems. EN offers support in the design process by offering ODM services in its areas of expertise, manages the supply chain, produces prototypes, as well as launches low-to-high volume products, and offers repair services and distribution as required.

Gockel points to the company's rapid response time as a competitive strength. EN offers ODM services, but if there are many projects at once, it partners with an outside R&D company with deep experience in the medical, defense and aerospace markets. Yet, EN faces challenges in providing services in metals and plastics, which some of its competitors can offer. Increasing market awareness of the company is another problem, Gockel notes, stating, "It's a gap we need to close and will."

The Morey Corp. The Morey Corp. (moreycorp.com) is one of the EMS industry's better-kept secrets. This family-owned operation started in the 1930s and evolved through three generations, yet stands out as being one of the most successful privately held companies in the industry. Morey Corp. achieved revenues of $120 million in 2008, up approximately 50% from the previous year.

In recent years, Morey Corp. has positioned itself as an ODM in the area of high-level controls, displays and telematics. Some of its leading customers include Caterpillar, International Truck and Engine and Case; therefore, it has gained considerable expertise in the industrial segment involving heavy equipment and process control applications. President and CEO Scott Morey states, "Caterpillar is the number one OEM supplier of ruggedized equipment in the world, and we are one of its primary ruggedized electronic subcontractors."

The company recently opened a 27,500 sq. ft. R&D center to support its 100,000 sq. ft. manufacturing facility. This ODM capability gives the company advantages in providing the latest generation of technologies, improved technical problem solving, improved speed-to-market, and greater flexibility in configuration and quality. Morey has also applied these skills to the aerospace/military and energy markets by focusing on low-to-medium volume/high-mix products.

Scott Morey is supported by brothers Dana and Jay, and sets the standard and vision for the company. He has joked that some of the long-time employees jab that he "couldn't hold a candle to his grandfather," yet the loyalty within the company is palpable. The moral and ethical values that he advocates engender an integrity to which customers instinctively respond. "We all work best with companies and people with whom we share values. Who are you friends with? It's the same with our customers."

Morey's success is derived not from any one thing; rather, it is a combination of business values and practices that make it unique among its employees and customers. These include the philosophies of Lean manufacturing, Deming, Goldratt and the Bible. The company pursues a conservative growth strategy, often eschewing acquisitions and opportunistic customer engagements. As a result, Morey focuses on the markets and products it can excel in, and then excels in applying its value proposition.

NexLogic. NexLogic (nexlogic.com) is a Silicon Valley-based operation that has demonstrated exceptional financial performance by achieving some of the strongest profit margins in the industry, according to our statistics. While the company is small ($16 million in sales in 2008), it is well-positioned in the industrial, medical and military market segments, which seem the only ones where good profitability can be achieved.

Asked how it came to be so successful, president and CEO Zulki Khan replies, "We have developed an ideal customer profile to help us understand the kind of customer we want to serve. Once we decide on a customer, we go the extra mile to do what we need to get the product finished. We are extremely flexible in terms of delivery and in rapid turnaround time. We like to spoil them and are constantly achieving miracles. After a while, if you do that enough times, they will come to rely on you, and price becomes second to service. Eventually, they become champions for you inside the company."

NexLogic doesn't lose many contracts once it sets its sites on a particular customer. Yet, it is quite particular about the kinds of projects it will take on, focusing on those it believes it can excel with. Khan says, "We offer a one-stop shop like the big guys, providing layout, testing, assembly, but try to reduce the suppliers to one contact. We try to keep our finger on the pulse of the technology needs, processes and package requirements, and will invest in equipment, as well as certifications, if necessary. Additionally, we try to solve problems in advance, before it's too late. We upgrade our capacity and capability by buying things that will help us to better serve the customer."

NexLogic has kept some customers up to 10 years, and nearly 80% of its business is from repeat customers. Nearly 25% of the company's staff are engineers. NexLogic invests considerably in certifications (RoHs, medical and military, etc.) and other specialties to keep on the leading edge of its field. The company realizes it needs to maintain high levels of technical, quality and performance capabilities to be successful.

Zollner. Zollner (zollner.de) is the second-largest EMS company in Europe (behind Elcoteq), and the largest in Germany, with 12 locations in Europe, one in China and one in North Africa. The company exceeded $1 billion in revenue in 2008, more than doubling its revenue since 1993. The company does this by developing a strong customer base around medium- to high-volume, low-mix assemblies, as well as complex and low-volume production involving advanced technology. Zollner has a diverse product base of electronics assemblies across all major industry segments.

Similar to other companies profiled here, Zollner is privately held, allowing it to plan for the long-term, whereas most public companies operate quarter to quarter. This advantage permits Zollner to invest in a range of portfolio products. Zollner is a full-service, vertical provider, including offerings in sheet metal, plastics and full turnkey services.

Markus Aschenbrenner, VP of business development, believes these features permit the company to act as a medium-sized business that can offer plenty of personal attention. He reiterates, "Our program management is very good at hearing what the customer really needs. The customer is only one step away from being able to call executive management if a problem doesn't get satisfactorily solved. Every three years, we do an extensive customer satisfaction survey, where the PM and a member of executive management go to the customer's site to address our performance and their needs."

Zollner is a technology-driven company. "In Europe we are the first ones to adopt new technology," asserts Aschenbrenner. "For example, we were first to purchase the new series of Agilent x-ray equipment." Moreover, its flexibility is key to customers. "They rely on us today for everything and want manufacturing to be the same as it used to be in-house. As a result, we have standard systems, equipment, processes and software across all our sites, as we did not acquire other companies and thus have no need to integrate different setups into our organization. We're not like the big guys that buy customer manufacturing operations and inherit inefficient operations."

Like many growing EMS firms, Zollner believes it needs to do better in supply chain management. The company has a fully established procurement capability in China to improve pricing on components, although there is room for improvement.  Zollner perceives business will pick up again in 2010. Executive management pays close attention to these trends and the specific needs of its more than 500 customers.

Certain best practices consistently work for EMS companies that are unique to their culture and customer base. EMS companies that are not cognizant of their own best practices need to assess and make sure they align with customers' organizations and needs. When this happens, two critical things result: First, customer loyalty becomes embedded and switching to other suppliers counterproductive. Second, superior financial performance can result, since the customer and the contractor have parallel goals and an economically compatible relationship. 
Randall Sherman is president and CEO of New Venture Research Corp. (newventureresearch.com); This e-mail address is being protected from spambots. You need JavaScript enabled to view it . Dave Leone is principal consultant of David Leone & Associates. Frank Klomp is principal consultant of Alerta Marketing Intelligence (alerta-intelligence.com).
Last Updated on Friday, 11 December 2009 16:19
Columns
Eastern-US: China's New Competitor?
Parity emerges among EMS Factories from Asia, Mexico and the US.
For the first time in years we see parity in the Eastern US among EMS factories from Asia, Mexico and the US. This EMS market condition will permit American OEMs (the EMS industry refers to OEMs as customers) to have more EMS pathways to choose from. Now more than ever, such EMS assignments will require deeper investigation relating to the OEMs' evaluation of manufacturing strategies.
Read more...
For those who count on the electronics industry for big feats, it's been a remarkable couple of years.
Read more...
Features
Advances in Concentration Monitoring and Closed-Loop Control
Contaminated bath water skews refractive index results. New technology can accurately measure aqueous cleaning agent concentration.
Read more...
Circuits Disassembly: Materials Characterization and Failure Analysis
A systematic approach to nonconventional methods of encapsulant removal.
Read more...