Written by Dr. Davide Di Maio
Sunday, 01 November 2009 00:00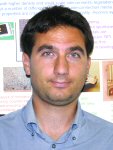 Drilling may be behind 'false' gaps.
The microsection in Figure 1 was taken from the knee of a plated through-hole during board examination. The section shows a gap between the edge of the original copper foil and the through-hole copper plating. This is not a crack in the plating, however. Rather, there is resin smear on the copper foil edge, and the copper plating to the surface of the board and into the through-hole has simply covered the resin, giving the appearance of a crack or the copper folding.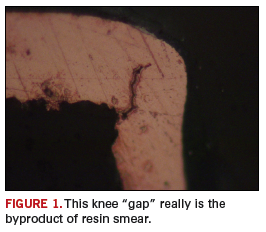 As resin smear is the most likely cause on the edge of the copper foil, a full review of the steps during and after drilling needs to be examined. Test sections taken after panel plating should be considered to demonstrate any improvements in the copper plating adhesion to the edge of the foil. Reference should be made to IPC-A-600 or internal company procurement standards. 
Dr. Davide Di Maio is with the National Physical Laboratory Industry and Innovation division (npl.co.uk); This e-mail address is being protected from spambots. You need JavaScript enabled to view it .
---
Last Updated on Friday, 20 November 2009 18:38
Columns
European RoHS Enforcement Explained
A series of workshops next month on compliance with RoHS and other directives will help US companies looking to break into the European market.

Read more...
Believing Foxconn Means Suspending Belief
The Foxconn makeover is in full swing, with the latest this piece from the New York Times that supposes that the world's largest ODM is worried that Apple -- yes, Apple -- might be bringing it down:
Read more...
Features
Managing Your ESD Program
SMT Reflow Oven-to-Oven Repeatability
How to adjust an oven so a single recipe will work across multiple ovens for an individual product.
Read more...
Products
Polyonics Introduces Double Coated Bonding Tapes
Ultra thin double coated tapes are for bonding and attaching components and assemblies where high dielectric strength is required. REACH and RoHS compatible. Come in polyimide (PI) and polyester...