Written by ACI Technologies Inc.
Sunday, 01 November 2009 00:00
Pallets are a solution to odd-form packages.
Time was, all assemblies were designed with the same basic construction. The primary side was where plated through-hole components and certain surface mount parts were installed, while the secondary side had exposed pins for PTH components and might have some SMT components. Most assemblies were processed the same way. Glue dots were applied to the secondary side, SMT components installed, and the glue cured (if SMT components were present). Then, solder paste was applied to the primary side, SMT components installed, and the solder reflowed. Through-hole installation and wave soldering followed. Contending with PTH components meant controlling solder shorts and ensuring design engineering understood how to optimize the design for wave soldering.
Today's designs are highly integrated, with the vast majority of parts taking SMT form. However, some parts – such as beepers, switches and user-access connectors – don't lend themselves to an SMT package. Multi-image panels are utilized for many designs to maximize the efficiency of the PCB construction and assembly. This can make it impossible to control coplanarity of the entire panel due to its overall width. All these factors are driving adoption of selective soldering processes.

Masking pallets can generally only accommodate a single assembly per pallet design, so care must be taken to ensure a relatively stable design before investing heavily. Depending on the size of the wave solder machine, typically no more than 10 pallets are required for a fully developed application. Pallets can force designs to use larger keep-outs for non-wave parts, as the solder is indiscriminately applied to the entire exposed area. The pallet must be completely seated to the board to prevent solder leakage into areas that should be shielded from the wave. This requires a sufficient clear area around the exposed portion of the assembly to permit sealing with the pallet.

Reasons for requiring a selective solder pallet are varied. In some instances, a pallet may be required due to SMT components on the secondary side that cannot be wave-soldered or that are installed using a standard double-side reflow process that would be pushed off by the solder wave (due to the lack of glue). This is especially true for designs that have a high percentage of SMT components, with a very small amount of parts that are available only as through-hole. In other designs, a multi-image panel may bow when supported only by the wave solder finger conveyor due to the width of the panel and the mass of the parts. If the individual designs don't permit the panel to be broken into smaller strips (either due to irregular edge designs or lack of edge clearance for finger conveyors), a pallet can be used for support and/or masking. Finally, masking pallets can permit through-hole components to be installed on both sides of an assembly by using one pallet for each side, and wave soldering the assembly twice.

Processing a masking pallet assembly over a solder wave requires some adjustments to standard conditions. Most important, the preheat temperatures require adjustment, as the pallet adds significant thermal mass to the assembly. Care must be taken to ensure that flux is activated and the assembly does not suffer from thermal shock, as is true for a standard wave solder application. Wave height settings require modification as well. In the case of a standard assembly, the maximum wave height is the height that does not flood the topside of the board. With a pallet, the wave is required to flow into a pocket, so it must be set higher. The pallet's extra thickness permits the wave height to be higher without flooding the assembly.

Many options exist for manufacturers that find themselves forced to create designs that violate the old ways of processing assemblies. Selective solder pallets permit a manufacturer to capitalize on existing equipment and process knowledge.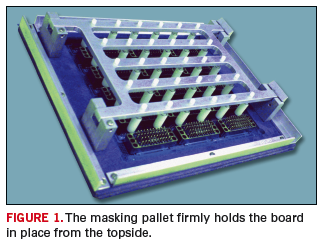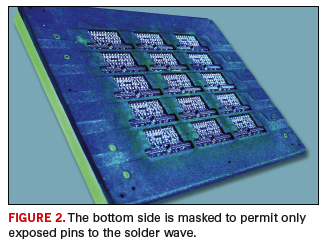 ACI Technologies Inc. (aciusa.org) is a scientific research corporation dedicated to the advancement of electronics manufacturing processes and materials for the Department of Defense and industry. This column appears monthly.
Last Updated on Wednesday, 18 November 2009 18:23
Columns
Eastern-US: China's New Competitor?
Parity emerges among EMS Factories from Asia, Mexico and the US.
For the first time in years we see parity in the Eastern US among EMS factories from Asia, Mexico and the US. This EMS market condition will permit American OEMs (the EMS industry refers to OEMs as customers) to have more EMS pathways to choose from. Now more than ever, such EMS assignments will require deeper investigation relating to the OEMs' evaluation of manufacturing strategies.
Read more...
For those who count on the electronics industry for big feats, it's been a remarkable couple of years.
Read more...
Features
Advances in Concentration Monitoring and Closed-Loop Control
Contaminated bath water skews refractive index results. New technology can accurately measure aqueous cleaning agent concentration.
Read more...
Circuits Disassembly: Materials Characterization and Failure Analysis
A systematic approach to nonconventional methods of encapsulant removal.
Read more...