Written by Dr. Davide Di Maio
Tuesday, 01 December 2009 00:00
  
Microsectioning shouldn't be taken lightly, lest the sample be damaged.

The microsection image shows an open connection between the through-hole copper plating and the innerlayer tracking. The microsection has been poorly prepared, with potential damage to the plating during grinding. As shown, no resin is in the hole to support the through-hole copper plating. The surface of the copper is rounded, making it impossible to prove the root cause of the problem in this example.

It is accepted that the sample has been poorly prepared. Any time a section is being prepared, it is important resin enters the through-hole. In the case of via holes, they may be coated with solder mask; in this case, the mask surface must be broken to permit resin to enter the hole. If a section is found to not have resin in it prior to grinding to the center, it's important to stop grinding. This permits the hole to be filled with resin, recurred prior to further grinding of the sample.

These are typical defects shown in the National Physical Laboratory's interactive assembly and soldering defects database. The database (http://defectsdatabase.npl.co.uk), available to all Circuits Assembly readers, allows engineers to search and view countless defects and solutions, or to submit defects online.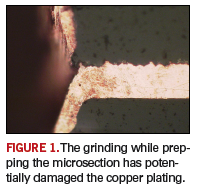 Dr. Davide Di Maio is with the National Physical Laboratory Industry and Innovation division (npl.co.uk); This e-mail address is being protected from spambots. You need JavaScript enabled to view it .
Last Updated on Monday, 14 December 2009 17:25
Columns
There's been a flurry of EMS acquisition activity of late, with Natel's acquisition of EPIC Technologies and Benchmark's pickup of Suntron and CTS among the larger deals.
Read more...
What Does New CEO for Microsoft Mean for Hardware?
In the end, Microsoft couldn't pull the trigger. In Seattle, outside just wasn't "in."
The world's largest software developer today named Satya Nadella, head of the the company's Server and Tools unit, as its new chief executive. The 46-year-old Nadella becomes just the third person to lead Microsoft, one of the most successful and wealthiest companies ever.
Read more...
Features
A Systems-Level Approach to Product Development
Is there a way to more tightly integrate materials and process development so as to accelerate the pace of innovation?
Read more...
Reducing Stencil Wipe Frequency
A new study of nanocoatings allows users to visualize solder paste flow under the stencil.
Read more...
Products
Getech Releases GLRS Laser Singulater
GLRS laser singulation system is configurable with a near IR laser (1032nm) for use with metal-core substrates or a green laser (532 nm) for use with ultra-thin and flexible substrates. Inert gas...