Written by Administrator
Tuesday, 24 March 2009 13:05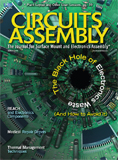 FEATURES
FIRST PERSON
MONEY MATTERS
TECH TALK
DEPARTMENTS
Industry News
Market Watch
Product Spotlight
Ad Index
Assembly Insider
On the Cover: iNemi's latest roadmap takes aim at product sustainability.
Last Updated on Tuesday, 05 May 2009 06:06
Columns
The Flash Programming Flow
On-board flash memory device testing and programming.
Read more...
Does Reliability Have a Place In EMS?
Experts say physics of failure is overtaking MTBF as the go-to model.
Read more...
Features
MassChallenge, a not-for-profit accelerator program, aims to "create a bigger pie" by helping innovators get to market.
Read more...
Who says a Tier IV EMS can't have the foresight, and follow-through, of the big players?
Read more...