Written by Dr. Davide Di Maio
Monday, 01 February 2010 00:00
  
Many gold failures are incorrectly attributed to black pad issues.

Figure 1 shows the surface of a nickel pad on a printed board after stripping the gold from the nickel surface. The image shows limited evidence of corrosion on the nickel surface at the grain boundaries on a bare board. Some evidence of gold is also still visible. Solder joint failures when examined normally show far more corrosion around the nickel boundary. Much debate centers around the subject of black pad. Changes to nickel chemistry and better control have reduced solder joint failures.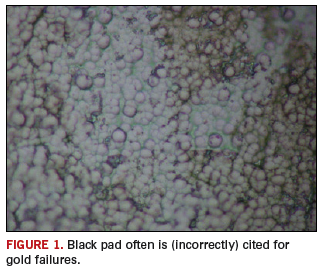 Unfortunately, many gold failures are attributed to black pad issues, when clearly they are not. Close cooperation is necessary with the PCB supplier and its chemistry supplier to determine the cause of the problem. Always ask to review the chemistry supplier's audit reports conducted at the PCB supplier's offices. Independent analysis also may be required, if the assembly processes are considered the root cause of any joint failure. Review the PCB fabrication process, the reflow temperature and time in a liquid state for the solder paste.

These are typical defects shown in the National Physical Laboratory's interactive assembly and soldering defects database. The database (http://defectsdatabase.npl.co.uk), available to all this publication's readers, allows engineers to search and view countless defects and solutions, or to submit defects online. 
Dr. Davide Di Maio is with the National Physical Laboratory Industry and Innovation division (npl.co.uk); This e-mail address is being protected from spambots. You need JavaScript enabled to view it . His column appears monthly.
Last Updated on Tuesday, 09 February 2010 21:57
Columns
There's been a flurry of EMS acquisition activity of late, with Natel's acquisition of EPIC Technologies and Benchmark's pickup of Suntron and CTS among the larger deals.
Read more...
What Does New CEO for Microsoft Mean for Hardware?
In the end, Microsoft couldn't pull the trigger. In Seattle, outside just wasn't "in."
The world's largest software developer today named Satya Nadella, head of the the company's Server and Tools unit, as its new chief executive. The 46-year-old Nadella becomes just the third person to lead Microsoft, one of the most successful and wealthiest companies ever.
Read more...
Features
A Systems-Level Approach to Product Development
Is there a way to more tightly integrate materials and process development so as to accelerate the pace of innovation?
Read more...
Reducing Stencil Wipe Frequency
A new study of nanocoatings allows users to visualize solder paste flow under the stencil.
Read more...
Products
ASC Releases LineMaster DM Inspection Machine
LineMaster DM inspection machine has dual mode capability; incorporates SPI and AOI. Validates overall variables associated with component placement and solder paste printing. Detects...