Written by Clive Ashmore
Thursday, 01 April 2010 00:00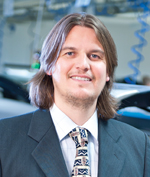 First of a two-part look at ways to keep print operations running smoothly.

With all the advances in screen printing technology – from cycle times to accuracy to inspection capability – it's sometimes easy to forget that, just like your own health, keeping your process in check requires periodic preventative maintenance. So, in this column and the next, I'll discuss the three areas central to a healthy print process, along with simple remedies for certain problems. They are:
Correct volume.
Correct location.
Timeliness and repeatability.
First, let's talk about material volume – either too little or too much solder paste. For insufficients (too little paste), I generally analyze four things: volume of paste in front of the blade, material compatibility with the process, squeegee type/squeegee angle and the stencil.

Paste volume in front of the squeegee blade. Remarkably, this is a common issue, but is easily resolved. The rule of thumb is that there should be a 15 mm (about 0.75˝) diameter roll in front of the blade. While this seems easy to monitor, in busy factories, it is often overlooked, but can be remedied through use of automatic paste height monitors.

Material compatibility with the process. Many firms have taken on miniaturization from a manufacturing point of view, but not necessarily followed suit with their materials. For smaller ranges of apertures (sub 200 µm), a Type 4 or even Type 5 solder paste may be required. In general, at least four to five solder particles should fit across the width of the smallest aperture. If aperture width has been reduced, but solder paste type not adjusted, insufficients may result because of blocked apertures. Also consider material age. If a product has been running fine and then all of a sudden insufficients begin to appear, it could be a material drying issue. Even a slight change in the material will impact the print, especially when running a process with incredibly small apertures.

Stencil considerations. Of course, stencil integrity and cleanliness also factor greatly in proper paste volumes. Improper cleaning can render an aperture area ratio significantly reduced from the ideal of 0.66. If the stencil has been designed improperly, without regard to area ratio rules, or if it isn't manufactured with properly calibrated lasers or a process that ensures debris-free aperture walls, then insufficient volumes could result.

Squeegee type and angle. Squeegee angle is incredibly important, and slight adjustments can have a huge impact on aperture fill. Plus, it's not just the manufacturer-recommended angle to be concerned with: Pressure also must be evaluated. If you're putting a tremendous amount of pressure on the squeegee, the bend will affect the angle and, therefore, the print. Proper maintenance also is key. Just because squeegees are metal doesn't mean they are indestructible. Warped squeegees and worn tips can wreak havoc on prints. All it takes is a few seconds at the end of each shift to look down the length of the blade for damage. If there is, the blade should go in the bin.

Conversely, too much solder paste can result in bridging or stringing, and certain inputs should be evaluated to reveal the source. Similar to problems that occur with too little paste, factors that should be analyzed in relation to excessive volume include materials, squeegee, stencils and tooling support.

Material. If the viscosity of the solder paste isn't right, then slumping, bridging and stringing can occur. Aside from the obvious formulation issues, viscosity also can be impacted by environmental conditions (high humidity, for example) and cleaning solvents on the stencil. All of these potential viscosity challengers should be evaluated.

Squeegee. Again, the angle is essential for ensuring the proper amount of solder paste in the apertures. An angle that is too shallow (45° and below) may create a volume that is too high. But, as noted, blade pressure also can impact volume. A 60° blade, under excessive pressure, could cause material volume to be overshot.
Stencils. Precise fabrication of the stencil is critical. Apertures that are too large – even slightly – can release too much paste volume, leading to bridging. Cleanliness also has an impact. If a smear is left on the stencil, the extra thickness might cause too much material volume to be pulled when it is released from the aperture.

Tooling supports. All tooling needs to be clean, flat and maintained. You'd be amazed at how many tooling supports are covered in dried solder paste, which, once set, is much like cement. With too much dried paste on the tooling block, the board often doesn't gasket well to the stencil; these gaps will lead to extra material volume.

Monitoring these "gotchas" on a regular basis will most certainly lead to a healthier print process. In my next column, we'll continue this discussion with a look at location/accuracy and repeatability. Until then, keep an eye on those paste volumes! 
Clive Ashmore is global applied process engineering manager at DEK International (dek.com); This e-mail address is being protected from spambots. You need JavaScript enabled to view it . His column appears bimonthly.
Last Updated on Thursday, 25 March 2010 18:55
Columns
Eastern-US: China's New Competitor?
Parity emerges among EMS Factories from Asia, Mexico and the US.
For the first time in years we see parity in the Eastern US among EMS factories from Asia, Mexico and the US. This EMS market condition will permit American OEMs (the EMS industry refers to OEMs as customers) to have more EMS pathways to choose from. Now more than ever, such EMS assignments will require deeper investigation relating to the OEMs' evaluation of manufacturing strategies.
Read more...
For those who count on the electronics industry for big feats, it's been a remarkable couple of years.
Read more...
Features
Advances in Concentration Monitoring and Closed-Loop Control
Contaminated bath water skews refractive index results. New technology can accurately measure aqueous cleaning agent concentration.
Read more...
Circuits Disassembly: Materials Characterization and Failure Analysis
A systematic approach to nonconventional methods of encapsulant removal.
Read more...