Written by Paul Lotosky
Thursday, 01 April 2010 00:00
  
If parts are coming off the board, check the conveyor speed and lead lengths.

When components show lifting during wave soldering, the following mitigation steps might prove helpful.

Primary process setup areas to check:
Conveyor speed too fast. Slowing the conveyor will increase the immersion time in the wave and overcome thermal mismatch or demand.
Incorrect lead length: Shot leads may shift and can pop out of the hole.
Board flex or warpage.
Other things to look for in the process:
Solder wave height too high.    
Conveyor vibration.    
Board incorrectly seated.
Solder wave uneven.    
Conveyor angle too high.    
Defective fixture.
Excess flux blow-off.    
Early removal of board.

Other things to look for with the assembly:
Improper board handling.    
Component lead length too long.

Things to look for with the board design: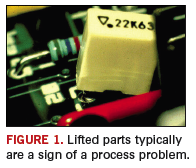 Paul Lotosky is global director - customer technical support at Cookson Electronics (cooksonelectronics.com); This e-mail address is being protected from spambots. You need JavaScript enabled to view it . His column appears monthly.
Last Updated on Thursday, 25 March 2010 19:12
Columns
Could 3-D printers undo decades of frame-up circuit board assembly?
Read more...
J-STD-004B: A New Twist on an Old Standard?
Before rejecting a flux, be sure you understand the standard.
Read more...
Features
A Systems-Level Approach to Product Development
Is there a way to more tightly integrate materials and process development so as to accelerate the pace of innovation?
Read more...
Reducing Stencil Wipe Frequency
A new study of nanocoatings allows users to visualize solder paste flow under the stencil.
Read more...
Products
Metcal Updates Scorpion Rework System
Scorpion rework system now includes an automatic placement package capable of 50mm of motorized travel in the Z-axis and 360° in ϴ. Automatic placement package offers fine motor control in the...