Written by Dr. Davide Di Maio
Wednesday, 01 April 2009 17:31
 
Lead contamination can affect reflow profiles.

Secondary reflow of Pb-free solder joints is not an uncommon defect found in manufacture. X-ray inspection of a lifted J-lead (Figure 1) was part of an investigation to pinpoint the possible cause of open joints. In this case, a known amount (nine to 10%) of lead was present on the lead plating in these Pb-free joints.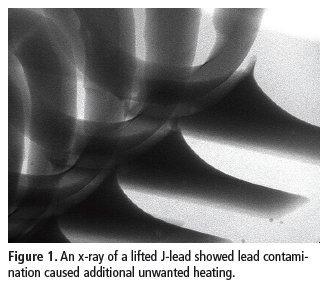 Board temperature control during wave soldering is very important to avoid secondary reflow on the topside of the board. This can occur when a board passes over the solder wave and heat is transferred by conduction through the bulk of the board. This issue can be eliminated through correct topside profiling, which in turn mandates use of a process control tool to monitor changes in contact time and temperature.

It is understood some companies have experienced problems over the past couple years with secondary reflow of Pb-free joints during wave soldering. This has led to separation of the termination from the bulk of the joint. In the past, the same phenomenon has occurred with traditional SnPb alloys when the top surface of the board reached or exceeded 180°C. NPL research has examined the level of lead contamination and its impact on reliability. It has been demonstrated that small amounts of lead will lower the reflow temperature of Pb-free alloys (217°-221°C), leading to secondary reflow at SnPb reflow temperatures (183°-184°C).

It is important to check components for lead contamination to reduce the possibility of secondary reflow due to a low temperature phase and to meet RoHS requirements. Technical articles on this subject are available to SMTA members on its website (smta.org).

These are typical defects shown in the National Physical Laboratory's interactive assembly and soldering defects database. The database (defectsdatabase.npl.co.uk), available to all Circuits Assembly readers, allows engineers to search and view countless defects and solutions, or to submit defects online.
Dr. Davide Di Maio is with the National Physical Laboratory Industry and Innovation division (npl.co.uk); This e-mail address is being protected from spambots. You need JavaScript enabled to view it .
Last Updated on Wednesday, 01 April 2009 11:50
Columns
Eastern-US: China's New Competitor?
Parity emerges among EMS Factories from Asia, Mexico and the US.
For the first time in years we see parity in the Eastern US among EMS factories from Asia, Mexico and the US. This EMS market condition will permit American OEMs (the EMS industry refers to OEMs as customers) to have more EMS pathways to choose from. Now more than ever, such EMS assignments will require deeper investigation relating to the OEMs' evaluation of manufacturing strategies.
Read more...
For those who count on the electronics industry for big feats, it's been a remarkable couple of years.
Read more...
Features
Advances in Concentration Monitoring and Closed-Loop Control
Contaminated bath water skews refractive index results. New technology can accurately measure aqueous cleaning agent concentration.
Read more...
Circuits Disassembly: Materials Characterization and Failure Analysis
A systematic approach to nonconventional methods of encapsulant removal.
Read more...