Written by Ursula Marquez de Tino, Ph.D.
Monday, 29 June 2009 17:55
A wetting problem might be from a missing pad.

Our team was recently requested to identify the root causes of a defect that the customer had tentatively identified as cold solder joints. In this instance, a Pb-free QFP presented some joints where solder did not wet the side and toe of the component leads (Figure 1).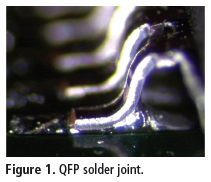 The assembly was built on a 170˚C Tg FR-4, 0.062"-thick board, with immersion silver surface finish. The QFP pad dimensions were 0.3 by 1.8 mm. The QFP had NiPdAu finish and a pitch of 0.5 mm. The solder paste was SAC 305.
Visual inspection showed a lack of solder wetting on some solder joints. However, good heel formation was observed in all cases. Lack of minimum joint formation on the toe was also observed. This is normal for L-lead components where visible copper is observed. This is a non-solderable surface and is the result of the trimming process.
Visual inspection also revealed examples of misalignment where the component leads overhang the pads. IPC-A-610D states this type of joint is acceptable for Class 1 and 2 assemblies when the maximum side overhang is not greater than 50% lead width or 0.5 mm, whichever is less, and acceptable for Class 3 assemblies when the maximum overhang is not greater than 25% lead width or 0.5 mm, whichever is less.
Cross-sectional analysis showed good solder joint formation of the QFPs. Acceptable toe and heel formation were observed in the joints (Figure 2).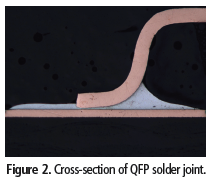 An additional cross-section along the width of the component lead proved the lack of wetting was due to the absence of a PCB pad underneath the lead. On the other side, good solder joint formation was observed (Figure 3).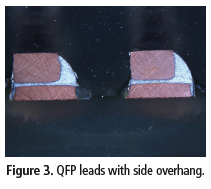 The pad dimensions were measured and the data revealed that, on average (five measurements), the pad width is only 0.26 mm, or 4 mm less than what was specified. The smaller pad and the shift in placement resulted in the lack of wetting on the component side. However, this issue is acceptable per IPC-A-610D; it is not a case of cold joint defects.
In conclusion, acceptable solder joints were observed for the QFP. The lack of solder on the toe of the joints was due to the lack of a wettable surface finish and is normal in L-lead components. The lack of solder along the lead side was due to overhanging. This issue can be corrected by enlarging the pad dimensions as specified by the component supplier. As a rule of thumb, the width of the pad should be equal to 0.6 times the component pitch.
Ursula Marquez de Tino, Ph.D. is a process and research engineer at Vitronics Soltec, based in the Unovis SMT Lab (vitronics-soltec.com); This e-mail address is being protected from spambots. You need JavaScript enabled to view it . Her column appears monthly.
Last Updated on Monday, 29 June 2009 18:01
Columns
Eastern-US: China's New Competitor?
Parity emerges among EMS Factories from Asia, Mexico and the US.
For the first time in years we see parity in the Eastern US among EMS factories from Asia, Mexico and the US. This EMS market condition will permit American OEMs (the EMS industry refers to OEMs as customers) to have more EMS pathways to choose from. Now more than ever, such EMS assignments will require deeper investigation relating to the OEMs' evaluation of manufacturing strategies.
Read more...
For those who count on the electronics industry for big feats, it's been a remarkable couple of years.
Read more...
Features
Advances in Concentration Monitoring and Closed-Loop Control
Contaminated bath water skews refractive index results. New technology can accurately measure aqueous cleaning agent concentration.
Read more...
Circuits Disassembly: Materials Characterization and Failure Analysis
A systematic approach to nonconventional methods of encapsulant removal.
Read more...
Products
KIC Debuts K2 Thermal Profiler
K2 thermal profiler has plug-and-play hardware and a graphical user interface said to make profiling both quick and easy. Enables each thermocouple to use its own unique process window, while...