Written by Mike Buetow
Monday, 29 June 2009 18:06

While many EMS companies are choosing to concentrate on a single alternative energy (AE) business, Sanmina-SCI has been working with customers in the fuel cell, solar and wind sectors. The firm, which last year divested its PC manufacturing business (see Talking Heads, January 2008), is leveraging its capabilities in several manufacturing segments through an integrated approach, as Sundar Kamath, Ph.D., Sanmina's senior vice president of customer engineering and technology explained to Circuits Assembly's Mike Buetow in May.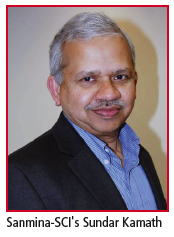 CA: How has Sanmina-SCI segmented or otherwise structured its internal AE units; is each a standalone, or are they integrated?
SK: Our initial AE engagements started almost two years ago with customers in wind, energy and fuel cells. These were initiated through personal contacts, prior relationships, or the customer's awareness of Sanmina-SCI's end-to-end manufacturing capabilities, particularly in electromechanical engineering and manufacturing.
Unlike some contract manufacturers that only do electronics assembly and box build, Sanmina-SCI also has core competencies in enclosures, machining, cables, and electromechanical design and assembly. This is a good fit for most of the AE market, which is why we have customers today in solar, wind, fuel cells and battery systems.
Our current engagements in the AE business are more strategic, targeting AE growth sectors and customers who are a good fit for our total capabilities. We are supporting these sectors in an integrated manner through Sanmina-SCI's component divisions, not through standalone internal AE units.
CA: Have you found a way to leverage your traditional EMS business to capitalize on the AE market?
SK: Yes, Sanmina-SCI has been able to leverage the traditional EMS services for AE customers in areas related to power electronics, control and distribution, meters and system integration. For example, we have been involved in manufacturing components like combiners, controllers and inverters, which are offered as an integral part of the AE solution by some customers.
CA: Some analysts have noted a slowing in investments in the AE sector. Has Sanmina specifically seen this?
SK: There does seem to be a slowdown in some markets, which has affected the AE activity, but it does not appear to be broad-based.
CA: Does Sanmina see any specific IP inherent in AE production? If so, is the IP patent-worthy?
SK: We do see some IP potential in areas that are not core or proprietary to our customers.
CA: What have been some of the technical challenges of AE manufacturing? For example, wafer handling is not a traditional competency of assemblers. How has Sanmina tackled those challenges? Are the solutions driven by equipment sets or operator/engineering expertise?
SK: We are not engaged in PV cell or module production at this time. The majority of engineering and manufacturing services we provide to AE customers support the Balance of System or Plant (BOS or BOP) needs.
For example, Sanmina-SCI's strengths in mechanical design and fabrication can be applied in optimizing BOS component processes and costs, which are key factors in the AE customer's goal of achieving grid parity.
Wafer handling, if needed, is not a major issue, since one of Sanmina-SCI's divisions has been handling memory wafers for a few years.
Ed.: Kamath will present on Sanmina-SCI's AE strategy during SMTA International in October (stma.org/smtai).
Last Updated on Monday, 29 June 2009 18:13
Columns
Could 3-D printers undo decades of frame-up circuit board assembly?
Read more...
J-STD-004B: A New Twist on an Old Standard?
Before rejecting a flux, be sure you understand the standard.
Read more...
Features
A Systems-Level Approach to Product Development
Is there a way to more tightly integrate materials and process development so as to accelerate the pace of innovation?
Read more...
Reducing Stencil Wipe Frequency
A new study of nanocoatings allows users to visualize solder paste flow under the stencil.
Read more...
Products
Hitachi Updates Sigma G5S Modular Mounter
Sigma G5S modular mounter has a multi-function head that now features lead-clinching and tamping functionalities. Uses side-mounted lighting and machine vision to identify and locate through-hole...