Written by Paul Lotosky
Saturday, 01 August 2009 00:00
When the solder doesn't stick, first check the pad.

Dewetting is a condition that results when molten solder coats a surface and then recedes, leaving irregularly shaped mound(s) of solder separated by areas that are recovered with a thin film of solder and with the basis metal unexposed.
Non-wetting is a condition in which there is partial adherence of molten solder to a surface it has contacted, and the basis metal remains exposed.
While we usually list in this space the primary process setup areas to check, dewetting and non-wetting typically are board-related due to pad surface contamination.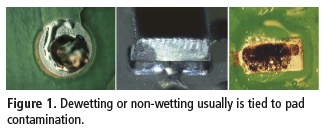 Other things to look for in the process include:
Solder temperature too low.     
Preheat too high or low.    
Excess or insufficient flux blow-off.
Solder wave height low.     
Flux not making contact.    
Flux contamination.    
Board pallet too hot.
Flux applied unevenly.    
Flux SP GR too low.    
Conveyor speed too fast or slow.
Board not seated properly.    
Flux SP GR too high.    
Solder contamination.    
Other things to look for with the assembly include:
Board or component contamination.    
Improper board handling.    
Other things to look for with the board design include:
Oxidation.    
Contamination.
Paul Lotosky is global director - customer technical support at Cookson Electronics (cooksonelectronics.com) This e-mail address is being protected from spambots. You need JavaScript enabled to view it .
Columns
The Flash Programming Flow
On-board flash memory device testing and programming.
Read more...
Features
Technology Truck Tours: The New Alternative to Trade Shows?
As the electronics manufacturing industry worldwide has changed dramatically, marketers of OEM capital equipment have changed their strategies and methodologies. Successful marketers have learned to think outside the box – and in some cases, even outside the exhibit hall.
Read more...
MassChallenge, a not-for-profit accelerator program, aims to "create a bigger pie" by helping innovators get to market.
Read more...
Products
TRI Rolls Out TR7500 SIII 3D AOI
TR7500 SIII 3D AOI has five color cameras and 3D laser for 3D height inspection. Combines 3D profile measurement with multi-angle 2D inspection. Is for post-reflow assembly inspection. Inspects 01005...