Written by Chelsey Drysdale
Thursday, 03 September 2009 18:19
With a new building and equipment set, Leda is preparing to take off.
When Boeing (boeing.com) needs prototype assemblies, it jets on down to Leda Corp. (ledacorp.net), an aerospace design and PCB assembly firm located in the middle of Surf City USA.
There, in a cluster of innocuous white buildings in Huntington Beach, CA (Surf City is the town's registered name), Leda operates a batch assembly line in a small footprint. But that's all about to change.
President Joseph Tung and family – vice president (and son) David, and wife, Dorothy – own and operate Leda, a nearly 25-year-old firm that has been expanding steadily, if not rapidly, since it moved to this site in 2004.
The Tungs bought a second building on the campus in 2005 and a third nearby in 2006. And as construction workers diligently laid concrete and workers pieced together new equipment, Joseph Tung's vision for the site would be realized in a matter of weeks.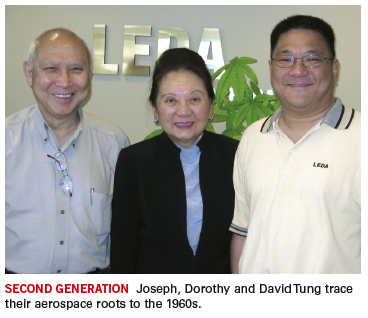 Inside the 6,000 sq. ft. Building 2, an empty space in the floor marked where a new line would soon run. When a Circuits Assembly reporter visited the company in June, the new building was about 80% complete, and equipment was to be installed later that month. The staff numbers about 25, and once the site is finished the company plans to hire two or three more.
For Leda – the name comes from the first two letters of Joseph's daughter, Leslie, and son David – it marks the culmination of a process four years in the making.
As David Tung explains, Leda is a small-volume, high-mix shop. "We do a lot of specialty jobs, but don't do a lot of production." Yet about five years ago, the company recognized it lacked capacity. The need became more pressing about two years ago, when the company missed out on an opportunity. The reason, David Tung believes, "is because we didn't have a showcase facility with high-precision capital equipment."
Steadfast in the aerospace/defense sector, the firm works with the prime aerospace companies, and is a preferred supplier to Boeing. "With a black box or flight instruments, you need three things: PCBs, cabling/routing, and enclosures/switches," says Joseph Tung. That suits Leda, which provides all three. But it needed more capacity and a greater skill set. "You can't use old technology because the components are too small to work with by hand," he adds.
That should change with the addition of a new SMT line, which includes an Ersa printer, a Europlacer iineo pick-and-place machine, Ersa Hotflow convection oven, Mirtec AOI, and Nutek loaders and unloaders. As David Tung notes, "Everything is inline; we literally don't have to touch a board."
In keeping with aerospace sector's demand for reliability and traceability, Leda's new screen printer has built-in AOI, with a line-scan camera that will perform 100% PCB inspection. The company has opted for X-Tek x-ray and will continue to use existing equipment for board cleaning.
"This opens up their ability to bid on business, things they couldn't bid on before with Boeing," observes John Perrotta, vice president of Europlacer North America (europlacer.com), upon whom the Tungs relied for equipment and process consulting.
In evaluating choices for its new line, Leda opted for flexibility to meet the company's need to change lines quickly and often. "We took a pretty close look at each element of the line we were proposing," Perrotta says. "They opted for something unique in every case."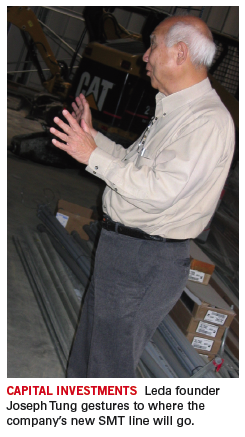 "In this industry [aerospace/defense], capacity is really not an issue, because how many satellites can you build?" says David Tung. "Maybe 10 in the next 10 years. More often it's just the quality of your product, high accuracy and the ease of changeover." Leda plans for two to three changeovers a day, but the new line has capacity for 10.
"They don't want to hire an army of people to support the line. There's a reason they bought a fully automated line," said Perrotta.
On the three-building campus, Leda plans to separate the product builds. Hardware will remain in the original building, while PCB manufacturing will be conducted in the second, and flight cables and fiber optics in the third. A unique element of the new layout is revealed by a long trench in the ground: All cables and piping will be routed under the machines in the floor of the facility.
The product mix for the new line will be 80% mixed technology. Components are kitted. Placement feeders are loaded with the next run's parts and stored near the point-of-use.
Six months from now, when Leda fine-tunes its processes, its suppliers' support will be more visible, but the company lauds its past support from equipment manufacturers, which the family sees as a key to its success.
Outside the factory, Dorothy Tung noted Huntington Beach is good for business because of the "influx of people and exposure of the company." Still, the town presents its challenges. The firm currently is addressing the rejection of the oven's transformer. "It's either a city or Southern California Edison thing," said David Tung. Leda needs to purchase a new transformer or build an explosion-proof enclosure around the existing one. Workers onsite said if this were any other city, the transformer would have been approved.
The company has been fortunate to be focused on the defense and aerospace sector, which has been less hard-hit during the recession. Founder Joseph Tung has long had ties to the aerospace industry. The Hong Kong native has a degree in engineering from Southern Methodist University in Texas. He then worked as an engineer for Boeing for six years, and on the first moon rocket in the 1960s in Huntsville, AL. He also worked for Lockheed on the Poseidon submarine program, and owned a company in Taiwan for 10 years that made toys and closed-circuit TV cameras.
Originally a PCB assembler, Leda gained ground when Joseph Tung convinced a buyer that a board design was wrong and would eventually fail. He talked to the engineer, and they agreed to change the design. Tung performed the redesign and Leda was off and running.
When Leda moved to the current building from what Joseph Tung described as a "three-car garage," business doubled. The Tungs expect it to double again with the new line.
"Money is in enhancement," said Joseph Tung. "You must have new machines to make old technology better, or you're 10 steps behind." Its latest investments should keep Leda flying high. 
Chelsey Drysdale is senior editor at Circuits Assembly; This e-mail address is being protected from spambots. You need JavaScript enabled to view it .
Last Updated on Wednesday, 09 September 2009 18:43
Columns
Eastern-US: China's New Competitor?
Parity emerges among EMS Factories from Asia, Mexico and the US.
For the first time in years we see parity in the Eastern US among EMS factories from Asia, Mexico and the US. This EMS market condition will permit American OEMs (the EMS industry refers to OEMs as customers) to have more EMS pathways to choose from. Now more than ever, such EMS assignments will require deeper investigation relating to the OEMs' evaluation of manufacturing strategies.
Read more...
For those who count on the electronics industry for big feats, it's been a remarkable couple of years.
Read more...
Features
Advances in Concentration Monitoring and Closed-Loop Control
Contaminated bath water skews refractive index results. New technology can accurately measure aqueous cleaning agent concentration.
Read more...
Circuits Disassembly: Materials Characterization and Failure Analysis
A systematic approach to nonconventional methods of encapsulant removal.
Read more...