Written by Paul Lotosky
Thursday, 03 September 2009 18:22
Call them blowholes or pin holes. Just don't call them often.
Where the solder joint has a small, visible hole that penetrates from the surface of a solder connection

between the conductive patterns on internal layers, external layers or both of a board is known as a solder void. This is typically due to moisture entrapment that, during the soldering process, outgassed from the joint.
Primary process setup areas to check:
Topside or overall board temperature too low, entrapping moisture that is out-gassed at the wave.
Entrapped fluid by component in through-hole.
Chemical contaminants not removed during fabrication process.
Contamination in the hole.
Topside of the hole covered by component body or flashing.
Other conditions to look for in the process:
Solder temp too high.
Preheat too low.
Insufficient flux blow-off.
Solder temp too low.
Contaminated flux.
Board pallet too hot.
Flux applied unevenly.
Flux SP GR too low.
Conveyor speed high.
Solder wave height low.
Flux SP GR too high.
Conveyor speed low.
Solder wave uneven.
Flux not making contact.
Board not seated properly.    
Other conditions to look for with the assembly:
Board contamination.
Component contamination.
Improper board handling.
Things to look for with fabrication:
Board oxidized.
Defective mask material.
Board warped.
Board contaminated.
Moisture in the laminate.
Poor plating in the hole.
Mask in hole.
Hole and pad misregistered.
Misregistration of the mask.
Things to look for with the board design:
Lead-to-hole ratio too large.
Internal ground plane.
Component orientation.
Lead-to-hole ratio too small.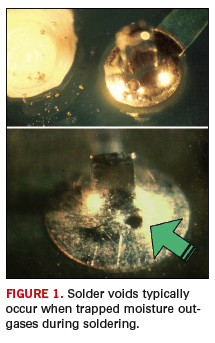 Paul Lotosky is global director - customer technical support at Cookson Electronics (cooksonelectronics.com) This e-mail address is being protected from spambots. You need JavaScript enabled to view it .
Last Updated on Wednesday, 09 September 2009 18:42
Columns
Could 3-D printers undo decades of frame-up circuit board assembly?
Read more...
J-STD-004B: A New Twist on an Old Standard?
Before rejecting a flux, be sure you understand the standard.
Read more...
Features
A Systems-Level Approach to Product Development
Is there a way to more tightly integrate materials and process development so as to accelerate the pace of innovation?
Read more...
Reducing Stencil Wipe Frequency
A new study of nanocoatings allows users to visualize solder paste flow under the stencil.
Read more...
Products
Hitachi Updates Sigma G5S Modular Mounter
Sigma G5S modular mounter has a multi-function head that now features lead-clinching and tamping functionalities. Uses side-mounted lighting and machine vision to identify and locate through-hole...