Written by Mike Buetow
Thursday, 01 October 2009 00:00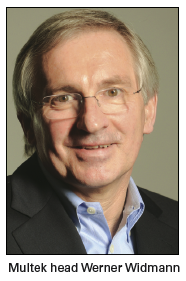 Why a top five fabricator sees value in diversification.
In July, Multek (multek.com) announced a partnership with Sensitive Object (sensitiveobject.fr) to produce enhanced touch-panel products. While it might be odd to find one of the world's largest board fabricators swimming so far downstream toward end-product development, the deal actually ties neatly in with the company's long-range strategy, enabling it to supply a greater range of products to the computing, industrial, medical and consumer segments. Multek president Werner Widmann detailed the Flextronics subsidiary's game plan in late August to Editor-in-Chief Mike Buetow. Excerpts.
CA: During the recession, what has Multek tried to concentrate on in order to alleviate the loss of demand?

WW: We support rigid boards, flexible boards, materials, ITO. We have quite a bit of diversification. Maybe we should not call ourselves a PCB company anymore. We are the only ones with this diversification. We went to our customers to see what kind of technologies and designs were ready to come to market. We talked to quite a few R&D people, so when the recession ends, we would have the right technologies and right applications. We reduced a little capacity. We slowed capacity in Germany. And we continued as we did before. We worked more closely with Flextronics.

Over 90% of the vertical integration business is controlled by OEMs. By being part of the family with Flextronics, we can take advantage of the vertical integration.

CA: Overall, is the world's PWB capacity in line with the peaks and lows in demand?

WW: That's a very difficult question. Six weeks ago, we visited a customer. He asked, "What is your flexibility?" Everyone is looking at a high spike. Then [when that happens], I think capacity is still available. Some competitors in Asia have mothballed their factories. At one competitor, two-thirds of their plant is mothballed, and they are ready to bring it back on.

The biggest problem is the manpower, not the equipment, especially in Asia. Turnover is still a problem. People aren't willing to move back to the East Coast anymore.
CA: What's the status of the former Sheldahl plant in Northfield, MN?

WW: Sheldahl, in my opinion, was my best acquisition yet. That factory is almost 100% loaded. We have the materials side. We still have ITO – now called Multek Displays [Ed: Indium Tin Oxide, a touch-screen technology]. Our flexible circuit factory is 80% automotive, with demand primarily out of Asia. We have never lost money in that factory.

CA: Some have suggested the recent massive investment in China is representative of increases in capacity, not technology, and that China is, in fact, overbuilding.

WW: You're right; we've focused on investments in the past couple years. We spent money on high-end technology like HDI [and] higher layer-count capabilities. Our factory in Germany is one of the best in the world. We brought product to a certain yield and quality, in Germany, then transferred it to China. This helped us come up with the right quality, and if you have the right quality, you make a little bit of money. We invested nothing on 2, 4, 6 or 8 layer product. We invested on higher-end capabilities; we now have more than 200 lasers.

CA: Is building leading-edge PWBs a result of know-how or state-of-the-art equipment?

WW: It still is the engineering. Engineering is No. 1. If you have the best equipment in the world, and you don't have the engineering, you cannot produce high-end PCBs with the right yield, the right quality, and right cost. We have invested a lot in R&D to ensure we have the right material sets for our customers. With the speed of the product, the right material is the No. 1 question. Here, for sure, you need engineering.

CA: Where does Multek fit today within Flextronics' overall strategy?

WW: Multek is a business unit. In my opinion, we are in a great spot and Flextronics is proud to have Multek. With all this new technology on acoustic touch and display touch, we have a good fit within Flextronics.

CA: Former Flextronics CTO Nic Braithwaite told me Flextronics anticipated the use of cameras in mobile phones, and then acquired companies that could supply those modules. It would appear the Sensitive Object deal follows that strategy.

WW: That's true. We started Multek with rigid boards. Then there was the acquisition of Sheldahl, but the capacity was not enough for the high-end customers. We made focused investments in the high-volume factory for flexible circuits in China. Then some customers came to us and asked for one-stop shopping: "If we buy the flex circuit, we also want you to do the assembly." You take responsibility for the flex circuit, the component, and the assembly. The next step was to combine the flex and rigid. And have customers that create good volume.

The next step was camera units for the camera module group. The question was, What should we do next? In my car, we have displays everywhere. Today, 35% of the value of a car is in the electronics content. There are more and more combinations between display and electronics. The new BMW, for example, has a touch pad on the electronics display. So in order to have one-stop shopping, we had to have displays. We bought IDW [International DisplayWorks] and put it into the Multek organization. We are very proud of this company. Not even Foxconn has this strategic direction and product range. We are even into acoustic touch. This is being seen in other markets, too. More and more, medical products is in the displays.
You can take the automotive, the medical, whatever you want to do. The electronics books – it's a rigid board, a flex board, a display and an electronics touch. With all this one-stop shopping, we have many, many opportunities, in and outside electronics.

Multek can provide everything you need in a laptop, from the camera module to the display and touch pad. We can do ITO on glass and ITO on film. It was a combination of bringing present technology together on the display part.
Last Updated on Wednesday, 18 November 2009 19:33
Columns
Eastern-US: China's New Competitor?
Parity emerges among EMS Factories from Asia, Mexico and the US.
For the first time in years we see parity in the Eastern US among EMS factories from Asia, Mexico and the US. This EMS market condition will permit American OEMs (the EMS industry refers to OEMs as customers) to have more EMS pathways to choose from. Now more than ever, such EMS assignments will require deeper investigation relating to the OEMs' evaluation of manufacturing strategies.
Read more...
For those who count on the electronics industry for big feats, it's been a remarkable couple of years.
Read more...
Features
Advances in Concentration Monitoring and Closed-Loop Control
Contaminated bath water skews refractive index results. New technology can accurately measure aqueous cleaning agent concentration.
Read more...
Circuits Disassembly: Materials Characterization and Failure Analysis
A systematic approach to nonconventional methods of encapsulant removal.
Read more...