Written by Dr. Davide Di Maio
Sunday, 01 November 2009 00:00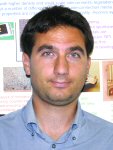 Drilling may be behind 'false' gaps.
The microsection in Figure 1 was taken from the knee of a plated through-hole during board examination. The section shows a gap between the edge of the original copper foil and the through-hole copper plating. This is not a crack in the plating, however. Rather, there is resin smear on the copper foil edge, and the copper plating to the surface of the board and into the through-hole has simply covered the resin, giving the appearance of a crack or the copper folding.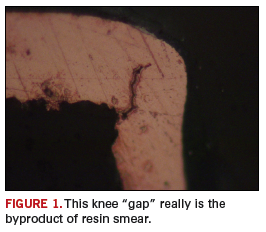 As resin smear is the most likely cause on the edge of the copper foil, a full review of the steps during and after drilling needs to be examined. Test sections taken after panel plating should be considered to demonstrate any improvements in the copper plating adhesion to the edge of the foil. Reference should be made to IPC-A-600 or internal company procurement standards. 
Dr. Davide Di Maio is with the National Physical Laboratory Industry and Innovation division (npl.co.uk); This e-mail address is being protected from spambots. You need JavaScript enabled to view it .
Last Updated on Friday, 20 November 2009 18:38
Columns
Could 3-D printers undo decades of frame-up circuit board assembly?
Read more...
J-STD-004B: A New Twist on an Old Standard?
Before rejecting a flux, be sure you understand the standard.
Read more...
Features
A Systems-Level Approach to Product Development
Is there a way to more tightly integrate materials and process development so as to accelerate the pace of innovation?
Read more...
Reducing Stencil Wipe Frequency
A new study of nanocoatings allows users to visualize solder paste flow under the stencil.
Read more...
Products
Hitachi Updates Sigma G5S Modular Mounter
Sigma G5S modular mounter has a multi-function head that now features lead-clinching and tamping functionalities. Uses side-mounted lighting and machine vision to identify and locate through-hole...