Written by Terry Munson
Sunday, 01 November 2009 00:00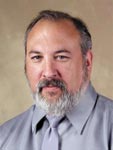 With proper technique, immersion silver corrosion can be remediated.
Immersion silver board finishes, used for protecting copper surfaces prior to assembly, provide a flat, plated surface, which permits superior solderability and has the potential for a long shelf life. However, the exposure of the silver finish (from all vendors) to a sulfur-rich environment with moderate humidity can cause a very distinct chemical reaction, identified as "creep corrosion." As defined by Dr. Randy Schuller ("Creep Corrosion on Lead-Free Printed Circuit Boards in High Sulfur Environments," SMTAI, October 2007):
This corrosion of the silver and copper surface is primarily copper sulfide (Cu2S) with a small amount of silver sulfide (Ag2S). Studies have shown that high amounts of Cu2S typically indicate the presence of active sulfur compounds such as elemental sulfur, hydrogen sulfide (H2S), or organic sulfur compounds. Creep appears to begin by growth of dendrites, as shown on an HDD in an early stage of corrosion. However, this is not electro-chemical migration (voltage potential driven) dendritic growth, since creep takes place equally in all directions and does not require the board to be powered. Rather, it appears that Cu2S is being formed in a layer of moisture on the surface and precipitates out of solution as it forms (since Cu2S is insoluble in water).

Therefore, in an uncontrolled product application environment with moisture and high sulfur airborne contamination present, the exposed silver surfaces are susceptible to a creep corrosion event. The Cu2S crystals that form are not just a corrosion issue that can cause an open circuit, but are conductive crystals capable of carrying enough current to short-circuit the hardware (Figure 1). The corrosion areas only occur on the test pads, top of vias and non-soldered plated through-holes. The areas where the immersion silver surfaces are soldered, with no exposed silver, and an intermetallic bond has formed with the copper surface, will not experience creep corrosion; however, if the areas of the pad did not wet completely, creep corrosion can occur.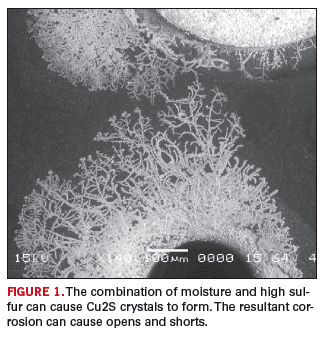 Can assemblies that have developed creep corrosion and electrical shorting be cleaned? After a period of research and development, we were able to configure a cleaning process capable of removing the Cu2S and corroded silver. The cleaning process did not damage the soldermask, marking inks, solder joints or components, but was effective in removing the creep corrosion and recovering the hardware (Figure 2). Our client, after cleaning, applied conformal coating to the assemblies, put some through environmental testing and returned the remaining assemblies to the field. Test data and product performance in the three years since have been positive. Using conformal coating, the client was able to create a protective barrier that minimized moisture collecting on the assembly surface.

Prior to cleaning the assemblies, we first assessed if residues were present through C3 and ion chromatography. Data indicated the boards were high in sulfate residues, well above recommended cleanliness limits. Data collected after cleaning showed the sulfate levels dropped to undetectable levels, along with a decrease in all other anions (Table 1). The images are of the vias before cleaning and after cleaning.

Creep corrosion failures can be cleaned, hardware recovered, and put back into service. It is important to clean and remove contaminants prior to the conformal coating process to ensure long-lasting product performance.
Terry Munson is president and founder of Foresite Inc. (residues.com); This e-mail address is being protected from spambots. You need JavaScript enabled to view it .
Last Updated on Wednesday, 18 November 2009 18:24
Columns
Eastern-US: China's New Competitor?
Parity emerges among EMS Factories from Asia, Mexico and the US.
For the first time in years we see parity in the Eastern US among EMS factories from Asia, Mexico and the US. This EMS market condition will permit American OEMs (the EMS industry refers to OEMs as customers) to have more EMS pathways to choose from. Now more than ever, such EMS assignments will require deeper investigation relating to the OEMs' evaluation of manufacturing strategies.
Read more...
For those who count on the electronics industry for big feats, it's been a remarkable couple of years.
Read more...
Features
Advances in Concentration Monitoring and Closed-Loop Control
Contaminated bath water skews refractive index results. New technology can accurately measure aqueous cleaning agent concentration.
Read more...
Circuits Disassembly: Materials Characterization and Failure Analysis
A systematic approach to nonconventional methods of encapsulant removal.
Read more...