Written by Randall Sherman
Tuesday, 01 December 2009 00:00
  
The near-term holds more failures and consolidation as firms struggle to maintain revenues and lower costs.
Finding the sweet spot in EMS is a subject contemplated by many. The answer is naturally dependent on the company's size and core competency. Top-tier EMS firms often look to high-volume products to create their sweet spot – namely mobile phones and motherboards – assemblies that give their factories high production utilization rates, although often at very low margins. Lower-tier EMS companies concentrate in certain industry sectors such as industrial, medical and military/aerospace, where they can achieve the highest profit margins or value-add engineering and design services.

For the past 12 months, these product areas haven't been so sweet. Perhaps more alarming, there are few signs of these sectors achieving any substantial recovery in the near future, for a variety of exogenous reasons. The rippling effect of unemployment has negatively impacted consumer spending and dampened demand for products EMS companies make, such as medical and consumer electronics, and service industries such as travel, while the deficit in government tax revenue has capped or reduced capital spending. Two industries – automotive and semiconductor capital equipment – have been hit so hard that electronics assembly in these sectors will take years to recover.

So while pundits are eager to be optimistic and speak of turnarounds and growth, it's hard to see the EMS industry being vigorous and booming any time soon. This doesn't mean there won't be successful companies (as the ones with the best practices clearly demonstrate), but it does mean there will be more failures and consolidation over the next several years, while many firms struggle to maintain revenues and lower costs. The industry sweet spots will only be sweet for a select few.

As we have been tracking this industry since 1993, we thought it useful to examine some trends and consider future possibilities. Per Table 1, it might be surmised that the EMS industry will remain fairly healthy for the next five years. Yet, the table does not illustrate the decline in revenue for 2009 (estimated at 6.6%), nor the gradual recovery over the ensuing years. It also doesn't explain which product segments will grow fastest and have the most volume. (This information is contained within our annual syndicated report.) What this table does indicate, however, is approximately two-thirds of all EMS production can be found in the information technology industries (communications and computers), and the highest growth will be in the niche industries of industrial, medical and military/aerospace.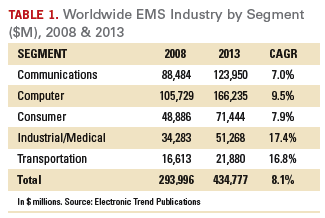 Another story emerges when we examine where industry growth will take place geographically (Table 2). While EMS revenue growth is below average in the leading geographic regions (except Asia), the strongest economic growth is expected to occur in the low-cost countries embedded within each region. Each year we examine over 40 individual countries for direct wage changes and economic growth, as well as account for the manufacturing footprint and capacity within. Based on our research, the nations expected to achieve the highest economic growth include Mexico, Eastern Europe, China and Vietnam, and "Other Rest of the World," which includes India, Australia and South Africa.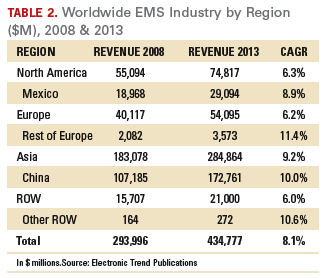 In the past, the leading driver in economic growth in these areas has been direct labor rates, an emerging factor is the need to exploit domestic markets. The trend to offshore for economic reasons has been abrogated by executives' increased understanding of the total cost of manufacturing, which takes into account direct costs such as logistics, tariffs and transit time, as well as indirect costs, such as operations management, firefighting and the cost of money.

The low-hanging fruit has been gone a long time. Over the next several years, the successful EMS companies will be those that employ best practices (see our article in the October issue) and can achieve strong loyalty among their customers. Growth seems assured for EMS over the next five years. Success is not. 
Randall Sherman is president and CEO of New Venture Research Corp. (newventureresearch.com); This e-mail address is being protected from spambots. You need JavaScript enabled to view it . His column runs bimonthly.
Last Updated on Monday, 14 December 2009 17:30
Columns
Eastern-US: China's New Competitor?
Parity emerges among EMS Factories from Asia, Mexico and the US.
For the first time in years we see parity in the Eastern US among EMS factories from Asia, Mexico and the US. This EMS market condition will permit American OEMs (the EMS industry refers to OEMs as customers) to have more EMS pathways to choose from. Now more than ever, such EMS assignments will require deeper investigation relating to the OEMs' evaluation of manufacturing strategies.
Read more...
For those who count on the electronics industry for big feats, it's been a remarkable couple of years.
Read more...
Features
Advances in Concentration Monitoring and Closed-Loop Control
Contaminated bath water skews refractive index results. New technology can accurately measure aqueous cleaning agent concentration.
Read more...
Circuits Disassembly: Materials Characterization and Failure Analysis
A systematic approach to nonconventional methods of encapsulant removal.
Read more...