Written by Mike Buetow
Tuesday, 01 December 2009 00:00
A look back at friends and colleagues who left us in 2009.
2009 came in like a bear and left like a lamb, but was felt deeply by all. Likewise, many of our friends and industry colleagues who did not make it through the year leave behind remarkable legacies and compelling memories. This month we reflect on their impact on our industry and our lives.

Dr. Carl Tautscher, 83, cleaning expert, author, and chairman of the IPC Cleaning and Contamination Control Subcommittee.

Jim Thiel, 61, cofounded Thiel Audio.

Richard (Dick) Schedtler, 60, vice president and owner of AR Marketing, and former Intel engineer.

Marty Jawitz, 78, former Litton Guidance and Controls engineer and author.

Velma J. "Val" Greig, 71, former auditor at Tektronix and Merix.


Dr. Steven Case, 60, founder and chairman of CyberOptics Corp.

Jerry Lee Cartwright, 51, engineer at Western Digital and Celestica.





Barry O'Brien, 56, late of Horizon Sales manufacturer's representative, MidWest Circuit Products and Foundation Technologies.

Bradley Jay Black, 50, ex IBM, Celestica, and Ayrshire Electronics.

James (Jim) J. Miller, 76, product development engineer, Laminating Company of America (LCOA), BF Goodrich and Daubert Chemical.





Roy Matheson, 83, former production engineer at Sheldahl.

 
Scott Hudson, 52, semiconductor industry analyst at Dataquest, In-Stat, IDC and iSuppli Corp., and former staffer at Apple and Sanmina-SCI.





Allan McKinnon, founder, rep company Allan McKinnon & Associates, and PCB wet process equipment manufacturer FSI.  

Harvey Simonds, 48, former field service engineer at Vitronics-Soltec and service technician at Xerox.

Mark Shepherd Jr., 86, 40-year veteran in engineering and management Texas Instruments; was chief executive from 1967 to 1976 and chairman from 1976 to 1988.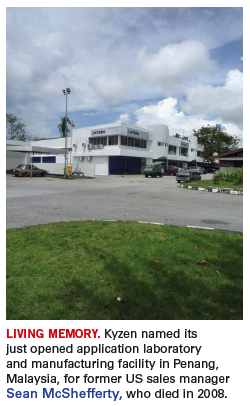 ---
Last Updated on Monday, 14 December 2009 17:25
Columns
European RoHS Enforcement Explained
A series of workshops next month on compliance with RoHS and other directives will help US companies looking to break into the European market.

Read more...
Believing Foxconn Means Suspending Belief
The Foxconn makeover is in full swing, with the latest this piece from the New York Times that supposes that the world's largest ODM is worried that Apple -- yes, Apple -- might be bringing it down:
Read more...
Features
Managing Your ESD Program
SMT Reflow Oven-to-Oven Repeatability
How to adjust an oven so a single recipe will work across multiple ovens for an individual product.
Read more...
Products
Kolb Releases PS300 2HY Stencil Cleaner
PS300 2HY hybrid batch stencil cleaner is suitable for stencils, PCBs, misprints and solder frames. Is an automatic single-chamber system; features 3-4 step PowerSpray cleaning. Is part of compact...