Written by Clive Ashmore
Tuesday, 01 December 2009 00:00
  
Augur valve technology has enabled practical printer/dispensers.
It's been on the wish list of low-volume, high-mix manufacturers for years: a printer that can also dispense adhesives. For assemblers that aren't running high-volume operations and may only need to dispense in a few areas, purchasing an inline automated dispenser seems just a bit excessive – especially in today's economy! So, having the ability to reduce floor space, save on capital equipment costs and obtain dispense capability all on a single printer is the panacea some assemblers have been looking for.

While designing such a system may sound simple enough, the truth is that in order for the dispense mechanism to be meaningful, it must be robust. Let's face it; if the product is difficult to operate or lacks functionality, it's useless. However, incorporating a high-function, easy-to-use and convenient dispense system into a state-of-the-art printer with sophisticated software is a complex task, to say the least.

The method by which the material will be dispensed is critical. Pressure-dispense systems, for example, require a lot of handholding: As the volume of material in the syringe diminishes, the pressure requirements also lessen and, therefore, adjustments are constantly needed. Second, the friction (i.e., heat) created by pressure systems may change the viscosity of the material, which can adversely affect the integrity of the deposit.

On the other hand, an auger valve that screws material through the syringe uses low pressure, obviating adjustment or heat issues associated with
pressure-based systems. Another advantage: Many auger valves can be designed at low cost. They are a consumable and can be disposed of instead of cleaned – a huge issue with dispensers. For the dispense system to function properly, cleaning traditional dispense heads has to be meticulous, especially when dealing with thermosetting adhesives. With these materials, heat is the catalyst, and even at room temperature, the catalyst is beginning to be activated. When the dispense head isn't cleaned completely, any small amount of remaining adhesive will harden, stick to the metal and render the part scrap (unless you want to invest the time and effort to clean it with aggressive solvents). Using a disposable auger valve eliminates the potential problems with cleaning; at the end of a shift, you just toss it, a much easier and manufacturing-compatible solution.

Obviously, performance breadth of the on-board dispenser is of utmost importance. It's not just about dispensing dots here and there; it's about interfacing seamlessly with the printer and providing the ability to adapt to varying products and processes. Feature-rich dispensers offer controllable parameters such as deposit heights, dispense times, auger valve speed, valve open time, z-axis needle height and dwell height. Clearly, a system like this is intended for a relatively low-volume operation, but "low volume" doesn't mean "low technology."

The integrated dispense head function also should be straightforward. Look for user-friendly software that offers intuitive prompts and guidance. Also, the dispense head should adjust for variations in the board surface. With dispensing, it's critical that the z height of the needle is precise. If it's too high, the adhesive will not wet to the board, causing the dot to be malformed. If it's too low, the dot will not form the classic "Hershey's Kiss" shape. The equipment's ability to pinpoint the top surface of the PCB and compensate for any bow in the board is key to robust performance (Figure 1).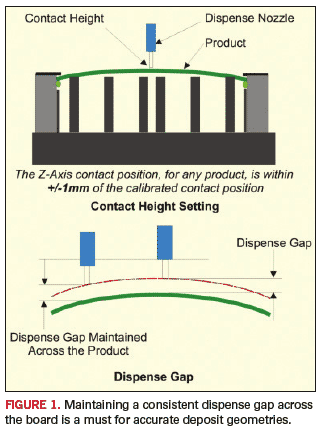 As you can see, designing a meaningful on-board, printer-adaptable dispense system isn't simple. But, screen-printing equipment manufacturers have come a long way, and there are a few options now available. Adhesive dispense has been perfected and I suspect that robust solder paste dispensing isn't far behind.
Clive Ashmore is global applied process engineering manager at DEK International (dek.com); This e-mail address is being protected from spambots. You need JavaScript enabled to view it . His column appears bimonthly.
Last Updated on Monday, 14 December 2009 17:25
Columns
Eastern-US: China's New Competitor?
Parity emerges among EMS Factories from Asia, Mexico and the US.
For the first time in years we see parity in the Eastern US among EMS factories from Asia, Mexico and the US. This EMS market condition will permit American OEMs (the EMS industry refers to OEMs as customers) to have more EMS pathways to choose from. Now more than ever, such EMS assignments will require deeper investigation relating to the OEMs' evaluation of manufacturing strategies.
Read more...
For those who count on the electronics industry for big feats, it's been a remarkable couple of years.
Read more...
Features
Advances in Concentration Monitoring and Closed-Loop Control
Contaminated bath water skews refractive index results. New technology can accurately measure aqueous cleaning agent concentration.
Read more...
Circuits Disassembly: Materials Characterization and Failure Analysis
A systematic approach to nonconventional methods of encapsulant removal.
Read more...