Written by Paul Lotosky
Tuesday, 01 December 2009 00:00
  
Sizzling sounds from the wave are a giveaway for this process indicator.
Solder balls are defined as a small sphere of solder adhering to a laminate, resist, or conductor surface. This generally occurs after wave or reflow soldering. The types include random, or spattering type; non-random, which are found behind the protruding leads; and splash-back, which are solder balls from fully inerted and tunnel machines.

Random solder balls are easiest to address, as they are process-related. If a "sizzle" can be heard while the board is going over the wave, the preheat is too low or the vehicle is not fully evaporated. Other items to check are 1) the solder wave; if uneven, clean the solder nozzle assembly and check for parallelism; 2) flux contamination; if contaminated, it needs to be replaced, and 3) the pallet design, which should have vents to permit outgassing.
Non-random solder balls are found on the bottom side of the board, over many boards, usually to the trailing side of the protruding lead. They occur when the flux applied is insufficient or burns off too soon in the wave. Also, the conveyor speed may be too high.

Splash-back solder balls occur when the wave height is set too high or hot, or the air knife is set incorrectly; if there is excess turbulence in the wave, or there is increased surface tension due to nitrogen.

In the event of solder balls, the primary process setup areas to check:
Conveyor speed too slow.
Too much time over the preheater, causing the flux to burn off too quickly.
Dwell time too long, causing the flux to be destroyed before exiting.
Topside board temp too low.
Conveyor speed too fast.
Time over the preheat is not long enough to dry off the flux carrier.
Not enough flux, or the flux is not active enough.
Nitrogen use may increase solder ball occurrence.
Flux carrier not being completely dried by the preheater.
Water-based fluxes should use forced air convection preheat.
Too much flux has been applied.

Other things to look for in the process:
Solder temperature too high.
Preheat too low.    
Insufficient flux blow-off.
Solder wave height high.    
Contaminated flux.    
Conveyor speed high.
Solder wave uneven.    
Flux-specific gravity too low.
Defective fixture.
Other things to look for:
Board contamination.    
Moisture in laminate.    
Laminate not fully cured.
Defective mask material.    
Poor plating in the hole.    
Poor pallet design.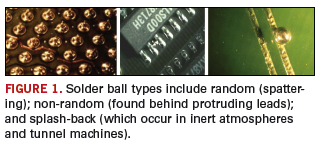 Paul Lotosky is global director - customer technical support at Cookson Electronics (cooksonelectronics.com) This e-mail address is being protected from spambots. You need JavaScript enabled to view it .
Last Updated on Monday, 14 December 2009 17:25
Columns
Eastern-US: China's New Competitor?
Parity emerges among EMS Factories from Asia, Mexico and the US.
For the first time in years we see parity in the Eastern US among EMS factories from Asia, Mexico and the US. This EMS market condition will permit American OEMs (the EMS industry refers to OEMs as customers) to have more EMS pathways to choose from. Now more than ever, such EMS assignments will require deeper investigation relating to the OEMs' evaluation of manufacturing strategies.
Read more...
For those who count on the electronics industry for big feats, it's been a remarkable couple of years.
Read more...
Features
Advances in Concentration Monitoring and Closed-Loop Control
Contaminated bath water skews refractive index results. New technology can accurately measure aqueous cleaning agent concentration.
Read more...
Circuits Disassembly: Materials Characterization and Failure Analysis
A systematic approach to nonconventional methods of encapsulant removal.
Read more...