Written by Mike Buetow
Friday, 01 January 2010 00:00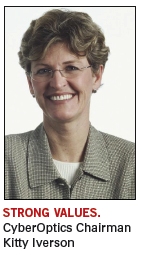 As it recovers from the tragic death of its founder, the vision OEM is ready for anything.
Given that founder and chairman Steve Case's name is synonymous with CyberOptics, it's hard to believe someone else has been running the company for the past seven years.

So when Case tragically died in a plane crash last year, much attention turned to Kathleen (Kitty) Iverson, the company's president and chief executive. Yet, while the task of replacing Case's vision is unenviable, in fact Iverson has been in charge since January 2003. That's a detail not lost upon many of the inspection and sensor OEM's customers, who in several discussions at Productronica in November emphasized Iverson's intelligence and skill to this reporter. Iverson spoke with Editor-in-Chief Mike Buetow in November.

CA: Steve Case was a legendary inventor. How do you replace his R&D vision?

KI: Steve had a lot of vision. He had big ideas. He was always an inventor. You just don't replace Steve Case. [But] he wasn't very involved in the day-to-day business. We've been working through what we want to do. The thing about Steve was, he [saw] the customers we don't [yet] have. I see the customers we do have. Insofar as building an organization that got the work done, he left that to me. He had more fun talking to customers. We do have a very solid engineering team and will count on the vision coming from that team.

CA: How has Steve's death affected the management of the company?

KI: Day to day, there hasn't been much change. Steve was more interested in the next big thing, the outside world. Not too many of the current products came solely from Steve. The sensors' improvements came from the R&D base, for example.

CA: How important is it for a tech company to have an engineer at the top?

KI: In my experience, top engineers don't run companies very well. It's very important to have a top engineer, but they sometimes don't enjoy the people management as much as the invention.

We are structured in small, dedicated R&D teams devoted to customers. They work with OEM teams to come up with new products.

Tim Skunes, our director of business development and technology, is a technical genius. He doesn't have Steve Case's pizzazz, but he's a top engineer. For me, coming from an accounting background, it's important to have that person. We have reorganized so that Tim has more of the technologists in the organization. Then there's Brendan Hinnenkamp, an electrical engineer with 20 years' experience at CyberOptics. He opened our Singapore operations, and now heads product development. He's a "crack the whip; get it done" type of personality. Also, Chuanqi Chen (Chen) has 5 years of CyberOptics R&D experience and he has recently moved to Singapore to run our Systems group. We have a lot of solid engineering talent and are well positioned moving forward.

CA: What have been your customers' primary questions?

KI: Customer interfaces have been with me, Tim Skunes, and others. We've managed those relationships. There was concern – can you continue to bring us technology and innovate? They [customers] said, "Do you have concerns, because we've mainly dealt with you." They were pretty short conversations, and I think that's because Steve hadn't been heavily involved with our current customers.

CA: Who will be the face of CyberOptics now?

KI: I will be. Steve and I shared very strong values, and great companies succeed because of their value systems. Ours are "Creativity, innovation, fairness and honesty. Work hard, play hard." As a founder, Steve gave the company the gift of a very sound value system. I am very proud of how Steve and I managed the company together.

CA: Will the board makeup change?

KI: We will add to the board. I'll look for a heavy R&D type to support me. I came from Emerson. I have experience mixing business and engineering.
CA: What are your strengths as a leader?

KI: I'm a good team builder. I'm not egotistical. I get good people. I'm achievement-oriented.

CA: Does a tech organization need a face?

KI: In CyberOptics' case, I need to be that face, because Steve was such a strong leader. You don't expect someone that smart to be that down-to-earth. In our case, I think it's important. And in reality, a lot of the company is how the customers feel about [the leader].

CA: How is morale?

KI: Morale is extremely high, which surprises me some because we have had to take some tough actions during the recent downturn. We've had continuity of leadership, which is extremely important to get a company through a downturn and we have so many new products in the pipeline that you can't help but to be excited.

We had a vision of where we wanted the company to go and we are focusing on what made us a leading-edge company. The restructuring we did was strategic in nature. The guys in Minneapolis are good at optical sensing. Our Singapore team is good at system integration. R&D is now catering to what they do best. Now we have more focused R&D, which should help us grow more profitably in the future. 
Last Updated on Thursday, 07 January 2010 14:42
Columns
Eastern-US: China's New Competitor?
Parity emerges among EMS Factories from Asia, Mexico and the US.
For the first time in years we see parity in the Eastern US among EMS factories from Asia, Mexico and the US. This EMS market condition will permit American OEMs (the EMS industry refers to OEMs as customers) to have more EMS pathways to choose from. Now more than ever, such EMS assignments will require deeper investigation relating to the OEMs' evaluation of manufacturing strategies.
Read more...
For those who count on the electronics industry for big feats, it's been a remarkable couple of years.
Read more...
Features
Advances in Concentration Monitoring and Closed-Loop Control
Contaminated bath water skews refractive index results. New technology can accurately measure aqueous cleaning agent concentration.
Read more...
Circuits Disassembly: Materials Characterization and Failure Analysis
A systematic approach to nonconventional methods of encapsulant removal.
Read more...