Written by Mike Buetow
Monday, 01 February 2010 00:00
A trip through Zestron's tech center in Germany reveals a company dedicated to fixing process problems.
With the advent of no-clean fluxes and solder pastes, the need for cleaning electronics assemblies disappeared.

Or so some would have you think.

But while the masses switched, ahem, en masse, to no-cleans, often in hopes of eliminating what was widely seen as a non-value-added step from the assembly process, a not-so-funny thing happened: Field failures and legislation.

The influx of no-clean coupled with better process control drove the use of cleaning to general consensus of 5% of all boards, mostly for high-reliability applications such as military, certain telecommunications, and aerospace. But the broad switch to Pb-free solders, prompted in large part by the RoHS Directive, and more densely packed boards that effectively turn even trace residues from aesthetic nuisances into potential hazards, has brought about a renaissance for cleaning advocates. And to a degree, suppliers of cleaning materials are, well, cleaning up.

Zestron, one of the perhaps two best-known providers of cleaning chemistry, estimates it has installed more than 1,500 processes worldwide. The company, which has developed several versions of aqueous- and surfactant-based cleaners, plus a line of vapor recovery systems, credits the litany of legislative protocols and directives for having a significant impact on the industry's approach to soldering. "We're definitely seeing an increase in cleaning," says Mark Cherubin, group head of marketing for the Ingolstadt, Germany-based firm. "RoHS, then REACH: The various trends are pushing the issue."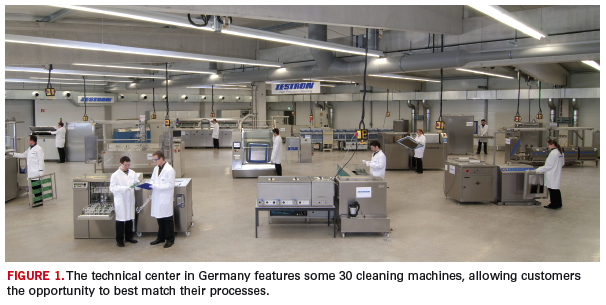 Launched outside Munich in 1975 by Dr. Oskar Wack, Zestron has grown into a multinational corporation with facilities in the US, Shanghai, and its newest site, in Kulim, Malaysia (sidebar). The company focuses its electronics cleaning efforts on semiconductors and SMT. Last year, Dr. Wack turned over the day-to-day operations management to his son, Harald, who is based at the company's Manassas, VA, site. (See "New Zestron Global HQ Takes Flight," Circuits Assembly, June 2007.) (It also has a business unit for automotive cleaners, which Dr. Oskar Wack still oversees.)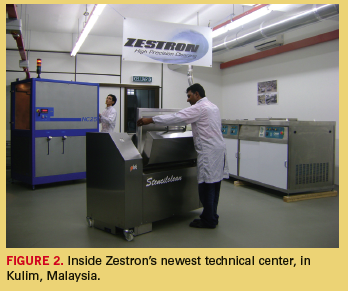 At its main campus, about 60 miles north of Munich, Zestron last fall opened a new 30,500 sq. ft. facility, featuring a state-of-the-art, 9,000 sq. ft. analytical and technical center said to be the largest in Europe. The center, which Circuits Assembly visited in November, features a host of testing equipment, including a Gen3 cleanliness tester, Keyence digital microscopes, a Metronelec CT 100 ionic contamination tester, a climatic chamber, and an array of other gear for testing chemicals, surface energy, SIR and more from ThermoFisher, Dataphysics, and other leading suppliers. Adds Cherubin, "We will also work with external labs, as customers wish."
Inside the technical center is a sea of cleaning machines: spray, inline, batch, you name it, some 30 in all, from a variety of well- and lesser-known suppliers. Walking through the center is "like looking for a car," jokes Cherubin.

It only seems every make and model imaginable is available. In fact, Zestron prefers to site machines that are typical of what each region's customers use. For example, in the US, where cleaning tends to be inline, the company has Speedline Accel and Aqueous Technologies machines.

Asked why Zestron doesn't standardize on a small number of lines, Cherubin responds, "The problem for users [trying to compare cleaning materials] is it's time-consuming and there is no neutral opinion. This way, we work with all equipment manufacturers, commission-free, and we can give an independent point of view."

Working with customers, Zestron's process engineers will narrow the choice to two or three machines, run trials, and provide written reports that outline the expected results in a customer's factory. Trials are run for between 500 and 600 customers each year, Cherubin says.
Over in production, batches are produced on a pair of semiautomatic, palletized lines capable of producing 15,000 units per shift. Computer-controlled, two-story-high mixers – one two tons, the other five tons – provide ample mixing capacity. Raw materials are vendor-managed. Lots are sampled for traceability, with samples stored for three years.

Responsible for product development is a group that features three Ph.D.s and over 20 members of lab staff. To provide customers with close process support and to help to find the most suitable cleaning process, a team of 16 process engineers are available. Staffing is similar at its 15,000 sq. ft. technical center in Virginia, while the roughly 4,000 sq. ft. Shanghai site has nine staff overseeing a pair of inline and batch cleaning lines and a small analytics lab.

Engineering and R&D stay connected through weekly video conferences, and R&D is coordinated monthly, at which time product development is reviewed and product managers at each site discuss their latest trials.

Customers and prospects are provided with an array of training opportunities, with monthly seminars on topics ranging from coatings to surface analysis, and (of course) PCB and stencil cleaning. "We want to show the different things we have. Most [attendees] will bring part with them, and we show them how we can help," says Cherubin.

The company has found getting through to designers problematic, however. Says Cherubin, "We have found it's very difficult to teach designers about design for cleaning. Companies as a rule try to avoid cleaning: It's an extra step and extra cost. In principle, it's very difficult to incorporate cleaning at the design level." Instead, he adds, it falls to Zestron to try to resolve cleaning different geometries that are on the board.

While taken for granted in most corners – after all, washing is one of the first things we learn as children – the technical challenge of cleaning circuit boards can be mighty. Even no-cleans leave residues of varying degrees (although, somehow, a US patent was issued in 2004 for a residue-free solder paste), and some solder suppliers have taken to calling their materials "cleaning friendly." Says Cherubin, "For a high-precision business, there is no such thing as 'no-clean.' "

Even conformally coating the board won't ensure the residues remain trapped and benign, Zestron says. "Flux residues left after the soldering process can cause delamination of the coating. Additionally, due to their hydroscopic nature, they can pull humidity through the coating, causing electromigration and ultimately leading to field failures of the boards," Cherubin explains.
Today's boards feature low-standoff components such as µBGAs, flip chips, and 01005-sized passives, and short reflow profiles can cause flux entrapment and voltage leakage.1,2 This development is the latest reminder that, for the time being, the component technology is advancing faster than process technology. At home in its new technical centers, Zestron is well situated to aid manufacturers looking to close that gap.

References

1. Terry Munson, "Stray Voltage on Low Standoff Components," Circuits Assembly, April 2006.
2. Terry Munson, "Let It Flow," Circuits Assembly, December 2005.
3. Malaysian Industrial Development Authority website, mida.gov.my/en_v2/index.php?page=ee, January 2010.

Mike Buetow is editor-in-chief of Circuits Assembly (circuitsassembly.com); This e-mail address is being protected from spambots. You need JavaScript enabled to view it .
Last Updated on Tuesday, 09 February 2010 19:42
Columns
Eastern-US: China's New Competitor?
Parity emerges among EMS Factories from Asia, Mexico and the US.
For the first time in years we see parity in the Eastern US among EMS factories from Asia, Mexico and the US. This EMS market condition will permit American OEMs (the EMS industry refers to OEMs as customers) to have more EMS pathways to choose from. Now more than ever, such EMS assignments will require deeper investigation relating to the OEMs' evaluation of manufacturing strategies.
Read more...
For those who count on the electronics industry for big feats, it's been a remarkable couple of years.
Read more...
Features
Advances in Concentration Monitoring and Closed-Loop Control
Contaminated bath water skews refractive index results. New technology can accurately measure aqueous cleaning agent concentration.
Read more...
Circuits Disassembly: Materials Characterization and Failure Analysis
A systematic approach to nonconventional methods of encapsulant removal.
Read more...