Written by Mike Buetow
Monday, 01 March 2010 00:00
The brains behind the former Orbotech AOI group are ready to forge their own path.
With its acquisition last April of Orbotech's AOI assembly business in the US and Europe, Germany-based distributor Prodelec launched a new company, Orpro Vision (orprovision.com), and overnight became the proud owner of one of the larger installed bases in the world, many at high-volume automotive parts manufacturers like Delphi. And the potential for growth remains: Orbotech reported sales of equipment related to assembled PCBs of $22.1 million in 2008 and $28.3 million in 2007.
With the accounts came certain R&D staff as well, which, combined with new recruits, bring the total staff to about 25 overall, about one-third in development, the rest in support. Production remains in Israel, where machines are built by a third-party. The company has platforms for SPI and AOI, and introduced a prototype of a benchtop AOI during Productronica.
President Arnon Tuval, Massimo Gatti and R&D manager Adam Shaw spoke with editor-in-chief Mike Buetow in November. Excerpts:
CA: Has Orpro Vision retained much of Orbotech's footprint?
AT: I came to Orpro Vision from Orbotech, where I was vice president of sales. I was based at Orbotech's American headquarters in Billerica, MA [Ed: suburban Boston]. Orpro Vision's Americas headquarters will also be in Billerica. We have our demonstration site, training and support there. The global headquarters is in Hameln, Germany.
CA: How does a company make the jump from distribution to conceptualizing and building product?
AS: When we acquired the business, the research and development of Orbotech's assembly group came to Orpro Vision. The core of the team was there. We brought three R&D engineers from Orbotech. Then we recruited their colleagues, bringing the staff to 19. They are very experienced. So unlike a traditional startup, today we not only know what to do, we know what not to do.
We also have one of the largest installed bases for inspection machines. We have more than 1,000 machines in Europe, more than 1,000 in Asia, and 450 in the US.
CA: Has the economy affected Orpro Vision's launch as an OEM?
AT: Because of the economy, we didn't miss a lot because most companies weren't in buying mode.
CA: What can you say about your finances?
MG: Orpro Vision is a subsidiary of Fin.Pro, the Italian holding company. Fin.Pro has been a business partner of Orbotech for several years. Fin.Pro is totally private. We needed no outside banks to make this deal.
CA: Have you retained any of the Orbotech distribution channel?
AT: We are in discussions at present. We will have some new distributors in Europe and the Americas.
CA: How are you positioning Orpro Vision? As a technology leader, or a fast follower?
AS: We are very much into innovating. We debuted a benchtop system at Productronica. This new system was developed in five months. It is a totally new image acquisition platform. The official release will be in 2010.
MG: In one way, we are starting from scratch. But we have 15 to 16 years' experience in AOI. We want to deliver very scalable solutions to the market. We know the engine and optics must be top quality.
AT: We want to be innovators and market leaders, but we want to stay close to the market demands. That's why we are introducing a benchtop system.  CA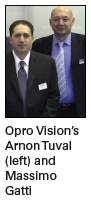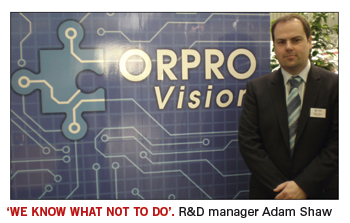 Last Updated on Tuesday, 09 March 2010 11:58
Columns
Could 3-D printers undo decades of frame-up circuit board assembly?
Read more...
J-STD-004B: A New Twist on an Old Standard?
Before rejecting a flux, be sure you understand the standard.
Read more...
Features
A Systems-Level Approach to Product Development
Is there a way to more tightly integrate materials and process development so as to accelerate the pace of innovation?
Read more...
Reducing Stencil Wipe Frequency
A new study of nanocoatings allows users to visualize solder paste flow under the stencil.
Read more...
Products
Hitachi Updates Sigma G5S Modular Mounter
Sigma G5S modular mounter has a multi-function head that now features lead-clinching and tamping functionalities. Uses side-mounted lighting and machine vision to identify and locate through-hole...