Written by Jun Balangue
Monday, 03 December 2012 14:33
Do the components and capabilities of an in-circuit tester justify the investment?
In-circuit test has always been a major purchase decision for manufacturers. System costs range from $100,000 for a basic configuration to more than half a million dollars for a full configuration, high-node-count system. Is it worth the investment?

Figure 1 shows the basic components of an ICT. They include:
Testhead: made of rigid cages where every part of the system is designed to ease manufacturing operation. The testhead is motorized and permits rotation for ease of use for operators' board placement procedure during testing.
Controller: A high-performance PC controller provides the development and operator interface, test control and communication with the testhead.
Integrated development and production runtime software.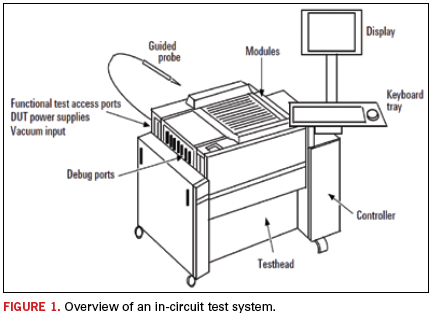 Testhead module. The testhead module holds one of the most important parts of the ICT system, consisting of the following (Figures 2 and 3):
ICT pin card: Hybrid digital pin card, analog pin card, utility card.
Analog stimulus response unit card (ASRU): Provides analog measurements capability.
Control cards.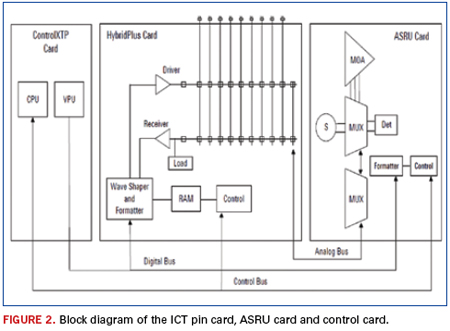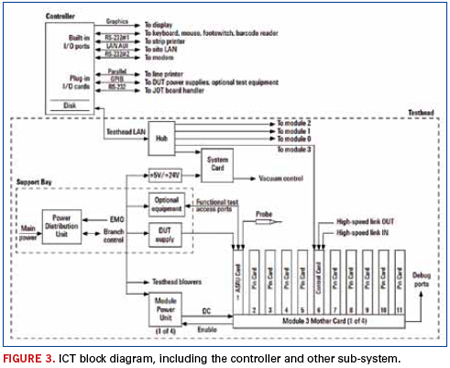 ICT pin card. The ICT hybrid pin card provides analog, digital and functional test capabilities. The split digital driver and receiver design controls efficient use of the resources, where it permits a single channel to drive a pin and receive on a separate pin. Each digital driver and receiver pin consists of programmable slew rate, voltage level, edge placement, shorts threshold, clock generation, event triggering and switchable pull-up or pull-down capabilities. These permit various testing options, from simple to complex devices and circuitry on printed circuit board assemblies (PCBs).

Being able to execute powered analog measurements and digital drive and receive through the pin card enables mixed (analog and digital) tests on the PCBs.

Analog pin card. The analog pin card is an optional pin card that provides flexibility in cost for boards that need only analog in-circuit and functional tests. This includes the pins, opens/shorts, discrete device measurement tests and vectorless tests.

Utility card. The utility card is an optional pin card that allows the user to integrate third-party plug-in modules to perform customized functional and/or programming tests, such as flash, EEPROM, and other functional tests.

ASRU (Analog Stimulus Response Unit). The ASRU enables precise analog measurements for testing shorts, opens, resistors, potentiometers, capacitors, inductors, diodes, zener diodes, transistors, field effect transistors (FET), fuses, switches, jumpers, as well as vectorless tests.

The ASRU card also enables power monitoring and high voltage zener measurements. It comprises a digitized measurement circuit for improved capacitor testing. It can also be used to connect additional power supply.

These features give manufacturers a wider menu of tools to fit different test needs, depending on the PCB being tested. Hence, instead of multiple investments in a myriad of benchtop instruments, the manufacturer can rely on one ICT to do the job. 

Control card. The control card is the brain of the ICT. It controls the different components in the tester, such as the pin cards and ASRU card. It generates the system clocks and process triggers from the device under test. The control card has built-in memory to speed programming for flash and programmable logic devices (PLD). One control card is needed to control the test for one PCB. Some ICT systems permit more than one control card to simultaneously test multiple PCBs. This is a boon for throughput.

The cost of an ICT may be more expensive than other manufacturing test solutions in terms of initial investment. But the arsenal of test capabilities and clarity offered by its fault diagnostics makes the ICT a worthwhile option to consider for manufacturers. In many cases, it is more cost efficient to manage one system versus multiple test equipment. Compared to other test equipment such as MDAs (manufacturing defect analyzers) and flying probe testers, ICT offers certain advantages.

Systems with multiple control cards can test more than one PCB at the same time. This is commonly known among ICT users as throughput multiplier. Manufacturers can save on handling time by configuring the fixture into two sections (vacuum wells) to test identical PCBs in a flip-flop manner; when PCBs in one section are being tested, the PCBs in the other section can be loaded onto the fixture. Table 1 compares the throughput improvement between a one-PCB fixture and a four-PCB fixture configured into two vacuum wells.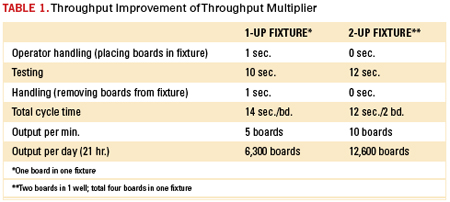 Flexibility is another advantage of ICT, which can handle all kinds of boards and generally switch quickly from low node count to high node count, and from low to high volume. ICT covers a broader range of tests and applications vs. MDAs. (Flying probe test generally offers lower throughput and lower coverage, making it less suitable for high-volume manufacturing.)

In PCB tests, stability and repeatability are the two most important criteria for a good test.  Stability and repeatability are needed for confidence in the test to minimize false calls, which are time-consuming to manage and resolve. The result? Higher first-pass yields. And because it is repeatable, the same test can be run on multiple fixtures and systems, even at different manufacturing locations.

Finally, test coverage is an important factor in determining the effectiveness of a test system. Again, ICTs are capable of testing more component and board types than MDA systems.

Jun Balangue is a technical marketing engineer for in-circuit test at Agilent Technologies (agilent.com); This e-mail address is being protected from spambots. You need JavaScript enabled to view it .
Last Updated on Wednesday, 05 December 2012 20:49
Columns
Eastern-US: China's New Competitor?
Parity emerges among EMS Factories from Asia, Mexico and the US.
For the first time in years we see parity in the Eastern US among EMS factories from Asia, Mexico and the US. This EMS market condition will permit American OEMs (the EMS industry refers to OEMs as customers) to have more EMS pathways to choose from. Now more than ever, such EMS assignments will require deeper investigation relating to the OEMs' evaluation of manufacturing strategies.
Read more...
For those who count on the electronics industry for big feats, it's been a remarkable couple of years.
Read more...
Features
Advances in Concentration Monitoring and Closed-Loop Control
Contaminated bath water skews refractive index results. New technology can accurately measure aqueous cleaning agent concentration.
Read more...
Circuits Disassembly: Materials Characterization and Failure Analysis
A systematic approach to nonconventional methods of encapsulant removal.
Read more...