Written by Per Jennel
Tuesday, 29 January 2013 18:51
How one EMS company improved production time by shedding the straight line flow.
Two years ago, Orbit One decided to redesign its SMD line in Ronneby, Sweden, with the goal to decrease machines' setup time or to increase uptime and shorten lead times.

The work started in 2010 when two "straight" production lines were reconfigured into a "U" shape, under the theory that this would minimize setup time and improve production flow.

To do so, we took two of our three lines and put them together. In other words, we took four placement machines and split assembly across the four modules, setting up the placement heads to assemble at the same time but just using half the number of feeders.

This way we shortened the lead time, and by using just one of the two feeder boards in the machines, we could perform a setup while simultaneously running the machines for the present job. That positively impacted uptime.

To optimize after this redesign, we adjusted the modules to balance the assembly time, which is of course important because the module with the longest assembly time determines the output from the machine. In theory it is simple, but it does require some effort from operators and programmers to make these movements between the modules. Depending on the design and number of components, some boards are harder to optimize. Also, other potential bottlenecks in the line, such as the screen printer or oven, must be considered.

Overall, the reconfigured line has been very successful. We produce with increased efficiency compared with the previous line configuration, and it's easier to change production plans closer to the start date compared with the previous layout. Moreover, overall setup time has been decreased approximately 50%.
Per Jennel is sales and marketing manager at Orbit One (orbitone.se); This e-mail address is being protected from spambots. You need JavaScript enabled to view it .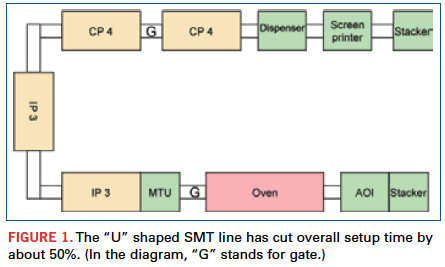 Last Updated on Monday, 01 April 2013 16:30
Columns
Eastern-US: China's New Competitor?
Parity emerges among EMS Factories from Asia, Mexico and the US.
For the first time in years we see parity in the Eastern US among EMS factories from Asia, Mexico and the US. This EMS market condition will permit American OEMs (the EMS industry refers to OEMs as customers) to have more EMS pathways to choose from. Now more than ever, such EMS assignments will require deeper investigation relating to the OEMs' evaluation of manufacturing strategies.
Read more...
For those who count on the electronics industry for big feats, it's been a remarkable couple of years.
Read more...
Features
Advances in Concentration Monitoring and Closed-Loop Control
Contaminated bath water skews refractive index results. New technology can accurately measure aqueous cleaning agent concentration.
Read more...
Circuits Disassembly: Materials Characterization and Failure Analysis
A systematic approach to nonconventional methods of encapsulant removal.
Read more...