Relying on noncontact measures is preferable when looking for open BGA connections.
It is unfortunate, but mechanical testing of joints does happen on production boards. Figure 1 shows the result. The ball has broken off the BGA package and the PCB pad.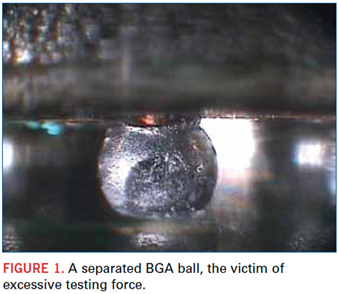 Mechanically probing BGA joints is poor practice, given the ready availability of inspection techniques like x-ray and endoscopes. We can all appreciate that, in some cases, inspection methods may have difficulty finding open connections, but great care needs to be taken if testing of suspect joints is to be considered.

It is clear from the damage to the ball surface and the joint interface that the termination has been subjected to a high force. It is very easy to apply well over 1kg of force with a toothpick, and this type of action should be avoided or well-documented.

These are typical defects shown in the National Physical Laboratory's interactive assembly and soldering defects database. The database (http://defectsdatabase.npl.co.uk), available to all this publication's readers, allows engineers to search and view countless defects and solutions, or to submit defects online. To complement the defect of the month, NPL features the "Defect Video of the Month," presented online by Bob Willis. This describes over 20 different failure modes, many with video examples of the defect occurring in real time.
Chris Hunt is with the National Physical Laboratory Industry and Innovation division (npl.co.uk); This e-mail address is being protected from spambots. You need JavaScript enabled to view it . His column appears monthly.
Columns
Could 3-D printers undo decades of frame-up circuit board assembly?
Read more...
J-STD-004B: A New Twist on an Old Standard?
Before rejecting a flux, be sure you understand the standard.
Read more...
Features
A Systems-Level Approach to Product Development
Is there a way to more tightly integrate materials and process development so as to accelerate the pace of innovation?
Read more...
Reducing Stencil Wipe Frequency
A new study of nanocoatings allows users to visualize solder paste flow under the stencil.
Read more...
Products
Sono-Tek Releases Echo Ultrasonic Generator
Echo ultrasonic generator is designed for ultrasonic spray processes. Provides high-frequency electrical energy to operate all frequencies of ultrasonic nozzles. Automatically locks onto ultrasonic...