The high-density, high-performance server line features expandable processing and memory options.
The IBM HS22V is a two-way high-performance blade server introduced in 2010. The system board contains two CPUs with nine memory slots, and capacity for up to 18 DDR-3 VLP DIMM slots. The CPUs are Intel Xeon 5500 and 5600 series processors. When one processor is installed, then only nine DIMM slots can be used. When two processors are installed, all 18 DIMM slots can be used, supporting up to 288Gb of memory.

Inside, the unit has a USB connector for bootable flash key, and several switches, including Switch 1, which handles everything from resets, recovery, forced inputs and settings, and can override the startup passwords.

For electronic parts, resistors range as small as 01005. The RAM is 2Gb PC3-10600 DDR3 made by Samsung. There is a copper heat-spreader on the CPU. There are two Socket B (LGA 1366) sockets for the CPUs, and two Enterprise Voltage Regulator-Down (EVRD) regulators, which supply both the processor core voltage and L2 cache voltage. Other parts include a 16MB system uEFI BIOS ROM, a Maxim VSC452 Super baseboard management controller with integrated VGA controller, two HDM midplane connectors, one blade expansion connector, one CIOv daughter card connector, and one TPM 1.2 chip.

Two non-hot-swap bays support two 1.8" SATA solid-state drives, each for a 15Gb disk. SSDs draw lower power than physical spinning disks, making this design more energy-efficient.

The network interface card is a 1Gb Ethernet using a Broadcom 5709S onboard NIC. Some models also include a two-port 10Gb controller installed in the CFFh slot, and some also include a two-port 8Gb Fibre Channel controller installed in the CIOv slot.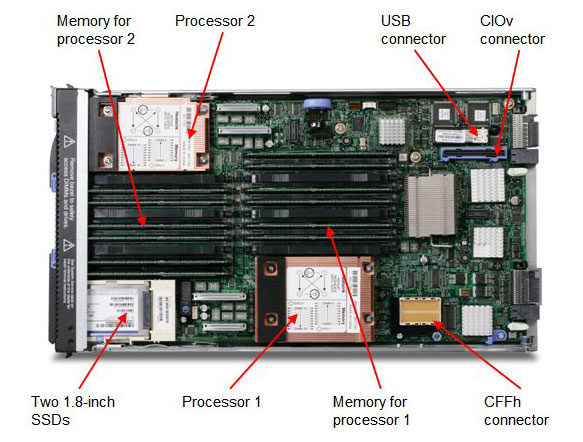 Figure 1. Inside the IBM HS22V blade server.
Mike Buetow is editor in chief of PCD&F/CIRCUITS ASSEMBLY; mbuetow@upmediagroup.com.