The mood at the annual trade show was the most upbeat in more than a decade.
If trade show attendance is an indication of industry health, the electronics sector is feeling fine. Some 4,574 attendees walked the show floor at IPC Apex Expo in mid-February, up 9.7% from 2017 (TABLE 1). And they had plenty to see. The show floor sold out – nearly 150,000 sq. ft., and it was packed with machinery.
Table 1. IPC Apex Expo Show Trends




A lot is going on in the standards arena. As usual, soldering was front and center. An updated cleanliness section is under debate for the J-STD-001 soldering standard. The rose is off ROSE (Resistivity of Solvents Extracted) testing, the long-used method for measuring ionizable surface contamination. Based on work done by Rockwell Collins showing the general inadequacy of the test for cleanliness acceptability, some task group members want to jettison it, or at least reduce its emphasis to a tool for process inspection versus an arbiter of board pass/fail. An amendment is in review. Will tradition win out?

Another task group is seeking data to update the maximum void criteria for QFN solder joint integrity. The void percentages currently used have little to no technical data justification in terms of solder joint integrity, according to one committee member.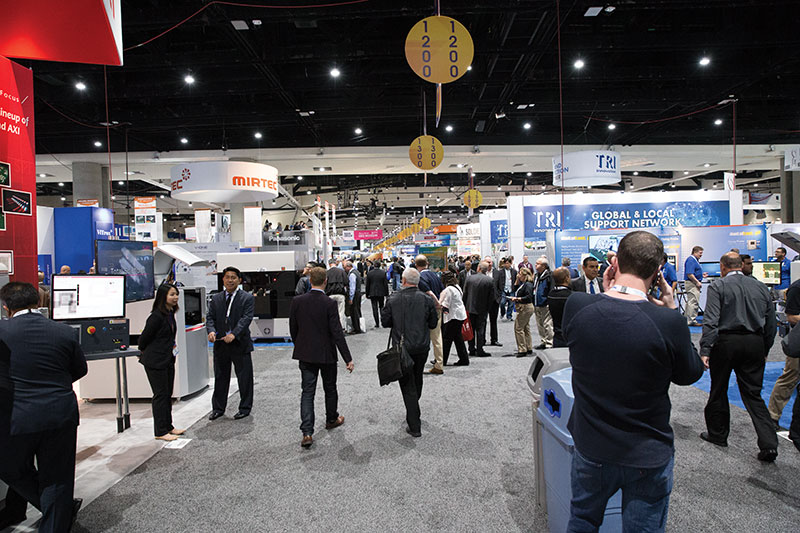 BOOTH HOPPING IPC Apex Expo was busier than past years, with a 10% climb in attendance.
Similarly, IPC-7093, "Design and Assembly. Process Implementation for Bottom Termination SMT Components," is being updated to include information on reducing voiding, solder paste deposition patterns, and solder dams. The draft could be ready for ballot and publication this year.

As noted, IPC Apex Expo has evolved into primarily an assembly show. Most – as in almost all – the machines shown for the first time in America had already been introduced at Productronica in November (see our coverage in the December 2017 issue). There were fewer robots this year than last, with Siemens (Mentor), Asys, Simplimatic Automation and a couple other companies showing them. We thought automation would be going in the other direction.

Another continuing story was the connected or "smart" factory developments. IPC CFX signs were everywhere, a reference to the shop floor data exchange program. Several process equipment and software companies have latched on, but no one from the test side (yet). The standard is running 180 pages long, and input is being accepted for cleaning systems. References to the Hermes Initiative, which some refer to as "digital SMEMA," so common at Productronica, were nowhere to be found. None of this has seemed to faze Mentor's OML, a competing format driven by the software company.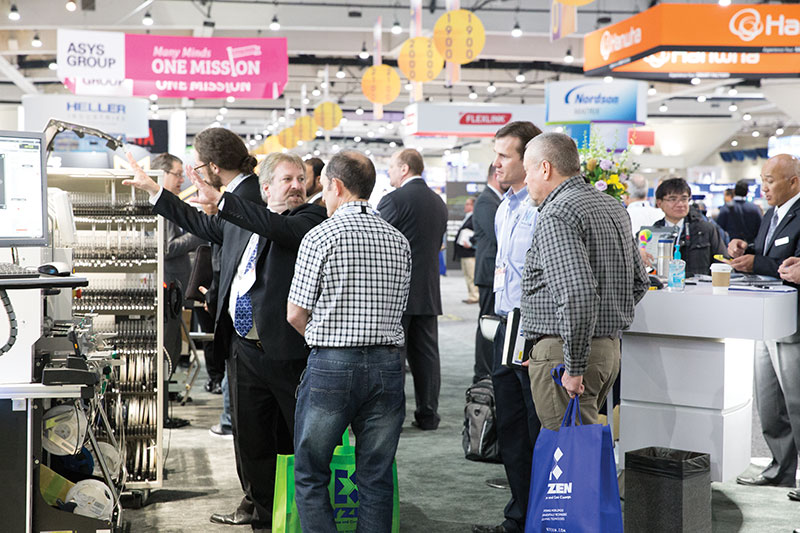 NEW TO US Much of the equipment was making its North American debut.
The fabrication side had more equipment than in several years (Microcraft, IPS, Indubond, Pola & Massa, Wise, Cedal, Excellon, Miva Technologies, Chemcut, Orbotech, Taiyo Industrial), although usually it was sitting in distributors' booths. Still, that side of the show was relatively slower than assembly.

Twenty-six PCB fabricators were listed in the show guide, and a handful weren't. About 90% were from China or Taiwan; just four hailed from the US. About three dozen others indicated they supply printed electronics materials, and 11 were contract assemblers.

Company Notes

Aegis' latest MES software release (2018.1) is due in May. It includes an Administrative Quality module, which builds off 2017's Incoming Quality Control document and is fully integrated with other Aegis MES modules. It maps the processes of a company, and improves itself via a feedback loop based on actual correction actions/preventative actions. The more it is used, the better the software becomes, Aegis says.

Anda said its AP-460 inline plasma cleaner was getting the most attention. The show was good, they said.

ASM updated its factory "tour," as shown last year at Apex, and had the most advanced demos of CFX. Jeff Timms, Americas CEO and general manager, noted the SMT unit just reported record six-month revenues that would equate to an annual run rate of over $1 billion.

Asymtek showed the Helios bulk and two-component dispenser, built on a platform acquired when it bought Dima. It's made for very large dispensing applications; the tube extends to 3' high. Also showed was the SC-350 spray applicator for 3-D coverage. The Vantage dispenser has new motion control and software.

Asys was showing the APS (Automatic Pin Setting) system for ensuring PCBs are flat through the printer. It also has a new modular camera gantry for the IPAG jet dispenser. And the firm continues to refine its AIV (autonomous intelligent vehicle), which now can bring material to the line and to its dry storage towers.

Data I/O sees extreme growth in automotive, which is changing to universal flash storage.

Datest, the Silicon Valley failure analysis laboratory, has acquired its third x-ray system, a custom industrial 225kV micro focus CT scanning system from VJ Technologies, of which there are only two in the world.

ECD has made improvements to its process monitoring device called OvenSentinel, shown first at Productronica, based on capturing oven data for traceability. The company is taking a wait-and-see approach to CFX.

Europlacer is meeting customer needs for speed with its Atom 4 high-speed placement machine, available in the third quarter.

Henkel had two new pastes based on its GC series of "no shelf-life" materials. One is jettable, for use with Mycronic printers. A new test board is coming out within two months.

Indium has new robotic soldering materials, plus the CW-807 halogen-free, no-clean flux-cored wire. It is banking on 5G being big for the company, noting it's not just tied to broadband but also a necessary platform for ADAS.

Inovaxe showcased its new Smart Stencil Storage Cart, which has a PC to track stencil number and storage location. When a stencil needs to be retrieved, its location is illuminated, allowing the user to easily find and remove the stencil.

Interflux Electronic, a new company formed in April 2017, was showing its solder paste, bar and cored wire.

ITW's Momentum Elite stencil printer has a new GUI.

Juki added soldering models to its selective machines to make the line more scalable, and added elevators to the component storage towers. The RS-1 placement machine has new feeders and more feeder capacity. Perhaps the biggest news was longtime CEO Bob Black is retiring.

Kulicke and Soffa said its corporate revenue goal is to grow from $850 million today to $2 billion in five years.

Koh Young made advances to its KSmart process control software, including new features and links.

MicroCare is expanding in Belgium and Connecticut. The firm showed the new no-clean Flux Remover Pen, which has a tip like a marker; just rub it across flux residue, and it picks it up. It is also developing field kits to test chemistry, so it doesn't need to be sent to a lab. "It's an opportunity to show that our chemicals are easy to use," explained COO Tom Tattersal.

Nordson Select's Integra 508.5 selective soldering system will add machine vision by the end of the first quarter. The merger of Ace Production Technologies and InterSelect is combining certain features and phasing out machines that overlap or no longer fit the company's portfolio.

Optomec debuted Aerosol Jet HD, a compact, configurable platform that can dispense a range of electronics materials (silver, copper, adhesives) with features as small as 20µm. A just-announced partnership with Mycronic has led to using the Optomec head on the former's high-volume platform.

Panasonic had some interesting factory camera setups, which could capture images any time an operator touches a machine, enhancing everything from traceability to factory layout to process flow. The tool also measures the number of people in a section of the factory at a time, and displays traffic based on thermal patterns. It creates "zones" to demonstrate what's going on in a plant, show intrusion detection, and offer real-time alerts. This is almost the "Nesting" of the SMT line.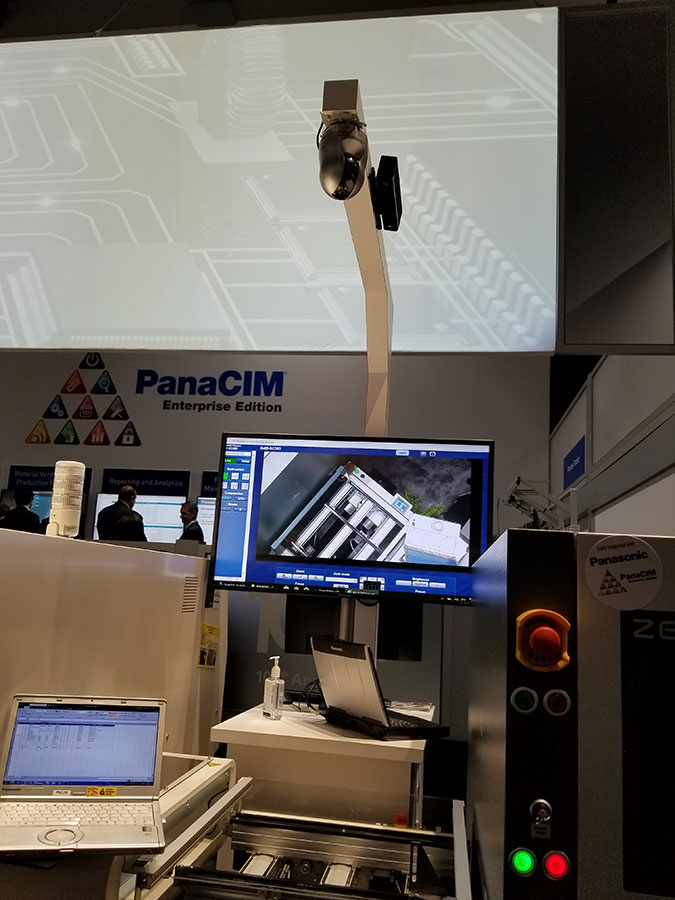 BIG BROTHER Panasonic's latest Smart Factory solutions included overhead cameras that capture operator interaction with machines.
The triumvirate of Siemens/Mentor/Valor is attempting to transform manufacturing companies into digital enterprises: faster, more agile, and less costly. Its Amberg, Germany, electronics manufacturing plant instituted Siemens PLM as a test case, and reports building one part per sec. at a 99.989% quality level.
Siemens uses a digital twin of production technologies and decides what is needed to run its processes, such as advanced robotics, with/without vision, force feedback, and touch for fine tasks (e.g., inserting connectors). It is utilizing 3-D printing for end-use parts. Oren Manor of Siemens PLM said the goals are mass customization, defined as a lot size of 1, 2 or 5, but built at the same cost as lots of thousands of pieces, with predictive analytics employed to enhance quality. Its OML platform will be used for standardizing language.

Manufacturers' representative Seika Machinery showed a new option on the McDry line of dry cabinets, the Dickson One data logger, which permits data storage in the cloud. The company said PCB routers were really popular at the show. The hottest item now is Malcolm Instruments' RCX – 1 series modular reflow profiler and reflow oven observation series.

Shenmao plans 10 to 15 new products this year, including PQ10, a new low-melting solder that reduces peak temperature by 60° to 70°C.

Taconic's fastRise EXpire low-temperature curing adhesive, for rigid and flex boards, contains a low-loss thermosetting resign and ceramic additives, for difficult-to-bond substrates like PTFE, LCP or polyimide.

Don't confuse Taiyo Industrial with Taiyo Ink. The former is a small Japanese company that makes AOI for bare PCBs. It showed a series of bare board inspection tools and verification systems, including the M100, which can be used for any substrate type.

Transition Automation's new Printek AP-3224-V low-volume solder paste printer has 24" x 40" board size capability and built-in x-y data registration. Yet the table is mobile and weighs just 20 lbs.

Universal Instruments had a private room in which reportedly was a new placement machine with a smaller, possibly faster head. It's said to be due out sometime next year.

Zestron is opening tech centers in Taiwan and Japan in May. The cleaning materials developer is rolling out single-phase, micro-emulsion products that are also pH-neutral and can be delivered via spray or ultrasonics. No mixing is needed, and cleaning is reportedly better because there's no second phase, so the material is more homogeneous.

It all made for a busy week. The biggest takeway: It's not that everything is for sale; it's that everything for sale was sold. With the return of double-decker booths and paid endorsements on the show signage, have we reached the point of irrational exuberance?
Mike Buetow is editor in chief of Circuits Assembly; mbuetow@upmediagroup.com, and Chelsey Drysdale is senior editor of Circuits Assembly; cdrysdale@upmediagroup.com.

Kimball, Mack Headline SEA Winners
The 26th annual CIRCUITS ASSEMBLY Service Excellence Awards (SEAs) for electronics manufacturing services (EMS) providers saw four companies taking the top prizes: Kimball Electronics (sales over $500 million), Mack Technologies (sales of $101 million to $500 million), Applied Technical Services (sales of $20 million to $100 million), and Naprotek (sales under $20 million).

For the individual service categories, winners in the small-company category included Kodiak Assembly Solutions (dependability/timely delivery, technology, value for the price); XLR8 Services (quality, responsiveness, technology); and Spectrum Assembly (technology, responsiveness, value for the price).

For firms with revenue between $20 million and $100 million, Electronic Systems Inc. took home all five individual category awards. For EMS companies with revenue between $101 million and $500 million, Firstronic won each of the five categories.

For EMS firms with revenue over $500 million, NEO Tech was number one in dependability/timely delivery and quality, and Creation Technologies received accolades for responsiveness, value, and technology.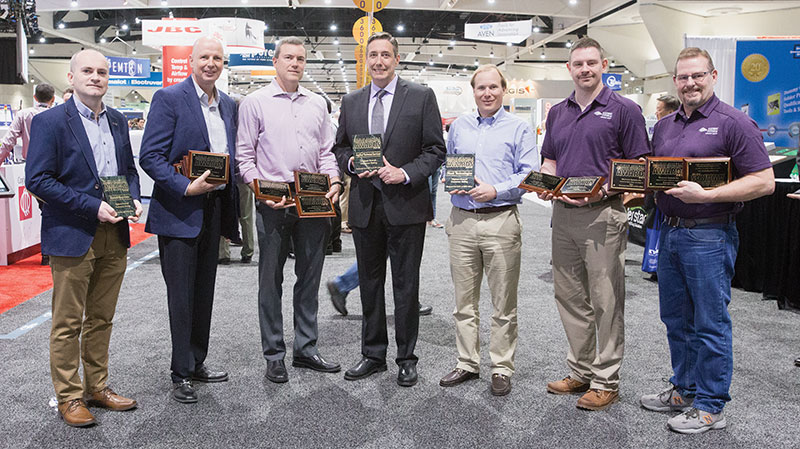 Electronics assembly equipment award winners were Europlacer Americas for pick-and-place; Speedprint Technology for screen printing; Kyzen for cleaning/processing materials; MIRTEC for test and inspection; Alpha Assembly Solutions for materials; Nordson Asymtek for dispensing; Heller Industries for soldering equipment; Aegis Industrial Software for automation/manufacturing software; Count On Tools for automation/handling equipment; Datest for test laboratories; and BPM Microsystems for device programming equipment.

A donation of $4,000 was made on the participants' behalf to the Surface Mount Technology Association's Charles Hutchins Educational Grant.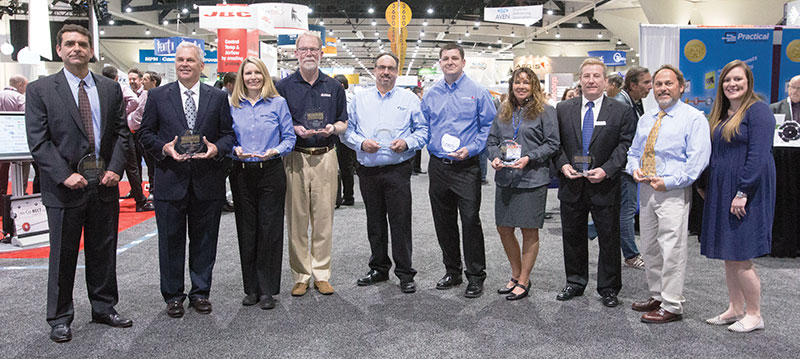 Higher Throughput Trend in NPI Awards
At IPC Apex Expo, PCD&F and CIRCUITS ASSEMBLY announced the winners of the 2018 New Product Introduction Awards for electronics assembly equipment, materials, software, and PCB fabrication.

The 11th annual NPI Awards recognizes leading new products during the past 12 months. An independent panel of practicing industry engineers selected the recipients.

"As the entries to this year's NPI Awards demonstrate, there is a real move toward faster throughput right now," said Mike Buetow, editor-in-chief of Circuits Assembly and PCD&F. "This was noted by the judges, who were impressed with the trend to increase speed in the same machine footprint."

The winners were

Automation Tools: Fuji America (Fuji Smart Nozzle Cleaner)
Coatings/Encapsulants: Henkel Electronic Materials (Package-Level EMI Shielding Materials)
Component Placement – High Speed: Europlacer Americas (Atom 4 Pick and Place Machine)
Component Placement – Multi-function: Europlacer Americas (Atom 3 Pick and Place Machine)
Component Storage: Inovaxe (InoAuto Smart MSD Cart)
Cored Wire: Indium (Core 230-RC "No-Spatter" Robotic Cored Wire)
Device Programming: Data I/O (UFS Upgrade Kit for Lumen X)
Dispensing Equipment: Essemtec (Tarantula – Relentless All Terrain Jet Dispenser)
First Article Inspection: Yxlon (Cheetah EVO Plus Scalable X-Ray Inspection System)
Process Control Tools: Kyzen (Kyzen Analyst)
Process Innovation: Panasonic Factory Solutions Co. of America (Panasonic SPV, Paperless Cleaning Technology)
Rework and Repair Tools: Metcal (Connection Validation Robotic Soldering System)
Screen/Stencil Printing Equipment: Juki (G-Titan Automatic Screen Printer)
Screen/Stencil Printing Peripherals/Consumables: Inovaxe (InoAuto Smart Stencil Rack)
Software – Process Control: Cogiscan (Factory Intelligence – Analytics)
Software – Production: BPM Microsystems (WhisperTeach)
Soldering Materials: AIM (REL22 M8 High Reliability Solder Paste)
Soldering – Reflow: R&D VaporTech (Smartphase Inline Vapor Phase Reflow System)
Soldering – Selective: Nordson Select (Integra 508.5 Selective Soldering System)
Soldering – Other: Promation (Quick 9440IR-U Soldering Robot)
Test & Inspection – AOI: Test Research Inc. (TR7700Q 3D AOI System)
Test & Inspection – AXI: Viscom (Inspection System X7056-II)
Test & Inspection – SPI: CyberOptics (SE3000 SPI)
Underfill/Thermal Interface Materials: Henkel Electronic Materials (Bergquist Gap Filler TGF 1500RW Liquid, Peelable TIM for Easy Rework)
Laminates: Ventec USA (VT-5A2)
Wet Process: Dow Electronic Materials (Microfill SFP Acid Copper)
AOI / Test: Orbotech (Ultra Dimension)
Ink Jet: Nano Dimension (DragonFly 2020 Pro 3D Printer)
Specialty Substrate Materials: MacDermid Enthone (Systek THF)
Plating: MacDermid Enthone (MacuSpec VF-TH 200)
Surface Treatment: Nordson March (RollVIA Plasma System)
Factory Automation Software: Mentor, a Siemens Business (Valor NPI, Intelligent DFM)