SMTA International kicked off in the Chicago suburbs this week with a dazzling keynote and an innovative session on leadership.
The keynote was a story of humility and doggedness. Adam Steltzner, Ph.D., the JPL engineer who led development of the Mars Curiosity rover, juxtaposed the development of that machine against his own background, which took him from high-school dropout and hippy musician to finishing first in his class in engineering at University of California, Davis. "Curiosity is our species' superpower," he told a rapt SRO audience Tuesday morning. His team had to resolve all kinds of challenges with heat, weight and foreign matter to deposit the one-ton rover on the surface of Mars. Steltzner's 45-minute narration was both self-deprecating and highly personal.
A day earlier, the Women's Leadership Program spent a half-day tackling the often-thorny situations newly minted engineers and aspiring managers must navigate. Women make up about 20% of the roughly 100,000 bachelor's degrees awarded in engineering in the US, but despite the title, the program was applicable to any less experienced employee.
In a speed-dating style, a novel roundtable offered a chance to get insights from mentors on a variety of soft and hard topics, from managing peer pressure to managing one's own career path. Mentors included a mix of users and suppliers. While references to literature and business axioms abounded, the advice wasn't preachy. Instead, it felt truly bidirectional. Mentors asked questions as much as they offered advice. Most valuable were the strategies for how to manage the inherent tension between one's work and personal life. The general tone was light but thoughtful.
Much of the session was aimed at developing soft skills. For instance, Jennifer Bly of Intel counseled participants on how to deal with introverts and extroverts in the workplace, and when and where to assert oneself in the mix. "It's about being conscious of your personality type and those of the people around you," she said. "Say, for example, after an all-day team meeting, the team leader wants everyone to go to a bar. [What's important is to] understand that some members might want to stay back and recharge." She suggested balancing group time by offering a low-key event prior to a long session, then an optional, time-limited event after.
Kyzen's Debbie Carboni talked about juggling two teens and a major house move. "Don't try to be perfect," she said. "And be aware that priorities can change. Be willing to dive in, if that's what makes you happy. Find the company and management that supports your goals and approach."
On a more technical level, Brian Toleno, Ph.D., of Microsoft, challenged listeners to think about how changes in technology impact their business and lives. "Consider, what's a possible future?" he recommended. "What are the goals of the future, and what are steps along the way? For instance, if you change FR-4 to textile fibers, even if it seems farfetched, what'll take to get there?" He conjured up both big-picture scenarios ("In the event of a war over resources, how do you ensure supply chains as resources become restricted? Especially without warning?") and small-scale ones ("If people wear sensors all the time, what are the ambiguous questions, such as how will that impact you, and what can you do about it?")
On the show floor, an early rush gave way to modest traffic the rest of the day. The absence of IPC likely dampened attendance; the trade group's technical committee meetings, which were co-located with SMTAI the past several years, were moved to the summer this year.
The show floor featured roughly 150 exhibitors, mostly equipment or materials suppliers, with a few contract assemblers and fabricators sprinkled in. Machines were plenty, but most exhibitors opted for ones that best represent the local market, even if they are not their most feature-laden systems.
Product Debuts
Most "new" product announcements are made at Productronica or IPC Apex Expo. Still, there were a few debuts.
Nihon Superior, which makes its living in the high-tin-content arena, showed its flux cored solder wire for laser soldering, called Sn97C(032K). Also, the TipSaveN flux cored solder for robotic soldering is said to slow dissolution on the tip, increasing uptime and reducing changeover. Its Sn100CV solder paste now comes in a Type 5 powder.
Europlacer rolled out its Atom 3 high-speed placement machine last spring. The company reports it is now in full production on the machine.
Identco's Brian Connolly explained the ILP-30 label feeder, which is 30% narrower than other competitive feeders. Labels come on antistatic reels.
Insituware, an offshoot of Systems Innovation Engineering (SIE), showed its Vision Mark-1, a materials analysis device. The handheld device reportedly can identify residues on an assembly, predict residue corrosivity, correlate it to SIR, and verify solder paste consistency and fitness for use.
Pace has new tweezers for 0201 sized packages. The company is focusing more on micro-soldering applications. It also noted increased demand for fume extraction at the bench level.
Anda had a modular assembly cell, called the ZPCB-1. The SCARA robot-driven system could perform a variety of tasks, such as die bonding, with stations for printing, placement and UV curing, all in an enclosed environment.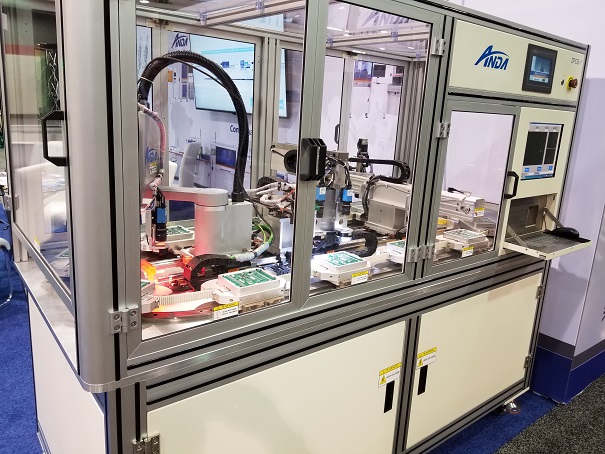 After being shrouded in secrecy at IPC Apex Expo last spring, the Magnalytix OE-200 SIR test system, the brainchild of senior employees of STI and Kyzen, was on full display. The system has undergone certain software and hardware tweaks, and the first units have shipped, the company said. Steve Pollack, formerly of Essemtec, has joined the company to head up its sales effort.
Surprisingly, not much in the way of AGV (automated guided vehicles) was present. Omron had a system that was working in tangent with CTI's loading machines. Juki did not have its AGV onsite but noted its capability of bringing materials to the line by tying them into its component storage systems.
The most innovative new product we saw comes from Charlie Moncavage. The cofounder of Ovation Products and Quick-Tool has returned with a new company, Inspire Solutions, and a new take on handling boards at the printer level. His latest invention is Toolmaker, a laser-driven mini CNC system for developing fixtures. A laser scans an assembled PCB and makes a mirror image in a foam "blank." It handles panels up to 300mm x 300mm, and the resulting fixture supports the board, squeegee and provides a precise planar surface for boards and parts. No CAD data are needed; programming is literally as simple as pressing "Go." A fully formed fixture takes about two hours, according to Moncavage. Bjorn Dahle, the former president of KIC Thermal, has joined Moncavage as general manager.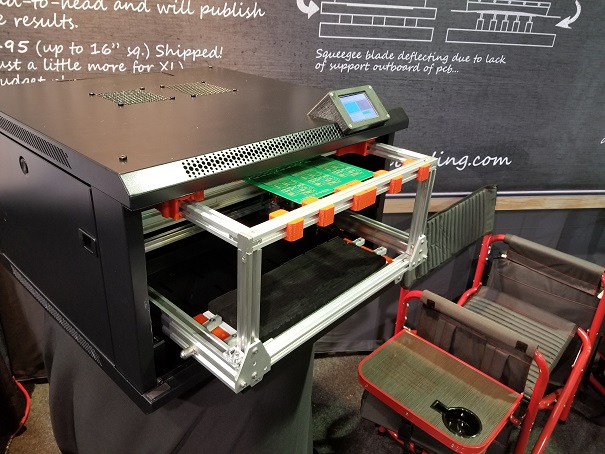 SMTA announced several awards during the show. Chuck Bauer was presented with the Founders Award, Dudi Amir won Member of Technical Distinction, and Greg Kloiber won Excellence in Leadership. Intel won the Corporate+ Partnership Award.