Warm market winds continue to lift the SMT market, based on the activity at the annual SMTA trade show.
If you believe the SMT market has peaked, you would have had a hard time finding someone to agree with you at the SMTA International trade show this month. Discussions with companies over the future of the market were mixed, but only in the sense of how long the bull run will continue. Some feel the surge has another couple good years ahead. Others think it may not last that long, but it's not retracting yet. Even those who felt like it couldn't get hotter believe a soft landing is ahead. (Contrarian alert: Prognosticators said the same thing in 2001.)
The two-day exhibition was fairly busy on the first day and slower on the second. Overall, though, it felt like it was the best show SMTA has had. (Registration was down 13 people from 2017, to 1,584.)
The show floor gets a boost from the concurrently held IPC standards committee meetings. With the annual IPC Apex Expo trade show moving to a late January date the next three years, however, IPC is relocating its standards meetings next year to Raleigh in the June/July timeframe at the behest of the committee members.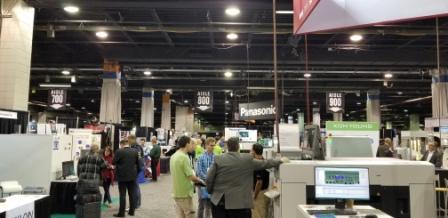 Busy, busy The show floor had more traffic than in previous years.
As for the major technical developments, there are four ongoing stories:
1. Artificial intelligence. Koh Young was one of several inspection companies that professed interest in developing AI for SPI/AOI machines. Brent Fischthal said the feeling is it can help with autoprogramming, cutting tasks to one-third of the current length. Creative Electron's Bill Cardoso also said he is adding intelligence to x-ray systems by putting AI on the machines. Analytics are a "huge part of Creative Electron's business," he said, adding data will drive users to the next level of manufacturing.
2. Robotic automation. With the labor market as tight as anyone cares to remember, surprisingly few companies were pushing robots. One of a few companies that showed them was Kester, which had a Promation soldering robot in its booth. Promation's Mike Goldberg said he sees companies moving to robotic soldering as a less-expensive alternative to selective soldering equipment. Promation is shipping 300 tabletop robotic units a year, he added. Fancort, which had a Unix robotic soldering system, concurred, adding the drivers are repeatability, lower labor costs and quality. Also, robots can offer environmental benefits over selective soldering by eliminating the solder bath and exposing operators to fewer volatiles.
3. The connected factory. Surprisingly, there wasn't much talk about Industry 4.0, CFX, or the Hermes Initiative this year. ASM's Mark Ogden explained there will be a lot more on connectivity at Apex, at which point the IPC Connected Factory Exchange (CFX) should be complete. Hermes continues to get signups, he added.
4. IP security. Michael Ford of Aegis said work is being done to develop tools to look at "golden designs" that would compare what was in the design versus the as-built production board. OEMs, he said, would submit a single IPC-2581 file the board would be checked against. Those boards could then be stored with blockchain attached, giving the original a unique, tamperproof encryption. This could prevent surreptitious placement of wrong components or bad ECOs, he explained.
The most interesting new equipment I saw on the floor was a reel-to-reel circuit printing machine, courtesy of Dry Phase Patterning. The tabletop version being shown makes a single-layer circuit pattern on an organic polymer material. It can currently make lines of 9 to 40µm with 100 to 150µm spaces using aluminum, copper, or copper-aluminum metal layers. The operation works by means of an independent milling drum and circuit imprint drum. A larger (6 meter) system includes a camera and other inspection, handles much larger sheet sizes, and can process 30 meters/min.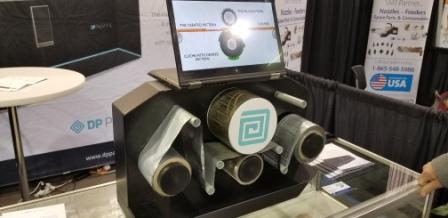 Reeling A new reel-to-reel pattern printer from DPP.
Sensors no-show. By contrast, the colocated Sensors Midwest show had slow traffic. The mix of 60 or so exhibitors included mostly component suppliers, with a handful of EMS companies and major European defense OEM Thales sprinkled in.
BestProto has completed its move to a new facility in Elgin, IL. Best Inc., the rework and training arm, remains in its longtime building in Arlington Heights, IL.
The largest EMS firm there, by far, was Benchmark Electronics, which exhibited to promote its design engineering services and sensor technologies.
There are many business models for EMS companies. TT Electronics is no exception. Its components unit was present showing its chip capacitors, potentiometers, and other related developments.
Housekeeping. SMTA took advantage of the annual meeting to announce its board of directors. Jeff Kennedy, Celestica, has been reelected president. Tim Jensen, Indium; Richard Coyle, Ph.D., Nokia Bell Labs; and Robert Kinyanjui, Ph.D., John Deere Electronics were reelected directors. They will be joined by newcomer Bill Cardoso, Ph.D., Creative Electron, and holdovers Martin Anselm, Ph.D., Rochester Institute of Technology; Sal Sparacino, Zestron; Greg Vance, Rockwell Automation; Matt Kelly, IBM; Bill Capen, Honeywell FM&T; and Richard Henrick, Sanmina.
Quick Hits
• Paul Smith explained Comet/Lab One's nonexclusive partnership with Mirtec whereby the latter put an AOI and SPI in the Lab One facility in San Jose. For Comet, it's about exposure to Mirtec's market base, whereby it gives Mirtec a West Coast presence to show equipment and perform demos.
• Datest is expanding into a full-service analytical lab.
• ICAPE's acquisition of Divsys was in part for its test lab capabilities.
• New Zestron executive vice president Mark McNeill was making his first appearance at an industry show.
• Koh Young consolidated its administration office in Atlanta and opened an office in Mexico.
Mike Buetow is editor in chief of PCD&F/CIRCUITS ASSEMBLY; mbuetow@upmediagroup.com.