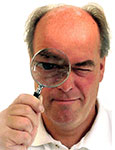 Solder joint corrosion causes.
This month we illustrate dendrites and corrosion on board assemblies. The example in FIGURE 1 is straightforward. Saltwater was found on the surface of the metal board. It caused intermittent operation of the LED before failure at 25 meters. Yes, you guessed it: My underwater light leaked due to a rubber gasket failure. The rubber had been out in the sun too long and hardened, then cracked. The image shows chemical reaction with dendrite formation on the surface of the joints and some green verdigris.
To continue reading, please log in or register using the link in the upper right corner of the page.