The EMS company's engineers are making steady gains toward the lights-out factory.
If and when robots are fully implemented into SMT factories in the US, it might well happen first at Asteelflash.
The EMS provider has several units in use in its test operations, and plans for adapting to other aspects of labor-intensive tasks are inching beyond the drawing board.
We caught up with Asteelflash – our Circuits Assembly 2010 EMS Company of the Year – in mid-September at its factory in Fremont, CA. The operation was humming. A very open facility, it stands as the company's largest in the Americas, at just under 130,000 sq. ft.
It is a full-service plant, housing SMT, testing and box-build. Four SMT lines are laid out in end-to-end fashion, one for NPI and the rest for higher volumes. Vendors include DEK Horizon screen printers, Fuji NXTII and III (for high-speed) and XPF-W (for NPI) placement machines, 13-zone Heller 1913 MKIII reflow ovens and TRI TR7500 and TR7550L AOI. SPI (TRI 7007L) is performed on every board going through the NPI process. (Asteelflash uses essentially the same equipment in all its 18 factories around the world.)
For through-hole assemblies, there are three Electrovert wave machines. Asteelflash prefers universal wave fixtures, masked for specific customers, to avoid recalibration on each new part. First-article inspection (FAI) is performed on every wave-soldered board.
In x-ray, one 5DX and two Vitrox V810 machines are complemented by a Nordson Dage XD7600NT, which is used for NPI and failure analysis.
All programming and feeder setup is performed offline. Every part and reel is scanned.
Components are stocked only based on customer requirements, but all plants are standardizing on the same ERP/PLM system, and parts can be moved from facility to facility in the event of oversupply.
Parts traceability is managed to the individual component level. Asteelflash can isolate a part based on the board, time kitted and when it was used in an assembly. If a component fails inspection, the digital quality control system won't accept the part later on.
Despite the plant's size, space is tightly managed. Stencils are stacked vertically, as many as four high on a system of racks. There are also vertical storage machines for test fixtures.
Twelve aqueous batch cleaners are onsite plus an Aqua Klean Typhoon inline unit.
Conformal coating, testing and box-build fill out the rest of the plant. Asteelflash can handle very complex box-builds, with extensive wiring and sheet metal.
There are 350 employees at the Fremont site, but engineers are constantly looking for ways to automate routine and not-so-routine tasks. (The plant was working one shift at 70% capacity when we visited. The average weekly shipment is 25,000 PCBs.)
Over time, the Fremont plant has shifted from primarily telecom and consumer products to automotive, industrial and IoT. The factory, which Asteelflash acquired as part of its 2008 merger with Flash Electronics, is notable for being the first builder of boards for Tesla, whose 5.3 million sq. ft. factory is just 1.5 miles away. The automaker remains a key account, and Tesla signs are prominent in the factory today.
It's the implementation of robots that were of most interest to us when we walked the factory, however. Asteelflash uses robots to open and close the test fixtures, and to scan and load/unload boards. The units are from Universal Robots and tailored to Asteelflash's custom requirements. Programs for unique part numbers can be updated with a single line of code.
Asteelflash implemented robots focused on in-circuit testing because of the time wasted waiting for testing to be done, explained Mathieu Kury, business development manager. In doing so, they addressed the typical bottlenecks in ICT – a lot of units and repetitive tasks.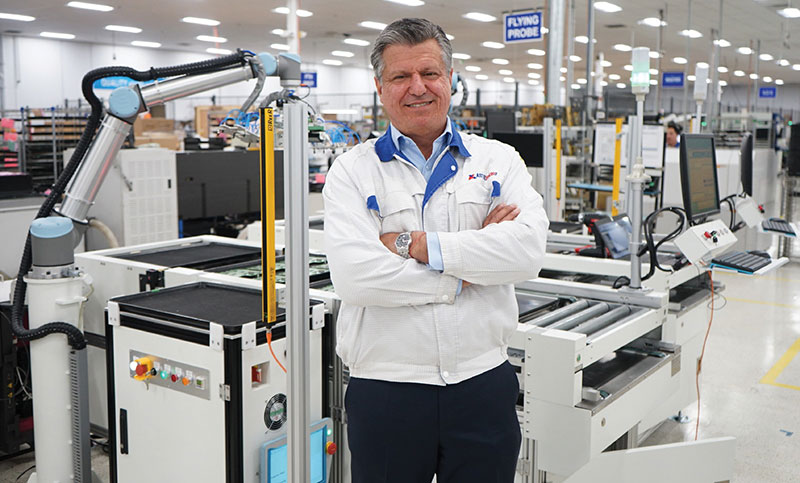 The bots also addressed the severe manpower crunch many companies in the Silicon Valley face. Previously, Asteelflash employed one person per ICT line. Post-robot, a single supervisor oversees three lines.
The company doesn't plan to stop at ICT. According to Kury, other possibilities include incoming inspection, where they could count reels, and programmable soldering. There may also be ways to leverage their new knowledge to attract a different set of customers.
Asteelflash sees a future in such advanced engineering projects, both for internal and external benefits. It performs tool and fixture design for ramped products and component rationalization. A customer – coincidentally a robot manufacturer – recently switched to Asteelflash due to issues at its previous EMS. Asteelflash redesigned the 12 PCBs that were part of the product, and located new suppliers for components such as motors, aided by its staff mechanical and electrical engineers. The product is now going to production, Kury said.
Given the automotive sector's extreme demands for quality and traceability, the plant has adopted several new best practices. All data and servers are maintained in-house, and data are saved for at least 10 years. Machine-level data are protected from outside access. Top defect analyses are performed daily and reviewed by key staff, including the plant manager and quality manager. Lean value-stream mapping is conducted for all box-build customers with schematics adorning large tracts of the
perimeter walls.
The addition of design services in San Diego or the Silicon Valley could be in place by early next year. That service would complement shops Asteelflash set up in Germany and France.
Asteelflash is making gains in other traditionally labor-intensive areas. Noting RFPs and quotations are resource-intensive and over-reliant on outside vendors, not to mention subject to volatile market conditions and poor planning, it has developed a proprietary algorithm fully connected to the web.
As Albert Yanez, president of Asteelflash Americas, explained during the PCB West conference in mid-September, the AI results are promising. As part of its one-year study, Asteelflash analyzed 200 quotations on both materials and labor/value-add. It integrated market trend analyses into the algorithm. The outcome: Asteelflash cut the time to generate a quotation for a PCB assembly to three working days from 10, with a +/-2% difference compared to the same quotation released by a five-member RFQ team.
The algorithm is also able to scan and identify errors in documentation. The system was taught how to recognize
different formats and restructure them into a format for the CM's internal system. Doing so cut the average time to set up a customer for manufacturing from 14 to 21 days to four. Moreover, it reduced the labor content from a team of four full-time employees to a single employee supervising the algorithm.
While it initially made a big splash through a series of high-profile acquisitions, over the past five or so years Asteelflash has concentrated on getting quality products to their customers faster. The Fremont plant shows how well it is succeeding.
Mike Buetow is editor in chief of PCD&F/CIRCUITS ASSEMBLY; mbuetow@upmediagroup.com.