Small-tier manufacturers are typically narrow-focused. Not STI.
Company flexibility is often hyped in industrial manufacturing. Generally, the term is used to describe the ability to adapt to changing conditions on the factory floor.
Making changes at the corporate level is much more complex. And for service companies that historically draw their lifeblood from one or two key end-markets, it's akin to retrieving a planetary orbiter. Tier 1 firms like Sanmina or Flex have been known to jump in and out of markets such as PCs or servers. In EMS, smaller companies often don't have the luxury of calling their own shots. They seek business from wherever they can get it.
At STI Electronics, seismic shifts are not just evident, but almost part of the corporate DNA. Electronics manufacturing services provider is only the tip of the proverbial iceberg. Throughout its 37-year history, STI has been a provider of training, engineering consulting, distribution and lab services, as well as "traditional" high-rel SMT assemblies. Most recently, it is moving into the realm of OEM. (More on that in a moment.)
Founded as Soldering Technology International in 1982 by the late soldering guru Jim Raby, his wife Ellen and their son David, the company was launched in a 2,000 sq. ft. building as a training and assembly entity. As the company evolved, it expanded in both its legacy areas, and added distribution and lab services. Today, some businesses remain; some do not.
The distribution focus made STI stand out among its EMS peers. At its peak, sales from products such as solder paste, soldering irons and rework equipment, plus dummy components and its own branded soldering kits, made up more than one-third of the overall revenues. It offered products from AIM Solder, Henkel, Chemtronics, Haako, Hexacon, Metcal, JBC and others. STI spent nearly 17 years in the distribution arena, before selling the unit to Hisco in mid-2014.
"We thought we could grow it and, as we did, get better pricing from suppliers and pass them along. But people started bidding via the Internet," reflects David Raby, president and CEO.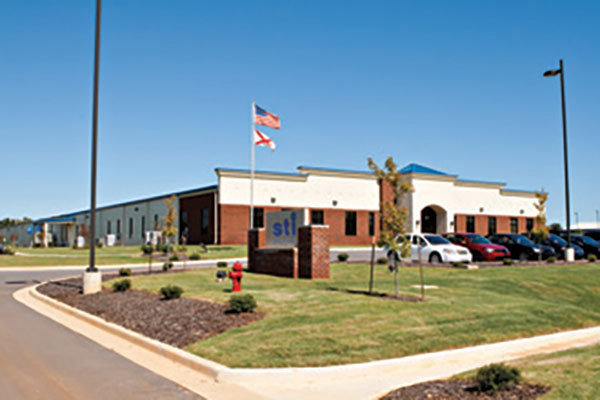 SWEET HOME ALABAMA The outside of STI's 54,000 sq. ft. headquarters in suburban Huntsville, AL.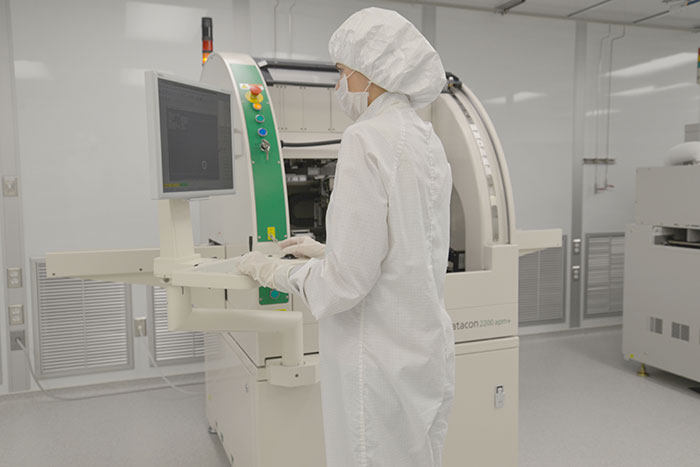 TO DIE FOR The Class 1000 cleanroom where STI performs bare-die bonding.
Rooted in Training
An Alabama-based company, STI's roots date to the Central Valley region of California and the national soldering school Jim Raby and others founded as part of the Naval Weapons Center in China Lake in the late 1960s. Raby opened his own shop in San Dimas, CA, in 1982.
A decade later, those training roots were transplanted to Huntsville. The training and consulting services STI offers today range from hand and machine soldering to cable and wire harness to inspection of assembled boards based on IPC and NASA specifications. STI boasts training centers in three states, including Texas and Indiana, the latter serving the Naval Surface Warfare Center now located in nearby Crane. Still, about half the classes it leads are on the road.
STI has been headquartered in the Huntsville suburb of Madison since 1993. It now operates from a 54,000 sq. ft. plant it moved into in early 2009. There, STI has three dedicated training classrooms. All are equipped with ample sets of soldering irons and other training gear, including standard and custom kits developed and sold by STI.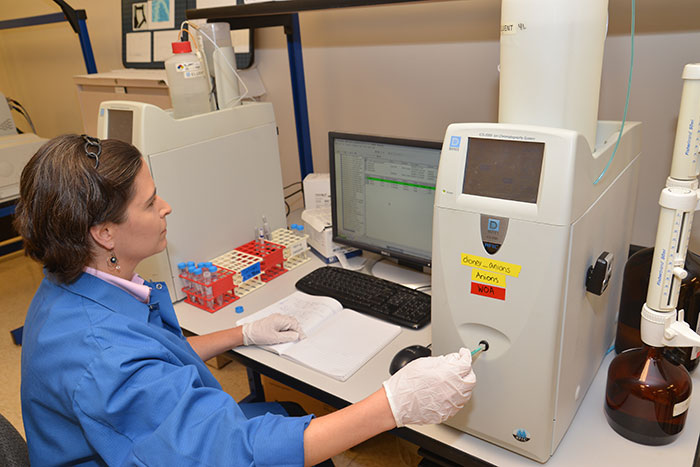 ANALYZE THIS The full-services test lab features multiple IC machines.
STI wrote the original training certification programs for soldered assemblies (IPC J-STD-001) and cable and harness assemblies (IPC/WHMA-A-620), and the firm continues to boast perhaps the largest contingent of dedicated electronics trainers in the US. That team, led by vice president Diana Bradford, includes many household industry names like Pat Scott and Ray Cirimele, which allows STI to look beyond conventional IPC training to develop custom programs. "The quality of our instructors allows us to do a lot of different jobs," David Raby says.
STI finds training to be a lower volume but higher margin business. It can also act as an introduction to new customers, 95% of which STI says it finds from word-of-mouth.
Besides commercial training, STI offers its staff to local high schools, where students learn the basics of soldering and get exposed to entry-level engineering. While visiting the factory in December, Circuits Assembly observed a class of students from nearby Bob Jones High School using practice kits to hand-solder LEDs to a board. The high school is notable in that, among its 1,800 students, some 340 are in engineering. STI has employed interns from the school for the past six years. (One graduate eventually became the primary soldering expert for the Greenpower USA Patriot Racing team.) Also notable: all the prospective engineers at STI that day were female.
"We are trying to solve tomorrow's workforce issues," Raby says. "Electronics probably needs a branding makeover. We are all competing for the same people, and trying to get more people to come into this field. On TV, manufacturing looks dirty and dangerous. But it's not."


PRINT, PLACE ... AND CLEAN Every board that goes through SMT is cleaned and inspected multiple times.
Manufacturing Core
SMT is core to STI's business, of course. The factory has two SMT lines. Line one features ITW MPM Momentum printer, Camelot Xyflex Pro dispenser, Juki FX-3 and KE-2080L placement machines, Heller 1913 MK convention reflow oven, Juki W510 selective soldering, and YesTech F1 AOI. Line two has a Speedline printer, Juki KE2050RL and KE-3020VAL placement machines, and a Heller EXL convention reflow oven. There are three IR rework systems for BGA reballing. Every assembly is cleaned. (Jim Raby was an outspoken advocate for the need for cleanliness.) A Technical Devices Nu/Clean 618 system is onsite. STI saves costs by producing its own DI water.
Offline are a pair of YesTech AOIs, models FX-940 for 3-D and YTV-2000. All product is also visually inspected post-cleaning, and techs can shut down the line if something looks wrong. All product is built to Class 3 standards, then inspected to customer-specified levels.
A PVA conformal coater and Spea flying probe round out the assembly area machines.
Unusual to small-tier EMS is STI's bare die capability. It offers a Class 1000 cleanroom in which it houses a plasma etcher (Plasma Etch), die bonder (Datacon) and reflow oven (Heller).
In the Lab
The lab gives STI not just an in-house troubleshooting advantage, it has become a standalone profit center. From finite element analysis to ionic contamination to XRF, STI has a range of equipment and failure analysis expertise. Other services include vibration testing, thermal cycling, solderability and cleanliness.
The equipment list includes CamScan 2300 SEM, Hitachi S-3500 SEM, Nordson YesTech YTX-300 x-ray, Keyence VHX digital noncontact measuring microscope, MalcolmTech SWB-2 wetting balance, and two ion chromatography (IC) towers.
A lot of SEM STI performs is exploratory, to find out what the problem is. Samples range from boards to individual components and packages.
The Fisherscope XRF, added in 2004, is used to assess metallization stackups for aerospace.
"We assess whether they are really getting the right barrier tolerances, especially critical when there's an RF signal," explains Mark McMeen, STI's longtime vice president of engineering and manufacturing. "We can compare with SEM to see how each structure is binding to the other." The Department of Defense will send random samples of parts to be inspected, even unreeling parts so that samples come from the beginning, middle and end of the reel.
Not everything just gets x-rayed. STI performs 40 to 60 microsections a week.
STI maintains a database of residue-related defects tied to process type. For more than a decade, STI has performed chemical decapsulation to remove leadframes and overmolds, exposing the bare die in order to tell whether a part is original or counterfeit.
The humidity chamber was self-designed for a customer. It is capable of performing 2500V and 5000V testing at humidity levels up to 75%.
From a business standpoint, McMeen says the ideal customer has a high-density, complex PCB that requires much precision in component placement and how it is integrated and tested. It could be a multiboard system for which STI tests all the assemblies and performs the integration. That customer would ramp to 100 to 500 systems or 3,000 to 6,000 boards per month. "That volume allows us to get everything dialed in," McMeen says. The prime customer would also require testing such as RF or vibration.
Many of those customers are in the military/aerospace arena. STI is a longtime supplier to the Department of Defense, and replicas and the control boards of some of the rockets Jim Raby worked on as a soldering expert prior to founding STI can be seen at the nearby US Space & Rocket Center.
STI offers box build, consignment or full turnkey. Key performance metrics include inventory turns, yields, defect levels, capacity utilization, and customer retention. Key certifications include AS9000D. In 2015, STI became one the first EMS companies to certify to the then-new IPC Qualified Manufacturers Listing (QML) for J-STD-001, IPC-A-610, and IPC J-STD-001 Space Addendum.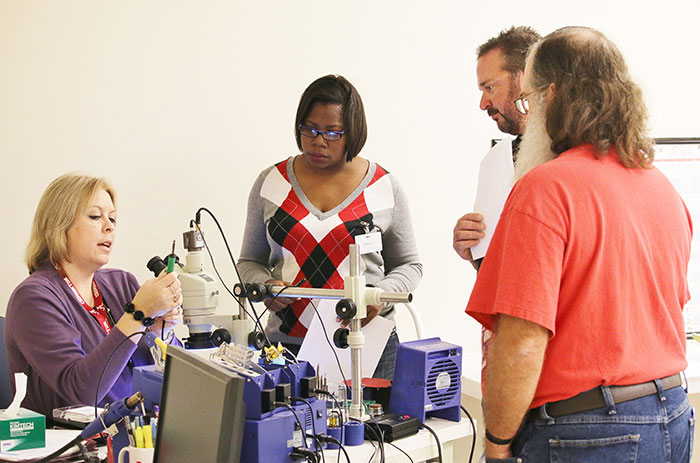 MONEY TRAIN Training remains a core program of STI.
Future OEM?
After 35-plus years, STI has reached 62 employees, including eight engineers. The privately held EMS has made the Inc. 500 Fastest Growing Company list six times. Selling off the distribution unit slowed that ramp. A new development might just boost the firm back into the rankings, however.
About that OEM comment. If SMT, training and lab work weren't enough, STI has teamed with a third party to develop a machine that, if successful, could spur process engineers to rethink the results of some common board-level tests. We saw a working prototype at STI, as well as the next iteration of the unit at another company later in the month. The concept was initiated by a US government grant to research the basic science and physics of a particular assembly line issue. As of press time, the product hasn't been launched, and Circuits Assembly is under embargo on further details. We expect to report more on this next month.
Small-tier EMS companies are at once similar and unique. The relative lack of resources compared to larger competitors reduces many to offer essentially the same, somewhat limited capabilities. But that lack of size also forces them to be resourceful, which manifests in hundreds of different ways.
STI has evolved dramatically from its origins. It relocated its headquarters two time zones away. It added a host of services, which in some cases it then subtracted. It has patented multiple products. And now it is pushing into the realm of original equipment manufacturer, a place only a small handful of Tier 4 EMS companies have ventured, and then usually for a particular customer, not on a commercial basis.
Yet, in many respects, STI remains the same. The culture and personnel are conservative and grounded. STI is as methodical as any manufacturer one might run across in terms of assessing the pros and cons of a given material, equipment or new service offering. It is a highly reflective company, as respectful of its roots (and its personnel) as any we have encountered, yet ready and able to build on that foundation when the opportunity strikes.
That's corporate flexibility: the ability to shift gears without upending the principles that made you successful in the first place.
For its ability never to let its size get in the way of its aspirations or commitment to excellence, STI Electronics is the 2018 Circuits Assembly EMS Company of the Year.
Mike Buetow is editor in chief of PCD&F/CIRCUITS ASSEMBLY; mbuetow@upmediagroup.com.