ISO-Spector M1A 3-D AOI ISO-Spector M1A has a field of view (FoV) of 69 x 69mm (2.72" x 2.72") and 25Mp camera with advanced lens optics.
Multiple Moiré fringe projections enable high-precision, shadow-free measurement of heights up to 25mm. Four fully programmable side-view high-res cameras actively inspect J-leads and other devices invisible to top-side imagers. Programming is said to be easy and programmer-independent. Artificial intelligence reduces human element involved in programming, meaning inspection results are the same whether programmed by a beginner or expert. AI learns production process values of assembled and reflowed PCBs and then recognizes defects based on hundreds of preset parameters. Short cycle times even when fully utilized including foreign material detection across the complete printed circuit board area. Offline programmable. Integrates fully with Industry 4.0 specifications via FIBER system for classification, repair, traceability and SPC.
Mek (Marantz-Electronics)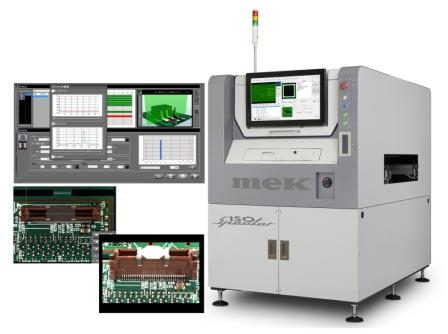 Register now for PCB West, the largest trade show for the printed circuit and electronics industry in the Silicon Valley! Coming Sept. 11-13 to the Santa Clara Convention Center.