MassChallenge, a not-for-profit accelerator program, aims to "create a bigger pie" by helping innovators get to market.
In a 27,000 sq. ft. office on the 14th floor of a Boston Harbor high rise, scores of innovators in residence toil away, trying to make their dreams reality. Four quadrants of cubicles form the basic layout, abutted by casual open meeting areas, a compact soundproof recording studio, and a galley kitchen.
The walls are covered in encouraging aphorisms such as "What it takes" and "Take it until you make it."

On an otherwise quiet Friday morning in October, a handful of residents listened intently to a series of talks on finding revenue sources. Among them was a team of advisors to the Mayor of London, dispatched to get a handle on the program in hopes of launching their own.

The program, in this case, is MassChallenge, a global accelerator program built around an annual competition whereby startups are graded, winnowed, trained and ultimately compete for no-strings-attached funding.

Now entering its fifth year, MassChallenge is embarking on a new expansion platform, even as it aids hundreds of small firms trying to beat the odds and make a difference in the software and hardware fields. It's a startup for startups.

A 'wacky' model. MassChallenge is considered to be an accelerator, which is characterized by a short-term training program – up to four months – after which the entrepreneurs are back on their own. An incubator, on the other hand, takes the entrepreneur's idea and matches it with professional managers. The latter also takes a bigger share of the startup's equity.

In terms of its structure, MassChallenge is noticeably different from its peers. Most accelerators are run by investors, groups that expect a hefty return. MassChallenge focuses instead on innovator success. "Our model is a little wacky," concedes director of marketing Robby Bitting, noting that under the firm's framework, participants are essentially competing for grants.

Applications are soaring. In 2010, the first year of the Challenge, some 446 entrepreneurs applied. That number nearly doubled to 733 in 2011, and then nearly doubled again to 1237 in 2012. The current class of applicants was made up of nearly 1,200 companies from 44 countries.

From the initial submissions, a group of more than 300 judges with expertise in a broad range of disciplines pares the list to 128. Those lucky few take up residence at the MassChallenge headquarters in the so-called Innovation District on Fan Pier in South Boston. Their exclusive perch allows the inventors panoramic views of the Boston Harbor skyline, including regular flights landing at Logan Airport, just across the inlet to the bay.

Inside, the site has the character and spontaneity of any of a thousand Silicon Valley startups. Game tables, colorful oversized furniture and scores of cubicles reinforce the notion that innovation breeds innovation. Participants are encouraged, through the office layout and the accelerator's instructional and social programs, to mingle and share ideas. And share they do, despite the fact that each company is competing for a share of roughly $1.5 million in cash prizes. But therein lies the magic: The founders believe the "greed is good" thinking spawned by many a Wall Street guru is fallacy, and MassChallenge is their response.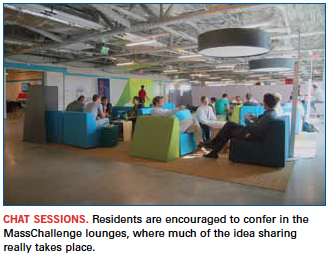 Creating a bigger pie. MassChallenge is the brainchild of John Harthorne and Akhil Nigam, a pair of former Bain Consulting whiz kids who grew disenchanted with the relentless emphasis on profits over true and potentially radical change. Both were itching to create startups and create value. Then the market crashed. "Money for entrepreneurs dried up," noted Bitting. "So much of this had to do with greed. People wanted a bigger slice of the pie without creating a bigger pie."

Says Harthorne: "For 30 years, business schools have force-fed this idea that profit is what matters. We've seen with the recent recession that that model doesn't work. You build a company because you want to do something for the customers. Only once you've (captured) their love can you then extract a profit.
"There are a lot of short-sighted strategies with a disregard for rational thought. By focusing on profit, you diminish it. By solving problems, you create a new value that doesn't exist."

The pair founded MassChallenge in 2010 in hopes of spurring an innovation renaissance. "Making a profit is not the issue. It's getting the innovators to collaborate and push each other higher," Harthorne says.

MassChallenge does this through somewhat traditional accelerator means, offering weekly classes on marketing, sales, building an organization and attracting funding, taught by a host of international stars in their respective disciplines. Funding comes from blue chip companies inside and outside the tech field, such as Microsoft, IBM, Fidelity, American Airlines, and various academic institutions, among others. Innovators are paired with mentors, at an average ratio (MassChallenge seemingly measures everything) of 3.6 mentors per startup.

Residents, like those on that October morning, experience an extensive curriculum that covers everything from leadership to team building, finance and pitch practice, brand building, marketing to the public, and media. MassChallenge attempts to help residents achieve in four months what would typically take a year or more. The mentors help oversee deadlines and progress.

It sounds like a hyper-compressed MBA, but that's not the idea, the founders say. Rather, MassChallenge program is intended as a launching pad. Finalists, they say, want the access to the experts. "They want too many opportunities, not too few," stresses Bitting.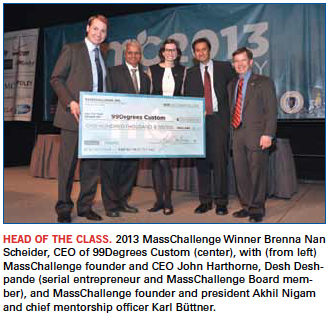 Major impact. What also sets MassChallenge apart is its fee structure. For starters, it's a not-for-profit organization. Entrepreneurs pay just $200 to apply. Unlike other accelerator programs, the focus is on impact, not revenue generation. "Impact," the founders admit, is a nebulous term, and intentionally so. "We like companies that are solving a very technical problem. It also allows us to take on social enterprises that are also nonprofits," Bitting says. Indeed, MassChallenge takes no equity in or places other restrictions on its residents.

Judging is handled by industry experts, with four to six judges per application. The first step is a review of all the online submissions, which takes place each April. The pool is then reduced to about 350 companies. The next phase involves pitching the idea in front of the judges, who assess the impact of the applicant's idea. That impact could be very different, based on the industry the end-product is designed for. In one instance, it might be a cure for a disease. Or it could provide a method for bringing education to people who need it. Perhaps it is a technical solution (see sidebar). More conventionally, it could have the potential for a high growth business that would create a lot of jobs.

Judges evaluate each idea on its potential impact and the ability to achieve that impact, or in their parlance, "traction and feasibility." They look at the business model, the customer acquisition strategy, the founders and their team (most of which are very small), the potential for patents (as well as competing ones), and the competitive landscape. The face-to-face presentation takes 20 minutes, after which the judges cut the applicant pool to 128.

Then the fun begins. The pool takes up residence at the MassChallenge headquarters. There, they will spend the next four months splitting time between polishing their concepts and the crash course in finance and marketing. Come September, the residents will pitch their ideas again, at which point the judges will determine which 26 are eligible for cash grants of up to $100,000. (Herein is another difference between MassChallenge and other accelerators, most of which award seed money at the beginning of the program, not the end.) At the beginning of October, the lucky 26 will make their last pitch, and judges provide written feedback and single out 12 companies for $50,000 awards and four finalists for $100,000 grants.

The open floor plan and mixing of disciplines and industries goes a long way toward igniting the innovative spirit, the founders say. On a given day, there might be 300 people working in the MassChallenge office. "A mobile company has no business meeting with a biotech firm, except there's a certain level of comfort seeing someone sitting by you and achieving. It's why people work out in groups. We want them to see each other. They make a sale and go 'high five' each other," Bitting says.

In theory, the rapid experimentation also permits companies to fail quickly and move on to the next step. In truth, many are growing. To date, 89% of the 489 companies accepted to the program remain active.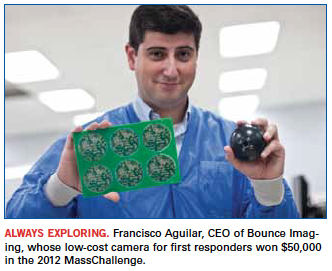 Recycling knowledge. The mentor program is a mix of inbound and outbound experts. Sponsors provide both talent and legal advice. Also, there's a pay-it-back aspect, as some of the finalists act as mentors for future classes. Many enter the mentor program and offer advice on both the technical program and the side issues, such as dealing with investors, the organization says.

Many of the inventors remain in the Boston area even after their apprenticeship is over. Even those international participants who return abroad tend to maintain their new local connections. The obvious question then is, Could an AustinChallenge or SanJoseChallenge be far off? In fact, there is interest in London to develop a similar program (the discussions involve locating the program in a formal royal palace), and MassChallenge Israel is in the works. Other places being actively explored in the US include Houston, Denver, North Carolina, Washington, DC, and ultimately California, while overseas interest has been focused on Switzerland, Berlin, Russia and Columbia. MassChallenge isn't worried about cannibalizing the existing program because two-thirds of the current finalists come from Massachusetts.

The vision Harthorne lays out for MassChallenge is audacious: to restore the credibility to the soul of America and the world. "There's this deep sense we lost our way. There's too much emphasis on profits. We've become perverted about it. It's not a good way of building sustainable systems. It's incredibly counterproductive. The reading on the Statue of Liberty isn't, 'Give me your profits and money.' "

What Harthorne isn't is some Harvard MBA with a few years of finance under his belt who now dispenses conventional wisdom like John D. Rockefeller gave away dimes to Depression-era children. (Although in fact, he is a graduate of MIT's Sloan School of Management.) Harthorne puts to use his own experience in starting up MassChallenge to share with teams that enter the accelerator. "The first year of MassChallenge," he notes, "we were an earlier stage startup than 60% of the companies we worked with."

Those who have successfully reached the finals speak highly of their experience. Molly Farison is a senior in electrical engineering whose company, Lilypad Scales, created an easy-to-use scale that helps wheelchair users track their weight on their own, in their home. The scale resembles a thin 4 x 4' rug and comes with a remote control-like reader. "You can't just sell your product in an online store," notes Farison, who calls her time in residence "a quick and dirty practical MBA. Finding the best distributors for your product and getting them to sell it is the key to scaling."

For Francisco Aguilar, CEO of Bounce Imaging (see sidebar), MassChallenge was invaluable for finding everything from engineers to legal help to access to software programs such as SolidWorks, which otherwise would have been expensive to license. The cofounders "know everyone in the world and want to connect you," he says. And while those with experience in electronics like himself may know how to design a product, the mentors at MassChallenge have the background in finance and investing, customer segregation and publicity to get a company off the ground. Bounce has received accolades from Popular Science, and the Explorer was named one of Time Magazine's Best Inventions of 2012.

"MassChallenge has been essential to our success and traction," Aguilar says. "We could have been working on this for years."

MassChallenge is open to any early-stage entrepreneurs, be they in software or hardware. What all teams must have, Harthorne says, is a good plan, the willingness to work their butts off, and to be lucky. The competition helps, too. "You can genuinely hurt a startup by being too easy on them."

Electronics engineers take note: MassChallenge is in the business of helping startups, not hurting them. We may take our iPhones and Bose speakers for granted today, but every company started with an inventor and an idea. MassChallenge has created a pathway for the next Steve Jobs or Amar Bose to turn their vision for a better tomorrow into reality. That's an exciting path to be on.

Exciting Times

"Our industry has gotten (expletive) boring. We need to make it exciting."
So says Rich Breault, president of Lightspeed Manufacturing, the CIRCUITS ASSEMBLY EMS Company of the Year.

Breault's frankness belies the serene landscape inside One Marina Park Drive, where engineers and innovators are quietly plugging away at their cubes. A few take up a game of Ping Pong, while others mill in small groups of two or three, comparing notes like college students in a library, which some still are, it should be noted.
Breault began teaming with MassChallenge two years ago. In 2012, Lightspeed put a small lab inside the Boston accelerator's headquarters. The EMS firm provides onsite assembly help, aided by a collection of software (Solidworks and AutoCAD) and hardware tools (soldering irons, a Sciencescope meter, and a Formlabs 3D printer). When MassChallenge relocates next year to another site nearby, Breault plans to expand his operation to include a full SMT line, including a pair of Quad placement machines building prototypes, a drill press and belt sander for mockups, and a full-time staffer to run the Lightspeed "Answer Desk."

Lightspeed's involvement has led the EMS firm to Bounce Imaging, on whose board Breault now sits. Struck and dismayed by the aftermath of the Haiti earthquake in 2010, when responders could not get quickly to the hundreds of thousands of victims, Bounce founder Francisco Aguilar conceived a low-cost camera for first responders that can be used without special training. Aided by Breault's manufacturing help, the company's device, named Explorer, won $50,000 in the 2012 MassChallenge.

With the Explorer, Aguilar sees a huge potential market for police and firefighters who on a daily basis experience the same basic problems, if to a different degree. And since then, Lightspeed has picked up three additional customers via the MassChallenge.
Mike Buetow is editor in chief of PCD&F/Circuits Assembly; mbuetow@upmediagroup.com.
Ed.: For a related article on Lightspeed, click here.