Aylesbury, Buckinghamshire, UK — March 2021 — Nordson Test and Inspection will exhibit at the Virtual IPC APEX EXPO, scheduled to take place March 9-11, 2021 online at www.ipcapexexpo.org. Visit the "booth" here to learn more about Nordson's comprehensive range of Test and Inspection systems including:
DAGE Assure Flex Automation
The new generation of component counting. Assure Flex Automation is the fully automatic, operator free reel counting solution. Tailored to your specific needs, a broad spectrum of loading and unloading options are available for high throughput stand-alone operation. Assure Flex can also be integrated into a wide range of high capacity storage systems.
Assure Flex is the complete counting solution for every workflow, from walk up operator loading to inline operator free. Assure Flex has an integrated conveyor and can be easily connected to the modules of the Assure Flex Series.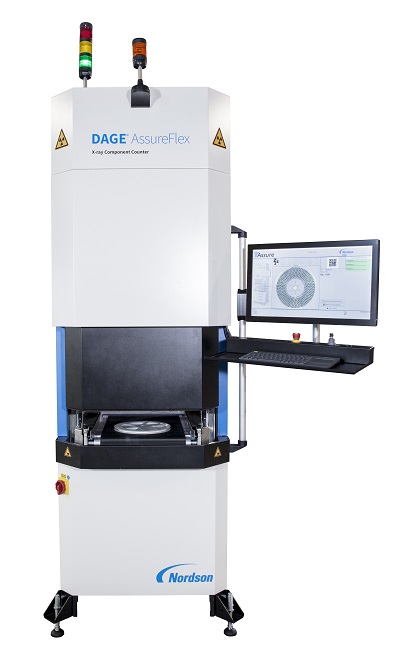 MATRIX X Series
The X series is MATRIX's high-speed AXI platform. It comes with linear drives for the table axes and detector axes. This motion system guarantees very high speed and the utmost accuracy for positioning.
It is available with the SMT setup:
• 130kV, 40W sealed tube
• 14bit FPD with 50µm pixel pitch
The X series machines feature the following configurations/imaging techniques:
• X2: 2D + SFT
• X2.5: 2D + off-axis (2.5D) + SFT
• X3: 2D + off-axis (2.5D) + Planar CT (3D) + SFT
This platform features the Nordson Planar CT, which was released in October 2020, providing increased slice quality for 3D inspection and decreased cycle time.
The maximum resolution with the X series machines is 3µm, making it the perfect choice for solder joint inspection, for the analysis of the following:
• BGAs
• PTH/THT
• Void
• QFN
• QFP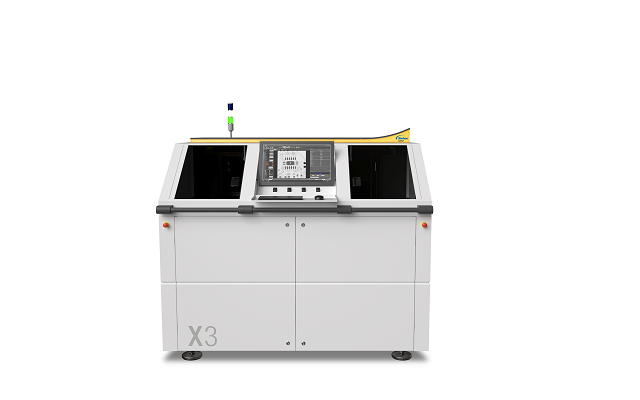 SONOSCAN Gen7 C-SAM
The Gen7 C-SAM inspection system is the latest generation in Acoustic Micro Imaging. The Gen7 delivers the most advanced hardware ever available allowing new features and analysis that can now be completed faster than ever before. Advanced features such as PolyGate, SonoSimulator, Virtual Rescanning Mode (VRM) and Frequency Domain Imaging (FDI) add value and confidence. With its large, easy
access illuminated scanning area, the Gen7 has the capability to efficiently scan everything from a small part up to 350mm sized parts.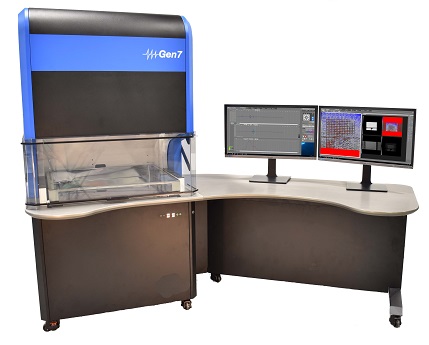 YESTECH LX-1000 Large Area In-line AOI
The LX-1000 automated optical inspection system offers high-speed PCB assembly inspection with exceptional defect coverage, inspecting solder joints and verifying correct part assembly, enabling users to improve quality and increase throughput.
• Single or dual sided imaging with full travel imaging sensors
• 630mm x 630mm large inspection area
• Optional 3D and/or 2D automated inspection
• Up to 100 mm clearance
• Heavy duty conveyor options for samples to 15kg
• High defect coverage / low false failure rate
• MES / Industry 4.0 compatible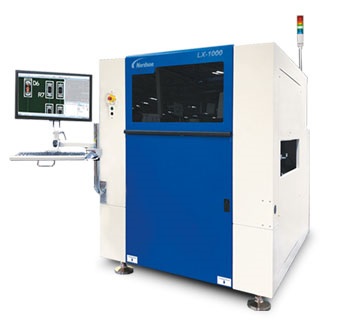 The Nordson Test and Inspection team looks forward to welcoming visitors to its "virtual" booth and answering any questions about how its market-leading systems can support your business. For more information, visit https://www.nordson.com/en/nordson-test-and-inspection.
About Nordson Test and Inspection
DAGE, MATRIX, SONOSCAN and YESTECH, units of Nordson Corporation (NASDAQ: NDSN), manufacture and support a complete range of industry leading Test and Inspection products for the electronics industry. Offering an award winning portfolio of Acoustic Micro Imaging (AMI), Automated Optical Inspection (AOI), Automated X-ray Inspection (AXI), Manual X-ray Inspection (MXI), X-ray Component Counters. Bond Testing, Micro Materials Testing and Wafer X-ray Metrology systems, Nordson's family of Test and Inspection products bring powerful and cost effective solutions to the Printed Circuit Board Assembly (PCBA) and Semiconductor industries.
About NORDSON
Nordson Corporation (Nasdaq: NDSN) is one of the world's leading producers of precision dispensing equipment that applies adhesives, sealants, coatings and other materials to a broad range of consumer and industrial products during manufacturing operations. The company also manufactures equipment used in the testing and inspection of electronic components as well as technology-based systems for curing and surface treatment processes. Headquartered in Westlake, Ohio, Nordson has direct operations and sales support offices in more than 30 countries.
PCB EAST: The original East Coast technical conference and exhibition! Returning to the Boston suburbs in June 2021!